Kirkwood, MO Health and Fitness
---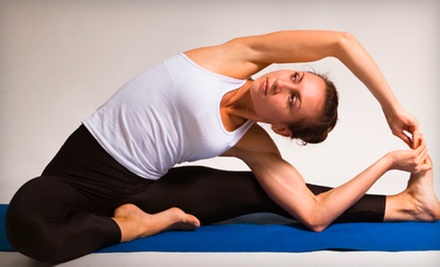 ---
Recommended Health & Fitness by Groupon Customers
---
Oasis Spa at Spinal Care of St. Louis's Doctor of Chiropractic Nathan Heimgartner oversees a wide range of therapeutic services in finding a balance between extensive chiropractic know-how and holistic health. In the center's private treatment rooms, which eschew clinical starkness in favor of soft lighting and calming pastel colors, Dr. Heimgartner uses thorough chiropractic exams, massages, LipoLaser sessions, nutrition counseling, and movies about baby hedgehogs to bolster feelings of wellness. The resident team of licensed massage therapists eases muscle tension with a bevy of relaxing modalities, aiding Dr. Heimgartner in his quest to rid bodies of back pain, sports injuries, whiplash, and other ailments.
651 Gravois Rd.
Fenton
Missouri
636-305-6490
Dr. Raffi Krikorian, the medical director at Veins Etc., and his staff employ vascular know-how as they treat unsightly, unruly, and painful vessels in the legs. Techniques range from laser, radiofrequency, and chemical-injection treatment of large varicose veins to more dramatic ambulatory phlebectomies and cheese-baited vein traps. In addition to fighting the purple graffiti of unwanted veins, they also ward off the signs of aging with wrinkle-plumping injectables and chemical-peel facials. Vials of Latisse pump up eyelash volume to fortissimo and hand rejuvenation leaves paws smooth and supple, as if they'd been washing dishes in the Fountain of Youth.
3760 S Lindbergh Blvd., Suite 101
St Louis
Missouri
314-270-5723
Dr. Traci Hahn developed severe eye problems when she was just 10 months old, and though her parents consulted numerous doctors, none of them took the time to really evaluate their daughter and her vision didn't improve. Finally, they found an optometrist who was able to diagnose and treat her eye issues so she wouldn't suffer permanent vision loss. This story stuck with her growing up, and she knew she wanted to become an optometrist herself and listen thoroughly to patients before guiding them toward the vision and eye-care solutions that are right for them.
Today, Dr. Hahn conducts eye exams that quiz pupils on SAT words, fits patients for contacts, and curates a collection of glasses frames suitable for a spectrum of budgets. The eyewear includes stylish frames from brands such as Dior, Maui Jim, Michael Kors, Tommy Hilfiger, and Kate Spade.
971 Brittany Parkway Dr.
Manchester
Missouri
636-527-3937
Dr. Howard Short and Dr. Chris Ullrich, the ophthalmologists at Advanced Sight Center, stay at the forefront of their field—drawing on modern technologies such as digital retinal photography, optical coherence tomography, and specular microscopy. The doctors' ongoing education helps keep their skills sharp when they're performing LASIK procedures or checking for typos on Snellen eye charts. Both Advanced Sight Center locations include an ambulatory surgical center as well as a wide selection of frames from Elle, Esprit, and other popular brands.
12601 Olive Blvd.
Creve Coeur
Missouri
314-878-4228
Justin Thacker, the muscle-bound founder of The Lab Gym, uses the same principles that motivated him through 19 years of weightlifting experience to spur on and cultivate a community of health-conscious exercisers at his wood-floored, exposed-brick gym. His team of expert trainers leads guests through group fitness classes that turn bodies into granite sculptures through a series of weightlifting routines and the crystallization of magma. Body Flow classes boost circulation and accelerate nutrient currents with relaxing yoga, Pilates, and tai chi movements. Patrons can coax coy muscles from epidermal hideouts with free weights, dumbbells, squat racks, and an expansive cardio circuit, all accessible to members by keycard 24 hours a day. For custom guidance, guests can pair up with a personal trainer or can sign up for the structured Laser weight-loss program, a regimen designed to blast off pounds with a laser focus but without actual lasers.
3684 Forest Park Ave.
St. Louis
Missouri
314-256-1411
---