Kirkwood, MO Indoor Activities
---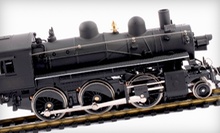 Vintage automobiles, decommissioned planes, and a massive collection of locomotives fill museum grounds, circled by miniature-train tracks
Use Sunday 11:00am - 4:00pm
---
Recommended Indoor Activities by Groupon Customers
---
The friendly, skilled instructors at Pilates and Yoga Center of St. Louis are well versed in their individual fields. With 60 minutes of fully supervised attention, you'll learn to remedy errors, refine your form, and feel as doted on as an only child in the Center's exercise family. Reap insider knowledge to show off at your next group class, confidently shape up without judgmental stares of your peers, or just revel in the undivided attention with today's side deal to Pilates and Yoga Center of St. Louis.
9825 Clayton Rd.
St. Louis
Missouri
314-569-9400
Shopping at a boutique is like coveting a fashion-savvy friend's wardrobe, except that you can take home a knockout pair of jeans without worrying that your bootylicious bud wore them better than you to an auto plant. Whereas department stores follow trends, boutiques create them with innovative looks from top designers that you won't find anywhere else in town. Byrd Style Lounge cultivates a collection of classic lines and edgy designs, perfect for those who want one-of-a-kind looks but don't want to sift through thrift or pay top dollar for something someone's grandma already wore.
8117 Maryland Ave.
Clayton
Missouri
It's hard to cut a rug properly. You have to measure room dimensions, don safety goggles, and use a proper pair of carpet shears. Today's side deal to Dance St. Louis lets you leave this labor of love to the professionals. For $25, you get one ticket (up to a $50 value) to a performance of the Moscow Festival Ballet at the Touhill Performing Arts Center on the University of Missouri–St. Louis campus. Tickets are general admission, and seating in the orchestra and parterre sections will be determined on a first-come, first-served basis. All tickets for all showtimes must be redeemed by phone or in person at the Dance St. Louis box office in Grand Center (open 9:30 a.m. to 4:30 p.m. Monday through Friday). Tickets must be redeemed before Thursday, April 22.
Touhill Performing Arts Center, One University Blvd.
St. Louis
Missouri
Every Thursday through Saturday night, two pro piano players sit down at Jive and Wail's two baby grand pianos and proceed to bang out Top 40 hits from a plethora of eras, including time that has not yet come to pass, though these future-songs cannot be heard by present-day ears. Audience participation is not only encouraged but demanded by the dueling pianists—who are not above threatening their audience with atonal jazz if no song requests are forthcoming. Once you've made your request, the bar's high-tech sound system makes sure you won't miss it while refreshing your tipple at the full-service bar.
7376 Manchester
Maplewood
Missouri
Elizabeth Birkenmeier, Scott McMaster, Jerry Vogel, and Jason Cannon bring Scotland playwright David Greig's sensual show to life for mature audiences. Set on a remote island off Scotland's coast and directed by Philip Boehm, the play explores three characters entangled in a web of sexual tension on the eve of World War II. The lyrical play is at once a keen exploration of human nature, a moving study of young emotion, and a powerful snapshot of a world teetering on the brink of cataclysm.
501 N Grand Blvd
St Louis
Missouri
Ornate chandeliers and a high-ceilinged auditorium are just two stunning features of Powell Hall, an opulent, Versailles-inspired concert venue built in 1925. Originally known as the Saint Louis Theatre, Powell Hall was bequeathed its new moniker after the Saint Louis Symphony Society won it during a heated card game with a band of ragtag vaudeville performers. With its marble-accented lobby and sprawling interior, Powell Hall continues to beckon visitors to take in its inimitable sights and classic sounds.
718 N Grand Blvd.
St. Louis
Missouri
314-534-1700
---