Kissimmee, FL Beauty and Salons
---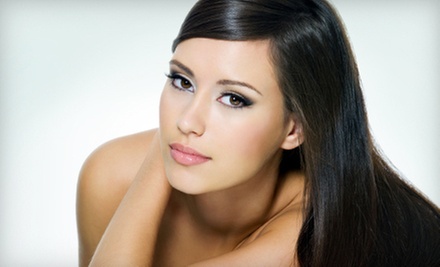 ---
Recommended Beauty by Groupon Customers
---
The professional, certified stylists at The Beauty Bar dazzle customers with the latest in beauty trends and services while creating their own novelties in the process. Defrazzle scalp frizz with a women's haircut and style ($45), a conditioning treatment ($25), or a Brazilian keratin blowdry ($150). Stray face fuzz can be swiftly decorticated with waxes of the eyebrow ($15), lip ($10), and chin ($10). Full makeup applications ($40) buff facial flooring to a glow stunning enough to knock a horse in shining armor off a knight. Other beautificating services include color ($50+), thermal straightening ($400), hair extensions (price upon request), and installation of a second set of eyes in the back of everyone else's heads to increase the visibility of your blooming allure.
7713 Turkey Lake Rd.
Orlando
Florida
A mani-pedi from Bahama Nails & Spa will dignify your every digit, from your filthiest piggy to the rudest pointer. During your treatment, one of the spa's friendly, talented technicians will whisk your wigglers off on a tropical vacation, on which your nails and cuticles will be coddled, scrubbed, and shaped, getting rubbed down with luxurious lotion like a squeaky sun goddess. When thoroughly groomed, your fingers and toes will be finished off with a fresh coat of polish, complementing colors in your eyes every time you vogue.
1336 N Orange Ave.
Winter Park
Florida
J. Bauman Salon offers guests an appetizing menu of salon and spa services in a streamlined, contemporary environment as clean as a disinfected whistle. Today's deal transforms clients' tresses with a wash, cut, and blow dry. While rears restfully recline in one of J. Bauman's 17 hair stations, experienced stylists will sow shampoos, harvest rich fields of locks (women's cuts regularly start at $42, men's at $25), and then direct patrons to the separate drying lounge, where moisture is blown away like gentle drops of dew in a billowy hair breeze.
1043 North Mills Avenue
Orlando
Florida
407-898-9044
Choose from locations in Thornton Park or Winter Park.
716 E Washington Street
Orlando
Florida
800-317-4283
Under the medical direction of board-certified physicians Dr. Carson Bauder and Dr. Loakhnauth Ramkishun, the team at Wymore Laser & Anti-Aging Medicine combines cutting-edge equipment with a holistic approach to beauty. Anthony Filardo, DC follows in the footsteps of his father and grandfather, who were natural healing practitioners in Calabria, Italy. In addition to completing advanced training in anti-aging nutriceuticals and preventative medicine, Dr. Filardo is certified in medical acupuncture and is a fellow on the Acupuncture Society of America, Inc.
While Dr. Filardo employs ancient techniques to promote wellness, he and his staff also specialize in the latest nonsurgical cosmetic treatments. With a license in facial aesthetics, he expertly wields Palomar lasers to target wrinkles with resurfacing sessions and spider veins with intense pulsed light. Dr. Filardo also sculpts bodies with weight-loss programs and VelaShape cellulite-reduction treatments that leave skin as smooth as a Valentine written in syrup.
610 N Wymore Rd.
Winter Park
Florida
407-622-2251 x2
Corpus Waxing Center's owner, Dea Prieto, hails from Sao Paulo, Brazil, and calls upon her beachy experiences there to perform the center's specialty—Brazilian bikini waxes. Prieto has been perfecting her technique since 1998 and continues to train in the latest hair-removal methods, eschewing old-fashioned strategies such as reciting the works of Edgar Allan Poe until hair sulks away naturally. Swift gloved hands remove wax-bound hair from any area of the body using medically sterilized equipment and fresh batches of a hard, green wax for each treatment. Vajazzling services are also available, employing authentic Swarovski crystals to make skin glint like a freshly polished light bulb.
364 W Fairbanks Ave.
Winter Park
Florida
407-960-4875
---