Beauty & Spas in Kissimmee
---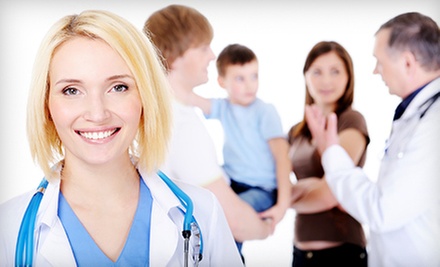 ---
Recommended Beauty & Spas by Groupon Customers
---
After suffering from a number of painful complications tied to an allergic reaction, Quiet Touch's owner Jennifer Apolinario says that massage therapy was what made her feel whole. Trigger-point massage helped to relieve severe migraines, and craniosacral therapy worked to restore balance after being paralyzed on her left side. She opened Quiet Touch to share the healing power of touch through massage sessions rather than by high-fiving every sad-looking person she passes. She incorporates Biofreeze products during joint massage to restore flexibility with a cooling sensation similar to an ice pack. Paraffin dips, which for Apolinario relieved the stiffness from rheumatoid arthritis, envelop hands and feel in soothing warmth.
407 W Oak St.
Kissimmee
Florida
US
407-201-7907
Corpus Waxing Center's owner, Dea Prieto, hails from Sao Paulo, Brazil, and calls upon her beachy experiences there to perform the center's specialty—Brazilian bikini waxes. Prieto has been perfecting her technique since 1998 and continues to train in the latest hair-removal methods, eschewing old-fashioned strategies such as reciting the works of Edgar Allan Poe until hair sulks away naturally. Swift gloved hands remove wax-bound hair from any area of the body using medically sterilized equipment and fresh batches of a hard, green wax for each treatment. Vajazzling services are also available, employing authentic Swarovski crystals to make skin glint like a freshly polished light bulb.
364 W Fairbanks Ave.
Winter Park
Florida
407-960-4875
Alpha Weight & Wellness Medical Clinic's physicians, assistants, and technicians incorporate medical-grade technology and aesthetic sensibilities into virtually every procedure they perform. Weight loss is a major goal for many of the center's clients, and the team accommodates these concerns with surgical treatments as well as noninvasive procedures. This range of options stems from the clinic's arsenal of equipment, which can also target concerns on the skin's surface. Crystal microdermabrasion smoothes texture, the Fotona Nd:YAG laser system eliminates unwanted stubble, and TriPollar technology employs radio frequencies to contour overall shape while transmitting baseball scores to the brain. Alpha Weight & Wellness Medical Clinic's board-certified medical director, Dr. F. V. Ello, also helps distinguish the medical center by designing and implementing a proprietary line of skincare products and procedural techniques.
172 South Semoran Boulevard
Orlando
Florida
407-380-1951
At Khush Threading & Herbal Salon, ancient Eastern methods of beautification meet the scientific methods of the 21st century. Salon aestheticians wield their lengths of pure cotton string to remove unwanted hair from the face and neck or to sculpt brows, while facial specialists employ enzyme peels and microdermabrasion to bring out a complexion's natural glow. These relaxing facial sessions incorporate healing antioxidants and customizable masks that correct an individual's skin complaints without lengthy litigation.
7709 Turkey Lake Road
Orlando
Florida
321-594-9333
In 2005, stress pushed Michelle McCormack to the brink of spiritual and physical collapse. Though her fast-paced finance job tested her limits, it had the happy consequence of awakening an interest in yoga, relaxation therapies, and holistic healing. Soon, she drew up a business plan and founded IHP Clinic Solution, a practice that serves the mind, body, and spirit of its patients. Today, at Aviva Health and Wellness Clinic, McCormack oversees the operations of wellness professionals who help patients become healthy inside and out.
Instead of just prescribing drugs or spoonfuls of sugar, Aviva's medical professionals thoroughly evaluate each patient. Then they recommend treatments that combine the best practices of conventional and alternative medicine. Medical services, including treatments for diabetes and heart disease, improve physical health, whereas spa and wellness services, such as acne treatments and body wraps, simultaneously improve looks and confidence. Treatments target a wide range of health- and beauty-related desires, helping patients lose weight, recover from illness, or reverse signs of aging.
2611 Technology Dr.
Orlando
Florida
407-299-7847
---