Restaurants in Kissimmee
---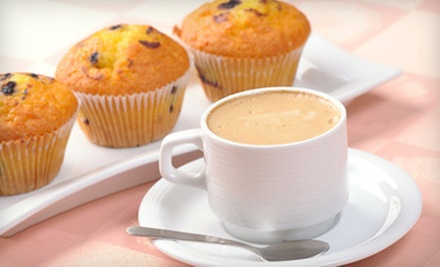 ---
Recommended Restaurants by Groupon Customers
---
Not every pizza place has a Wall of Fame, let alone a Wall of Shame. Pizza Xtreme, however, entreats customers with a dare that echoes its name: eat all 7 pounds of a one-topping, jumbo pie with the help of just one friend, and you've won the 28" Challenge. The rules demand that you get it all down in less than an hour, though, and as the Wall of Shame and pile of half-eaten pies testifies, this is no easy feat.
The kitchen team accommodates the more gastronomically reserved by making single servings of hand-tossed pizza, which it decorates with toppings such as italian sausage, grilled chicken, smoked gouda, and crumbled eggs. Chefs also bake specialty pies and non-pizza goodness, such as calzones, cube-shaped tomatoes, customizable pasta dishes, and oven-baked ciabatta sandwiches such as the pesto-strewn turkey artichoke. Pizza Xtreme's staff also pours out a selection of wine and beer to complement the food.
7250 South Kirkman Road
Orlando
Florida
407-226-3333
CiCi's Pizza combines the variety of a buffet with the thrill of bottomless pizza. Each pie is crafted with dough made from scratch daily and then slathered with homemade marinara and showered with toppings ranging from traditional pepperoni and Italian-style sausage to creative combinations including buffalo chicken and mac 'n' cheese. The buffet is stocked with a plethora of fresh pastas, as well as signature salads with the option to put tossing talents to the test at the salad bar. After they've feasted on savory options, diners can revisit the buffet for dessert including freshly baked brownies, slices of apple pizza, and cinnamon rolls drizzled with icing—or they can eat dessert first, thereby tearing an irreparable hole in the space-time continuum.
5033 W. Hwy 192
Kissimmee
Florida
407-390-9001
In 2009 in Iceland, an established restaurateur and financier joined forces, opening up Saffran with a focus on healthy European, Mediterranean, and Middle Eastern menu items. With three successful locations under their belt, the duo expanded their venture overseas, opening a location in Orlando. Their restaurant is "a fast-food concept with food that rivals some restaurants that have a wait staff," states Orlando Sentinel food editor Heather McPherson.
The kitchen team cooks chicken burgers, tandoori beef, and Safflats (akin to pizzas) without using white flour or MSG, and the housemade marinades contain no additives or preservatives. Most ingredients in the kitchen are culled from local producers, and nothing is prepared with a deep fryer. In the dining room, dark-wooden accents inform the decor, and an oversized picture of a waterfall symbolizes the bold plunge of the scientist who first united two hydrogen molecules with one oxygen molecule, making possible the marinades Saffran prepares today.
1700 Sand Lake Rd.
Orlando
Florida
Joseph and Efren Boglio grew up in a Northern Italian town near Torino, raised by a mother locally renowned for her cooking abilities. Although the brothers loved the double-crusted, ricotta-stuffed pizza that she made every Easter, it wasn't until they moved across the ocean to Chicago that they realized just how special it was. Unable to find an equivalent after eating their way through local pizzerias and hunting pizzas in the wild, they opened Giordano's in 1974 with the goal of recreating the savory pie from their childhood. They've adapted their style over the years, but the concept has stayed the same: thick layers of mozzarella submerged in rich tomato sauce and served in a shallow bowl of golden dough. Diners can add ingredients such as spinach, sausage, or shrimp. Even though the Giordano's deep-dish empire has expanded to Florida, its menu retains its old-country stamp with cuisine such as juicy italian beef and housemade meatballs.
12151 South Apopka Vineland Road
Lake Buena Vista
Florida
407-239-8900
At Green Lemon Cafe, ceramic salt- and peppershakers masquerade as pairs of flamingos, crabs, and dairy cows. The figurines mirror the café's harmonious atmosphere: on any given day, patrons munch Fresh-inspired café fare, chat with owner Amanda Volence, or sprout goatees while browsing original artwork.
In the kitchen, chefs pack Boar's Head meats into savory crepes and paninis such as the black forest ham and swiss panini or the raspberry-chicken crepe with jack cheese and spinach. Alternately, cooks fill the apple-crisp crepe—1 of more than 30 crepe options—with cinnamon, apples, caramel, and graham-cracker crumbs.
1945 Aloma Ave.
Winter Park
Florida
407-673-0225
Although Thai cuisine typically earns praise for its bold, spicy flavor combinations, the chefs at Red Bamboo Thai Restaurant aim to make their cuisine accessible to all palates, personalizing the level of spice from mild to Thai hot. Using red, green, and yellow curry pastes, the culinarians lend a piquant touch to the fragrant combinations of basil, coconut milk, and scratch-and-sniff bamboo shoots that make up the menu. They also wield sweet and spicy chili sauces to lend dichotomous flavors to entrees such as deep-fried red snapper or prawns.
Although each bite of food features complex combinations of herbs and spices, the dining room embraces a more subdued aesthetic. Earth-toned walls surround the booths and tables, remaining relatively unadorned except for a scattered collection of framed pictures and small tapestries.
6803 Kirkman Rd.
Orlando
Florida
---