Things to Do in Kissimmee
---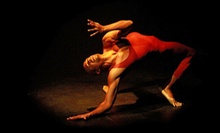 In this all-levels class, students as young as 7 through adults move to explosive african beats while focusing on fun and self-expression
Use Wednesday 3:30pm - 6:30pm
---
Recommended Things to Do by Groupon Customers
---
There's nothing like skimming across Lake Tohopekaliga's surface, propelled by a 500hp fan. That's the thrilling experience offered by the Wild Willy's Airboat Tours, which drift in the gentle marsh to catch sights of great blue herons, 12-foot alligators, snails, and other native creatures. All the while, your guide will provide expert information on the lake and the surrounding terrain, plus help you spot the wildlife.
While other tour guides pack groups into 12-passenger boats, Wild Willy's keeps it passenger numbers low to reduce weight and increase speed. Up to six guests can board one of the airboat, which sail past reeds and Spanish moss before. Afterwards, you can take pictures with resident baby gators Thunder and Half-Stripe in the visitors' center. And safety is a major focus at Wild Willy's—guests should arrive 15 minutes before their tour time to receive a Coast Guard-required talk about safety.
4715 Kissimmee Park Rd.
Saint Cloud
Florida
407-891-7955
During 29 years of drifting through the Florida skies, Orlando Balloon Rides had already amassed an impressive fleet of gargantuan flying inflatables when a new balloon arrived. The product of an ambitious factory in Spain, the newcomer holds more than 400,000 cubic feet of hot air and stands as tall as an 11-story building. Four times the size of the average hot air inflatable, it's among the most massive hot air balloons currently flown in the United States.
Now reigning as a popular vessel for the company's sunrise tours, the mammoth balloon can fly away with a basket of 24 passengers as it commands the skies, dwarfing most clouds and giving the Goodyear Blimp an identity crisis. From any of Orlando Balloon Rides' baskets, passengers take in high-altitude views of Walt Disney World and the city's skyline, sights visitors rarely get to see from above. Each of the company's hot air balloons is piloted by an FAA-certified pilot who also serves as a knowledgeable narrator of the scenery below.
6375 W Irlo Bronson Memorial Hwy.
Kissimmee
Florida
888-629-8459
Krista Shirley has spent years travelling the world with an open mind and open heart, learning to infuse her own Ashtanga yoga practice with the global perspective she gleaned in Thailand, Scotland, and India. Now that she's home, Shirley continues to expand her practice each year by embarking on annual retreats to Mysore, India, where she was authorized to teach by the prestigious Krishna Pattabhi Jois Ashtanga Yoga Institute.
Her dedication to preserving the authenticity of Ashtanga is apparent in the thoughtfully constructed classes and workshops at The Yoga Shala. Shirley eschews the gym-like trappings of trendy yoga studios, preferring to establish a school that incorporates yoga's physical and mental benefits into her students' everyday lives. Krista's commitment to education does not stop with her students, however, as her instructors accompany her every year to India to help deepen their mastery of traditional Ashtanga practices.
Within the 2,100-square-foot studio, instructors teach Ashtanga yoga in the traditional Mysore way. This method allows teachers to work individually with their students while guiding groups through each posture. The studio also holds progressive beginners' classes and Ashtanga flow classes that apply the Vinyasa principles of breath expansion and drishti, which is a focused gaze that develops concentrated intention.
927 N Pennyslvania Avenue
Winter Park
Florida
407-506-7735
Six-time world champion. Number one in the world. Dishwasher safe. All of these phrases have been used to describe prolific water-skier Sammy Duvall. At his self-titled watersports center, Mr. Duvall helps visitors discover the aquatic activities that have defined his life. Piloting speedboats, his staff pulls tubers, wakeboarders, and water-skiers across Bay Lake. A parasail, emblazoned with a smiley-face design, elevates tandem riders over views of Florida's natural terrain and nearby theme parks. The water sport experts also lead jet-ski tours through Bay Lake and the Seven Seas Lagoon.
4600 N World Dr.
Lake Buena Vista
Florida
407-939-0754
"It's a bird! It's a plane! It's Al Roker!" is what someone might have said if they were at Wallaby Ranch when the _Today Show_'s own weatherman chose it as the launching pad for his first hang-gliding experience. Al Roker's flight was just one of more than 30,000 safe and incident-free excursions launched under the watchful eye of veteran hang-glider pilot and owner of Wallaby Ranch, Malcolm Jones. Together with a permanent crew of nine other pilots, instructors, and technicians, Malcolm leads aerotow hang-gliding flights above the lush Florida landscape of his ranch. The fleet of planes tows hang-gliders into the air, at which point they are released to float above the trees and drift smoothly down to the ground like a sleepy eagle.
Wallaby Ranch has full camping and RV accommodations on site, allowing groups and families to plan extended stays as they learn to master the aerial art. The crew prepares fresh community breakfast and lunch, and a 27,000-gallon swimming pool cools off visitors after a hard day's glide. Guest can clamor up the climbing wall, while children can caper about the playground. Mountain-bike and walking trails abound, winding through the terrain and plunging hikers into the surrounding, native wildlife.
1805 Deen Still Rd.
Davenport
Florida
800-925-5229
Bare bisque perches on black bookshelves at The Clayhouse, awaiting creative inspiration. From mugs and vases to dragons and ice-cream cones, each piece comes to life with the help of paints, stencils, project ideas, and staffers who turn artwork into useful dinnerware by firing it with food-safe glaze. Kids' story time tasks tots with creating a piece based on the stories they've just heard, while adult art time allows friends to catch up over their own wine and takeout treats.
30 Broadway Ave.
Kissimmee
Florida
US
407-932-2529
---