Kitchener Health and Fitness
---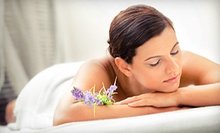 Using centuries of anatomical knowledge behind traditional Chinese medicine, therapists place water-heated basalt stones on stress points
Use Wednesday 10:00am - 1:00pm
---
Recommended Health & Fitness by Groupon Customers
---
Vincent Optical's registered opticians fit frames to heads from a selection of dozens of brands, including names such as Oakley, Gucci, and Ray-Ban. They nestle lenses—from reading glasses to prescription cuts—into the frames, or prescribe boxes full of contact lenses, readily available in their store. They also sell sunglasses, excellent for protecting eyesight from harmful radiation and correcting the vision of those who have trouble looking cool.
670 King St. W
Kitchener
Ontario
519-744-7400
Sandra Leelook and Shauna Judar have been creating their own exercise routines since they were 17. Sandra's inspiration grew from her struggle with her weight. Now 50 pounds lighter, she continues to conquer the scale by staying active and eating nutritious food. For more than a decade, Shauna has fought her own battles in the kickboxing ring while drawing on her muay thai training and sharing her knowledge with students.
After gaining personal-training certification through CanFitPro, Sandra and Shauna opened Xtreme Bootcamp, where they craft custom workouts that shock bodies into shape with strength training, cardio circuits, plyometrics, and kickboxing drills. Their refusal to do the same workout twice keeps students on their toes, and unique class packages offer commitments that range from eight weeks to one year. Each option includes a fitness assessment, nutritional support, and a schedule of classes held outdoors or inside a fully equipped gym. When they aren't molding groups of svelte soldiers for the impending donut uprising, they lead focused personal-training and small-group sessions.
300 Mill St.
Kitchener
Ontario
CA
226-868-2337
ISSA-certified fitness trainer Chris Walker of Chris Walker's Fitness Bootcamp keeps clients in top shape by sharing his health expertise via online articles and regimens in addition to in-person fat-shedding exercise programs. His handpicked squad of personal trainers leads private workout sessions as well as specialized boot-camp classes, both of which aim to ease physiques into slimmer frames. Ever-varied routines combine drills from kickboxing, Zumba, and weight-loss calisthenics, with most programs supplemented by dietary tips and advice on how to properly dice pineapples with your fists. Chris's motivational strategies prioritize collaboration over competition to benefit clients of all fitness levels.
301 King St. E, Unit 201
Kitchener
Ontario
Trying to refine your golf game at the driving range alone is often difficult, especially for those who can't resist the urge to blast through an entire bucket of balls with nothing but their driver. At Kitchener Golf Academy/Ryall Golf's Doon Valley location, golfers encounter a variety of training venues to address all elements of the game.
The facility encompasses an 18-hole, championship-length course and a full-length 9-hole course, where golfers can test their mettle against a variety of holes sculpted through wetlands and along the banks of the Grand River. Doon Valley also features a 9-hole, pitch-and-putt course, where a series of short holes helps players zero in on the most critical aspect of golf—the short game—and ignore the sweet siren song crooned by their driver. However, when it is time to test their power off the tee, Doon Valley offers a full-size driving range—the main feature of a practice facility that also includes a putting green and a practice bunker. The grounds at Kitchener Golf also host the 18-hole Rockway course. Built in 1935, the par-70 course measures 5,520 yards from the farthest tees and challenges golfers with trees that line the fairways like spectators at a golf cart drag racing event.
Kitchener Golf Academy/Ryall Golf's staff of PGA of Canada pros make use of all of Doon Valley's facilities in lessons and clinics offered to golfers of all ages and abilities.
500 Doon Valley Dr.
Kitchener
Ontario
519-741-3400 x3332
Joshua Webster attended the College of International Holistic Studies, where he studied acupuncture's many different forms, including variants for the hands, ears, and cosmetic purposes. He showcases his skill set during communal acupuncture sessions inside The Healing Roots' minimalist, wood-floored space. In addition to treating patients and scaring off parade balloons with his needles, he offers other alternative health therapies as well, including yoga, hot-stone massage, cupping, and herbal medicine.
55 Victoria St. N, Suite G
Kitchener
Ontario
519-574-1941
Pro Mixed Martial Arts cultivates self-defense skills with workshops employing fundamentals from disciplines such as kick-boxing, grappling, and boxing. The Pro MMA philosophy shuns the use of excessive force, instead training apprentices to conserve energy with efficient movements and employ the simplest means of diffusing a confrontation. Course instructors fasten their workout uniforms in black belts earned in Shinki stand-up grappling and department-store dashes while imparting the wisdom garnered from Brazilian ju-jitsu championships and Olympic boxing matches.
190 Washburn Dr.
Kitchener
Ontario
855-977-6662
---