Knik-Fairview, AK Beauty and Salons
---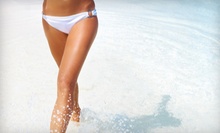 Aesthetician employs Cirepil wax
---
Recommended Beauty by Groupon Customers
---
Suffused with warm, earthy tones and outfitted with a fireplace set into a wall of rough-hewn brick, Electric Beach Tanning & Spa immediately calls to mind a resort-like spa. The russet walls and glowing fireplace act as precursors of what is to come, as tanning technicians soon usher guests to a room filled with UV tanning beds and sunless spray-tan booths. After bench-pressing one of the tanning beds to get in summer shape, alleviate any lingering soreness with a massage customized to your body's aches. When they aren't working on their color or muscles, guests can pay a visit to one of the spa's nail technicians for a mani-pedi or exfoliate with a relaxing facial. To further ensure a tranquil experience, Electric Beach Tanning & Spa offers free childcare services as well as a vanity and shower area for use before and after tanning sessions.
802 Gambell St.
Anchorage
Alaska
907-277-6937
The tanning experts at Color Me Tan keep hides sporting golden hues year-round with their multiple levels of UV tanning beds. Their spray-tan booths, on the other hand, eschew ultraviolet rays and instead use tanning solution to coat epidermal expanses with a natural-looking, streak-free glow. The shop equips visitors with products that aid in the tanning process on beaches or at home. Aside from body bronzing, Color Me Tan further beautifies bodies with teeth-whitening treatments and noninvasive red-light therapy, which makes mature skin appear more youthful and less prone to discussing mortgage rates at parties.
2482 E Tudor Rd.
Anchorage
Alaska
907-563-8266
Outside the cream-colored house, vibrant flowers sit in window boxes and a giant tree shades the front stoop. Though this could easily be the depiction of a quaint suburban home, through the burgundy door is a different kind of family. A team of stylists, aestheticians, makeup artists, and nail technicians call Fringe Hair Design their second home, tending to clients with hair, skin, and nail services. A fleet of in-house laptops and complimentary wireless Internet grants clients the freedom to explore the unchartered corners of Wikipedia as they wait to receive chemical peels or full-head highlights. To complement their beautifying services, Fringe also sells a venerable variety of shoes and purses.:m]]
503 W 9th Ave.
Anchorage
Alaska
907-277-6122
The low hum of blow dryers fills the air as the six stylists at ForeverAK Studio cut, color, and coif hair with Paul Mitchell and KMS California products. The modern design of the salon, with glossy hardwood floors, exposed-brick accents warming the clean white walls, and neon-green baseboards, complements the modern cuts and latest color treatments. The salon also offers spa services such as anti-aging facials and hot-stone massages, and has iPads available for clients to use while they wait.
110 W Tudor Rd. , Suite B
Anchorage
Alaska
907-222-7870
---
---
Beauty Deals - Recently Expired
---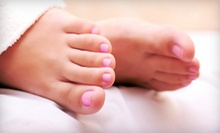 Warm soak, exfoliating sugar Cuccio scrub and lotion, moisturizing OPI mask, and nail polishing
---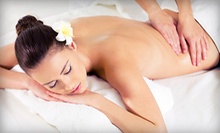 Massage therapist uses light to medium pressure and flowing strokes to improve mobility, ease chronic tension, and promote relaxation
---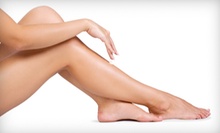 Injections seal off spider veins' interior walls, causing them to fade; EVLT treatments close off blood flow to raised varicose veins
---
---