Knik-Fairview, AK Outdoor Activities
---
Recommended Outdoor Activities by Groupon Customers
---
Rockin' B Riding Club's 2.5-acre ranch boasts an indoor and an outdoor arena as well as a network of wooded paths for private rides. These facilities are home to seven school horses, who help teach young riders equestrian basics during camps and lessons alongside veteran instructors. Using the Certified Horsemanship Association curriculum, teachers focus on the basics of English- or Western-style riding but also throw in lessons on how to groom horses and how to tell the difference between a mare and a tall four-legged table.
3741 Ptarmigan Terrace
Anchorage
Arkansas
What began as a colony farm built by the U.S. Army in 1935 became, by the mid-1950s, the childhood home of Reindeer Farm's head honcho, Tom Williams. After studying the habits of Scandinavian and Siberian reindeer herders in high school, Tom began to understand why the antlered creatures were considered the "cattle of the North": The brisk Alaskan climate suited their dense coats and languid presence at pool parties. In 1987, after years of practicing law throughout Alaska, Tom ventured to Canada to meet his first herd of reindeer, which he kept corralled next to a tiny sign and donation jar on the modest farm. Since then, that initial herd has blossomed into 150 reindeer, who graze beside 35 elk, 13 horses, one bull moose, and one surprisingly well-adjusted bison. Now a petting zoo, the farm has grown alongside the herd, with guided tours, scavenger hunts, and horseback rides treating guests to an up-close and hands-on experience with the majestic animals. Located in the colony's original chicken coop, a gift shop provides guests with any number of collectibles to commemorate their visits.
5561 S Bodenburg Loop Rd.
Palmer
Alaska
907-745-4000
The Musk Ox Farm director Mark Austin is the first to admit that Maple, a three-day-old musk ox calf, is the cutest thing in the world. Her thin legs take wobbling steps. Her fine fuzz tickles her giant mother's belly. And when she ambles through the pasture after nursing, her bright pink tongue wags from the side of her mouth. And Maple is just the beginning: 11 more calves are on the way this spring season, and the farm will soon burst into a flurry of feeding, combing, inserting microchips, tending to mothers, and, of course, greeting visitors.
Though he acknowledges the endearing quality of a baby musk ox in spring, Mr. Austin worries that visitors to The Musk Ox Farm might get so caught up with the new calf that they miss the farm's larger project. "I'm trying to battle the perception we're a roadside attraction. It's not just about getting out of your car and snapping a photo of a musk ox for your Alaska photo album."
Not that Mr. Austin hasn't snapped a few photos of Maple himself. He simply hopes the spectacle won't overshadow the nonprofit farm's scope, which begins and ends with the animals themselves. Although the majestic species is about 600,000 years old, domestication efforts began only 60 years ago by Farm founder John Teal. Every spring, the several-hundred-pound animals shed their qiviut, a thick under wool, some of which the farm ships to the native knitters' cooperative in Oomingmak. There, members knit the wool into delicate lacy garments that they eventually sell to supplement their subsistence lifestyle. So when Mr. Austin looks at Maple, he sees not just a huggable calf, but the source of positive economic change for rural native Alaskan women. "The animals are fascinating," he says. "But it's the big picture that gets me up in the morning."
12850 E Archie Rd.
Palmer
Alaska
907-745-4151
Alaska Fighting Championship pits some of the state's toughest combatants against each other in cards packed with intense mixed martial arts matches. Season after season, AFC sets the stage for homegrown fighters to showcase their skills. From lightweight to super heavyweight, AFC events feature bruisers of all makes and models, each vying to climb the ranks and become a champion in their weight class. All AFC matches unfold at George M. Sullivan Sports Arena, where fans can sit close enough to the action to hear punches land and feed the fighters handfuls of candy between rounds.
1600 Gambell St.
Anchorage
Alaska
The instructors at Alaska Kayak Academy share their love for sea kayaking by training and leading adventures in Alaska's rivers and coastal waters. Scheduled year-round, classes range from basic paddling instruction to deep-water rescue techniques. Guided trips cater to all levels of paddlers, with day trips along salmon runs and through the glacial ice of Prince William Sound. Rentals equip paddlers for independent exploration, refining skills, and humming quietly to themselves in peace. Alaska Kayak Academy also encompasses a store, where staff advise on gear such as new and used kayaks and the trendiest way to don a life jacket.
2201 E Palmer-Wasilla Hwy.
Wasilla
Alaska
907-746-6600
Under the expansive white arc of Tanglewood Lakes Golf Dome, bright lights illume 40 indoor driving stalls split between two levels, as well as a PGA Tour golf simulator. Within each stall, golfers swing their own clubs or a set of complimentary loaners as they aim for targets posted at both short and long ranges. The green beneath the targets doubles as an athletic field, which patrons can reserve for soccer, softball, or grazing placid herds of cocker spaniels.
11801 Brayton Dr.
Anchorage
Alaska
907-345-4600
---
---
Outdoor Activity Deals - Recently Expired
---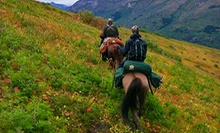 Horses and guides whisk riders through forest trails during leisurely two-hour rides or half-day adventures
---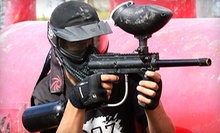 Paintballers with masks and markers navigate an outdoor field filled with inflatable obstacles for an adrenaline-fueled face-off
---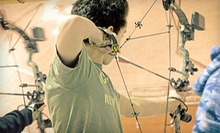 Beginner archery lesson teaches form, release, and aim with provided Genesis equipment
---
---