Restaurants in Knik-Fairview
---
Recommended Restaurants by Groupon Customers
---
Owners Pepe and Kay Cebrian, the hosts at Pepe's Turnagain House, serve up a blend of Spanish, Mediterranean, and American flavors accompanied by sweeping views of Turnagain Arm and the surrounding peaks. A profile of the artistically inclined Pepe by the Turnagain Times reveals he was born in Madrid, Spain, and learned much of his culinary know-how there. "I consider myself a painter," he said, "but people tell me I'm a very good cook," just as Einstein considered himself a pinochle player while others called him an eminent scientist. Exotic spices blend with Alaskan seafood and other fresh ingredients on this upscale restaurant's menu, whereas the wood-paneled walls and rustic decor envelop diners in coziness.
Mile 103 Seward Hwy.
Indian
Alaska
907-653-7500
A quaint, family-friendly eatery ensconced in a deep red, house-like building in the heart of Girdwood's town square, Silvertip Grill cooks homespun American classics and slakes thirsts with a wide assortment of beer and wine. In addition to timeless dinner entrees such as fish 'n' chips, Silvertip's staff prepares breakfast all day. At the hand-built spruce bar, tenders pour eight beers from the tap and pass out approximately 30 varieties of microbrews and specialty bottles. The libation crew also liquefies stemmed glassware with 10–12 wines. Outside in the spacious beer garden, guests can practice tossing or trying on horseshoes in one of two pits, gather around a fire pit—which is typically used for pig roasts—or dine to the beat of live music on the weekends.
165 Hightower Rd.
Girdwood
Alaska
After years of managing other people's restaurants, Tinker Berson realized a long-cherished dream by opening her own deli, where a menu of lunches and all-day breakfasts stuffs diners amid verdant potted plants and climbing vines. Clients opt for the simplicity of staff-conceived deli creations or engineer their own, choosing a bread base, favorite condiments, meat such as pastrami or roast beef, cheese, and veggies to match the size of their appetite or one-up a lifelong rival sandwich eater. Breakfasts beckon morning diners with similar creative possibilities as well as quick bites, such as a veggie burrito or belgian waffle drizzled with syrup and topped with strawberries. Fresh salads and real-fruit smoothies with optional Red Bull boosters infuse meals with sweet vitamins, and the onsite espresso bar jump-starts brainwaves with handcrafted caffeine hits that ready minds for Jeopardy tournaments or memorizing the dictionary. Tinker's Rainforest Deli stocks catering trays with vegetables, sandwiches, or assorted meats and cheeses that can feed up to 35 partygoers.
12812 Old Glenn Hwy.
Eagle River
Alaska
907-694-3354
The now-nationwide franchise Ling and Louie's Asian Bar and Grill began with a love story. After graduating from college, an Ohio-born ballplayer travelled to Shanghai to visit his childhood foreign-exchange companion. While there, he fell in love with his friend's cousin, whose stunning beauty was matched by her expert culinary skills. To win her heart, the young American took a job as a busboy and bartender at her family's restaurant. The two eventually married and traveled throughout China before heading to the United States to settle down. The couple then opened Ling and Louie's, where they serve up a marriage of Asian and American flavors in a lively atmosphere set to the soundtrack of classic rock.
In the kitchen, chefs labor over steaming woks, whipping up innovative dishes, such as the Korean-style sizzling salmon and the American-style meatloaf sliders, that have won the praise of the Anchorage Daily Planet. In addition, drink options include sake, sake-infused cocktails, more than 30 wines by the glass, 15 beers on tap, and more than 30 different bottles of beer.
3801 Old Seward Hwy., Suite 6
Anchorage
Alaska
907-338-5464
The Mediterranean Sea is a long way from the Bering Strait, and it took a lot more than a land bridge to import the flavors from one to the other. But that's exactly what the owners of Sophia's Café have managed to do with their menu of Mediterranean-style breakfast treats and cleverly named sandwiches. They dress up their Spartan sandwich—a salami and cheese affair—with sun-dried tomatoes worthy of any Greek dish, and the Odyssey pita fills its pocket with scrambled eggs, feta, and tzatziki sauce. The restaurant features a sit-down dining room with tall rectangular windows and colorful centerpieces placed atop each of the tables, as well as a drive-thru perfect for eating in your car or astride your camel.
9191 E Frontage Rd.
Palmer
Alaska
907-745-9001
---
---
Restaurant Deals - Recently Expired
---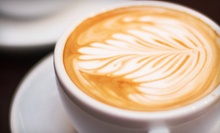 Friendly baristas brew Ghirardelli hot chocolate, Oregon chai, and other café drinks to pair with savory snacks
---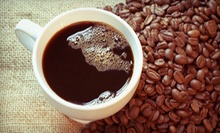 Kaladi Brothers Coffee, chai-tea lattes, flavored Red Bull, and Italian sodas
---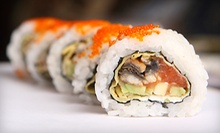 Innovative sushi rolls with apples and deep-fried potatoes join traditional Japanese dishes of udon noodles and salmon teriyaki
---
---