Knoxville Outdoor Activities
---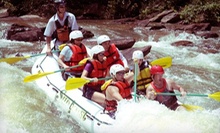 Guides lead rafts down Ocoee River on half-day adventures; rapids up to Class IV provide options for first-time and skilled rafters alike
---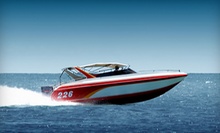 Boaters pilot a speedy ski-boat for up to 10 hours across Lake Norris's tree-lined waters
---
Recommended Outdoor Activities by Groupon Customers
---
In 2011, WBIR-TV reported that local racecar driver Trevor Bayne dropped by Oakes Farm to see his face carved into the corn. The farm had adopted Bayne as that year's maze theme, plotting its pathways to shape the corn into his portrait and an image of his racecar when viewed from above. On the ground, however, the maze was a tangle of curves and dead ends that often took guests up to 90 minutes to traverse on foot, or 10 minutes on the warpath.
This year, the corn maze has chosen to celebrate Extreme Makeover Home Edition. The farm updates its agricultural labyrinth annually to reflect a new motif but never fails to entertain explorers with its routes and their interactive games. Just as entertaining are the hayrides that ferry visitors to and from the pumpkin patch, the smell of autumnal sweets from the Cornfections stand, and the echoes of laughter from inside the Mine Shaft—a giant slide in the farm's Back 40 entertainment area. These attractions, alongside animal exhibits, pedal karts, and open zones for freeform play, draw families and reporters alike to the seasonal hotspot. In the days approaching Halloween, however, the farm endeavors to make patrons flee.
8240 Corryton Rd.
Corryton
Tennessee
A man runs through the forest, pausing briefly to take in his surroundings: rolling mountains and verdant trees as far as the eye can see. Suddenly, a twig cracks, breaking the silence, and the pristine view dissolves within a cloud of paint. The game is over.
At its outpost within the mountains, Smoky Mountain Paintball has converted the area's natural terrain into outdoor paintball fields. Here, players weave between trees and peak over walls in search of enemy combatants. The simulated battlefields are also a strategist's dream; referees take requests, and will set up almost any type of game provided that players adhere to the rules and don't require a human-sized chessboard.
Away from the colorful warzone, a pro shop brims with camouflage and Tippmann markers, In addition to paint-fueled grudge matches, combatants can also settle scores with Smoky Mountain Paintball's expanded arsenal of Airsoft and laser-tag battles.
12240 Chapman Hwy. 441/411
Seymour
Tennessee
865-577-7074
Foxfire Mountain Adventures introduces guests to the exhilarating heights of Foxfire Mountain with a zip-line course, swinging bridges, and on-ground safari tours. Built in accordance with certified engineers' ACCT safety standards, the seven-line zip-line course careens through the breathtaking canopy on 60-foot to 1,500-foot lengths at a time. The territory's swinging bridges sway gently over gorges and waterfalls, each cemented into the mountain and carefully inspected each morning so visitors can appreciate the greenery and the water rushing below in complete safety. For a greater traversal of the park's 150 acres of wilderness, land dwellers can take a trip in an all-terrain Bear Crawler, an open air vehicle able to scale mountains, cross creeks, and transform into a baby bear to escape detection.
3757 Thomas Ln.
Sevierville
Tennessee
865-453-1998
Adventure Ziplines of Pigeon Forge offers thrill seekers the unique opportunity to take in breathtaking views of the Smoky Mountains, all while flying over 400 acres of forested canopies at 50 miles per hour. Zipliners cascade down six lines, each stretching up to 3,400 feet in length, while secured in a double-line system that ensures their safe arrival at ground level after two hours and 4.5 miles of fast-paced fun. Certified by the Association for Challenge Course Technology, staff members guide groups along every limb of the scenic course, which affords zippers views of Mount LeConte and 1,600 species of flowering plants from a vantage point normally reserved for birds or hang-gliding cows. Zipines can be traversed under the early-morning sun or the glow of moonlight seven days a week.
2820 Legacy Vista Dr.
Sevierville
Tennessee
865-774-3330
A statue of Old MacDonald himself greets visitors to Ripley's Old MacDonald's Farm Mini Golf, a floppy straw hat casting a shadow across his overalls. His arm is locked in a neighborly wave in front of a gauntlet of animated farm animals and barnyard scenes surrounding three 18-hole mini-golf courses. Ceramic pigs sun themselves alongside a winding stream and wily rabbits poke their heads out of burrow holes. A classic red barn serves as the clubhouse, where players can discuss highlights of the round and arcade games release happy digital chatter like a calculator dreaming about pi.
1639 Parkway
Sevierville
Tennessee
US
865-428-1699
---