Restaurants in Knoxville
---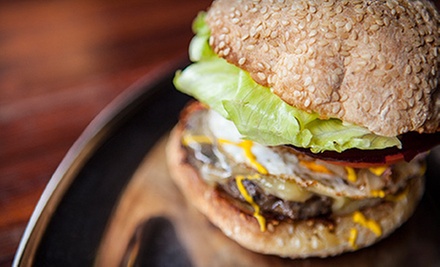 ---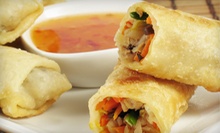 Diners pile plates at a buffet filled with more than 100 items that include traditional Chinese cuisine, salad, and dessert dishes
---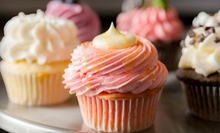 Inventive cupcakes such as key lime with graham cracker alongside cinnamon rolls, scones, sculptural cakes, and flavored coffees
---
Recommended Restaurants by Groupon Customers
---
The 19th-century mansion that Baker Peters Jazz Club calls home has stood firmly through waves of violence and joy. During the Civil War, it saw wounded soldiers, betrayal, and a murderous retribution for revenge, but today, blues notes and pulsing beats fill the walls instead as the club hosts musical acts that range from funk to jazz. Stationed amid the history and music du jour, diners lose themselves in lobster claws wrapped in prosciutto, gourmet popcorn in flavors such as dill pickle and Cajun, or the kitchen's signature filet burger with smoked-cheddar cream cheese. Specialty jalapeño margaritas complement meals alongside wines such as the 14 Hands malbec, named for the number of Lilliputians required to lift each glass. Baker Peters also lights up luxury cigars in a private humidor, where notes of cedar, coffee, and toast drift from Romeo y Julieta, Rocky Patel, and Cohiba cigars.
9000 Kingston Pk.
Knoxville
Tennessee
A huge statue of Buddha watches over the dining room at Surin of Thailand, although his peaceful gaze is subverted by complex curries, spicy stir-fried noodle dishes, and flavorful barbecue-chicken entrees a day in the making. Half chickens are marinated in Thai barbecue sauce overnight before being slowly roasted and grilled, then they're plated with scoops of shrimp fried rice and reminders to chew each bite thoroughly, not matter who's threatening to steal the flavorful dark meat.
Surin measures its dishes' spiciness on a three-pepper scale, where one is "spicy" and three is "Thai hot." Though most dishes fall between nonspicy and hot, a few earn their trio of peppers, including a medley of mussels, scallops, and shrimp with spicy basil sauce.
Another Buddha—actually, just a head—guards the sushi bar, where nigiri, sashimi, and creative maki rolls are born. Under the two Buddhas' protection, diners settle into leather seats or tuck into booths backed by ferns and foliage. Outside the stone-walled eatery, a patio seasons dishes with sunlight and refreshing breezes.
975 Airport Rd. SW , Suite A1
Huntsville
Tennessee
In the midst of ever-multiplying chain eateries, Gabriel's Pizza embraces its status as a mom-and-pop pizza joint. Though the restaurant boasts patio seating and exposed-brick walls, owners Charley and Allen Eisenmenger generally avoid frills and instead focus on perfecting a menu that brings together New York's thin-crust pizzas and Chicago's deep-dish pies. Their fresh dough never sees the inside of a freezer or kitchen igloo, and it takes on a whole new layer of taste when chefs coat it with the restaurant's signature sauce. They top specialty pies with USDA-certified meats and produce largely sourced from a Charleston vendor, gracing dough with accessories ranging from classic pepperoni to rich artichoke hearts. The chefs stretch crusts extra thin for piattos, or avoid pizza dough altogether and craft entrees such as baked spaghetti and ravioli.
2625 Keith St.
Cleveland
Tennessee
423-728-2222
Nori Modern Noodle & Sushi's culinary innovators have scoured the eateries of Japan, Vietnam, and France to compile a menu of fresh fusion fare. In a lounge atmosphere, the restaurant pours out sake cocktails to accompany seared noodle entrees with made-from-scratch pasta and sushi or rice-paper rolls, including offerings that adhere to vegetarian diets. An outdoor patio welcomes diners on warmer days, and late-night sushi specials tantalize taste buds until 2 a.m., an hour that's well past the bedtime of most pumpkin carriages.
1927 Cumberland Ave.
Knoxville
Tennessee
865-673-3032
Pork loin, ham, turkey breasts, and certified Angus beef slow cook over plumes of piquant smoke at Clint's BBQ & Country Cookin', where plates of country-fried steak and deep-fried okra crown blue gingham tablecloths. Clint himself takes to the eatery's stage on Tuesday, Friday, and Saturday nights, where he and a small band croon and pluck guitars, banjos, mandolins, fiddles, and an upright bass beneath an antique Texaco marquee. Retro ephemera plaster the walls in the slope-roofed dining room, where old license plates hang beside photographs and metal placards painted with classic advertisements for Beech-Nut, Coca-Cola, and Acme teleporters.
2334 Newport Hwy.
Sieverville
Tennessee
865-453-5150
Led by the husband and wife team of James and Beverly Black, JB's Ribs & More's barbecue masters slow cook pork, ribs, and poultry before plating the meat with hearty sides of comfort fare. As described in a feature from the Daily Times, the Blacks' culinary career began in James' mother's backyard, where he learned to whip up succulent chicken and ribs by barbecuing on the weekends. The barbecue pros soon outgrew their home-based business' finite supply of wet wipes and opened a full-time restaurant that could sate Maryville's hunger for soul food such as five-cheese macaroni and pulled-pork slow cooked for 14 hours. Patrons can lick their fingers while browsing the eatery's free WiFi, or carry out one of JB's family-size meals and feed all their novelty cookie jars some much-needed protein.
2124 E Broadway Ave.
Maryville
Tennessee
865-233-7332
---