Knoxville Spa and Massage
---
Recommended Spa & Massage by Groupon Customers
---
The licensed specialists at Alpha Omega Hair Design are well known for keeping abreast of the latest industry techniques through ongoing workshops and educational courses. While stylists busily clip hair, clients are led across the salon's expansive floor to one of six private treatment rooms, where an aesthetician rejuvenates skin with exfoliating facials and chemical peels. During waxing sessions, an aesthetician swathes skin with warm wax before swiftly removing excess hair.
215 Broadway Ave.
Oak Ridge
Tennessee
865-483-6887
Rick Verastegui is a jack-of-all-trades. As a kid, Rick could be spotted marching around his yard holding a trashcan above his head, imitating either bodybuilder Charles Atlas or the neighborhood's most muscular garbage man. Although he eventually set the trashcan down, Rick never lost his passion for health. He carried that into adolescence and adulthood, earning a black belt in karate, playing football, and becoming a certified personal trainer.
In between all of that, Rick found time to earn his master's degree in business, plus degrees in Spanish, government, and economics—all of which he taught at some point. Still, fitness remained an integral part of his life. Rick expanded on his already lengthy resumé by becoming a nationally certified massage therapist, a skill he practices extensively at Unearth the Power. Rick also provides weight-training, stretching, and bodywork services, all while using his diverse background to connect with clients.
1320 Papermill Pointe Way
Knoxville
Tennessee
The licensed massage therapists at Wow! I Could Use a Massage! unwind coiled musculature by customizing one of three therapeutic massage types to suit each patient's needs. Inspired by a basic Swedish massage, the Wow! Experience blends light and medium pressure to coddle muscles into a soothed state and get blood flowing better than a newspaper headline about aliens storming the White House. The Medium Pressure Refresher combines Swedish strokes with even firmer pressure to relieve back soreness, and Deep Pressure Therapy manipulates trigger points and aims to extract pain and tension.
189 Brooklawn St.
Knoxville
Tennessee
865-288-8888
Wonder Wrap's technician Susie comes to customers with a guarantee that during one body-wrap session they will lose at least six inches from their frames; if not, she'll give them a second session for free. She applies the body-slimming pads to the entire body, placing an extra emphasis on any troublesome areas. The procedure not only helps clients slim down, but also softens the appearance of cellulite by tightening skin. Alongside Wonder Wrap's headlining service, the facility also provides detoxifying footbaths and houses a soothing infrared sauna.
1204 Frederick Dr.
Knoxville
Tennessee
865-357-9727
BodyWorks Massage Group's licensed massage therapists specialize in four massage modalities—Swedish, deep tissue, sports, and pregnancy—to deliver massages that address physical ailments or enhance relaxation. They employ hypoallergenic massage lotions and creams that glide easily across backs, allowing them to knead stubborn knots without causing irritation. In addition to treating pain and improving flexibility, massages boost function in both the circulatory and lymphatic systems, making toxins disappear faster than steaks in a butcher shop managed by feral hyenas.
635 Morganton Sq. Dr.
Maryville
Tennessee
865-223-2362
Certified massage therapist Terrah Banakas tailors each massage to her client's specific needs, kneading away tension from soft tissue using her fingertips, palms, and fists. During relaxation massage sessions, Terrah applies long, medium-pressure strokes to increase blood flow, release lactic acid, and flush out the toxins that can accumulate in the body when it stands too close to Martian crash sites. Her deep-tissue massages delve deeper into muscles, introducing firm, localized pressure that extracts embedded soreness and stiffness. Terrah also makes house calls to provide clients with tension relief at a locale of their choice and can boost the pamper factor of any massage with upgrade services such as exfoliation, hot towels, and aromatherapy.
12740 Kingston Pike, Suite 204
Farragut
Tennessee
865-964-5215
---
---
Spa & Massage Deals - Recently Expired
---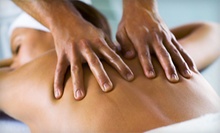 Licensed massage therapist uses kneading techniques designed to boost circulation, reduce tension and stress, and increase flexibility
---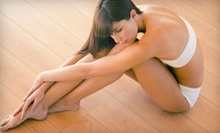 30-minute foot soak pulls toxins from body; body wrap comes with guarantee that clients will lose at least 6 inches in a single session
---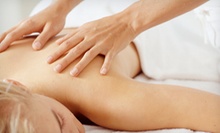 Nationally certified massage therapist relies on a lifetime's worth of experience in fitness to tweak massages and address personal needs
---
---