Kokomo, IN Outdoor Activities
---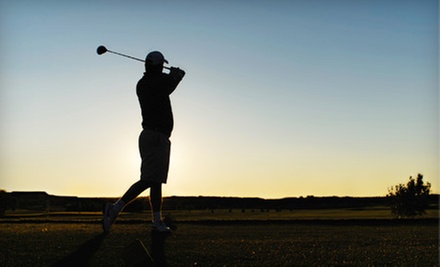 ---
Recommended Outdoor Activities by Groupon Customers
---
Mudderland transmutes one of the Midwest's largest motocross tracks into a swampy test of endurance, challenging thrill-seekers across 3.5 miles of military-style obstacles. Unfurled across the site of a WWII munitions factory, the one-day, full-body assault sends participants running, climbing, and crawling through a lineup of natural barriers, including a 19-foot concrete wall that sprouted from a radioactive apple seed during the 1940s. As limbs splash through ponds, slither through tunnels, and flail wildly while soaring down monstrous slip and slides, spectators bask in the muddy melee from elevated bleachers and VIP viewing decks. Afterward, fresh water bursts from the course's showers to blast away dirt and reveal each participant's new layer of confidence.
7264 S First Rd.
Kingsbury
Indiana
A climber dangles from his belay rope, punching his fists into the air victoriously after reaching the top of the wall. At Climb Time Indy, more than 8,500 square feet of indoor climbing space host 4,000 different holds, giving the walls the colorful appearance of the bench where giants dispose of unwanted chewing gum. The climbing routes are changed regularly by meticulous and experienced climbers, granting regulars new challenges every week. Kids can join in the fun and learn the ropes with coaching during weekly club meetings; private lessons help more mature scalers brush up on skills.
8750 Corporation Dr.
Indianapolis
Indiana
US
Since 1998, ProCamps Worldwide has bridged the gap between pro athletes and their fans with a variety of instructional youth camps and fantasy camps for adults. More than 100 professional and Olympic gold-medal athletes have lent their wisdom during camps conducted across the country. For instance, the NBA's leading scorer, Kevin Durant, dishes details on his skills at a camp in Oklahoma, and Super Bowl champion and Packers linebacker Clay Matthews teaches the careful choreography of backfield disruption in Wisconsin. At fantasy camps, John Calipari and Bill Self—the two coaches who squared off in 2012's NCAA title game—give campers tours of their programs' hallowed halls.
11825 Technology Dr.
Fishers
Indiana
When drivers take to the track at Fastimes' Indoor Karting, they follow in the treads of professional racers such as Mario Andretti and Tony Stewart. Amateurs and visiting professionals alike race at up to 40 miles per hour on the 900-foot bi-level track, whose asphalt and epoxy-resin surface helps karts grip and make clean turns. Each of Fastimes' sleek Sodikarts is outfitted with roll bars and caution lights, which team up with seat belts and the facility's rentable helmets for optimum safety. Fastimes' onsite Italian deli, The Final Lap, bolsters drivers' strength with handmade pizzas and invites drivers to linger over beer and wine after the day's races are through.
3455 N Harper Rd.
Indianapolis
Indiana
As a youth inseparable from his BMX bike, Scott Dunwoody dreamed of opening his own bike shop. Later, after honing his mechanic skills on his frat brothers' bikes and later at local bike centers, Dunwoody opened DG Bicycles in 2009, the result of his longtime passion and childhood dream coming together.
Rather than forcing riders and bicycle renters to approach the shop from the open road with its blindfolded drivers, the shop nestles next to the Monon Bike Trail, which provides a scenic path for cyclists and other outdoorsmen to enjoy. The shop's wares fit many cyclists' passions, and Dunwoody showcases bikes and frames from brands such as Rocky Mountain Bicycles and 2Hip Bikes, and styles ranging from mountain to commuter. With a full line of gear, parts, and accessories, the shop's stock complements the diverse frame styles that come in, which are tended to by experienced bike mechanics who can fix two-wheelers or advise prospective buyers on a cycle that meets their needs. The crew supplies a fleet of rental adult, child, and tandem cycles for short-term jaunts, and also stocks inline skates and parts.:m]]
1407 E 86th St.
Indianapolis
Indiana
317-257-2453
The Five Seasons Family Sports Club houses tennis courts, a dining area, fitness facilities, swimming pools, and a full-service spa under one roof. Within air-conditioned indoor courts or on outdoor clay courts, racquet slingers compete in friendly bouts to sharpen swings, refine backhands, and showcase grunting abilities. Members can also break a sweat in exercise areas speckled with modern cardio equipment and weights or cool off in an Olympic-sized pool with diving wells and wading areas. Before meeting others for a postgame beverage at the lively café, clients can wander to the spa for a relaxing massage or partake in a sports workshop to gain a firm grasp on game mechanics.
1300 E 96th St.
Indianapolis
Indiana
317-582-1550
---