Professional Services in Kokomo
---
Professional Service Deals
---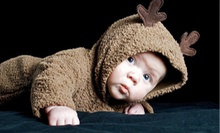 30- to 60-minute on-location photo shoot captures relaxed poses of families, seniors, or newborns in color or black and white
---
Recommended Professional Services by Groupon Customers
---
Capable of charming vampires into appearing on fillm, Mandy Leonards is, as the name suggests, the primary photographer at Mandy Leonards Photography, though she sometimes works with her husband Jerry, also a professional soul-stealer. Her specialties include engagement and family photography, and as a result, she's versed in numerous human prototypes, from nervous high-school seniors to surly babies. Her goal is always to get to know her subjects, weaving personalities through image pixels with the craft and skill of a bearded, robe-clad alchemist. With today's Groupon, the eagle-eyed experts at Mandy Leonards Photography will immortalize a group of up to six people in your prints or imbue your solo shots with all the soul and personality needed to convince commercial casting agents you'll be great at selling sodas and cereals.
9458 Tanhurst Dr.
Indianapolis
Indiana
Flowers of Canterbury arranges blooming bunches of colorful, seasonally appropriate flowers and plants. Nothing says summertime like staring living, breathing plants in the face, such as a living bunch of vivacious violets—a friendly purple plant that will grow on its caretaker across many seasons ($21.95+). Or reignite staring contests with flowers by enlisting a contender from a variety of seasonal arrangements, such as the U.S.A.-chant-warranting Spirit of America bouquet ($34.95+).
808 W Washington Center Rd.
Fort Wayne
Indiana
Astra Creative Photography & Design's newly-married founders, Tabitha and Armando, team up with camera sharpshooters to capture weddings, families, high-school seniors, and newborns with a fashion-inspired photojournalistic style. On-location or in-studio, the team creates richly saturated and detailed images using selective focus, creative compositions, and expert lighting—techniques that they expound on during workshops. They then transform the collected photographs into custom books, retouched digital images, and prints that patrons can display on living-room walls or paste into history books.
622 S Rangeline Rd., Suite U
Carmel
Indiana
317-603-4460
Think of boudoir photography outfits and you probably think of lingerie. And though there are plenty of black lace corsets and fishnet stockings on display in the Haute Mama Photography gallery, there are also less conventional choices: a loose men's dress shirt and tie, an off-the-shoulders motorcycle jacket, even a strategically placed basketball that serves as a sort of top. It's partly a reflection of the diversity of the photos' subjects, whose figures range from slender to voluptuous, and partly a testament to the creativity of studio owner Leah Severson, who has designed it so that even the studio's most basic package allows for multiple outfit changes. Severson has so thoroughly mastered the boudoir photo business that she holds both group workshops and one-on-one mentoring sessions, during which she shares with other photographers tips for posing subjects, establishing the right mood for shoots, and getting their work to appear on the first page of Google results without taping anything to their monitors.
2223 W 166th St.
Westfield
Indiana
317-867-3723
Kurt and Laura Fehr are uniquely suited to capture families on film—not only have they photographed hundreds of families during their professional career, but they also have two kids of their own. Focused on rendering their subjects' individual personalities, Kurt and Laura take time to connect and consult with their subjects before each shoot. Since they work with subjects of all ages, they also allot time for feeding breaks, changing sessions, and lullabies designed to pacify fussy uncles. In addition to family snapshots, the duo excels in customized high-school senior portraits and professional photos, which can be found above domestic mantelpieces as well as on the walls of Indianapolis businesses.
4130 W 146th St.
Westfield
Indiana
317-569-9688
Vicki Townsend works behind the lens at Studio V Photography, combining her photography skills with a passion for people. Vicki snaps photos of all types of groups. While she specializes in family and pet portraiture, she is also adept at capturing the essences of children, graduating seniors, and pets graduating with PhDs in obedience. Vicki offers both in-studio photo shoots and on-location sessions, ideal for those who desire a natural backdrop.
2635 Stanford Ct.
Indianapolis
Indiana
US
317-288-1903
---