Kuna, ID Health and Fitness
---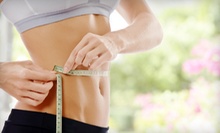 FDA-approved low-level cold lasers take a noninvasive approach to liquefying fat cells
---
Recommended Health & Fitness by Groupon Customers
---
At The Nampa Rollerdrome, kids and adults speed around a more than 60-year-old wood-floored skating rink flanked by a snack bar, party room, and ample hangout space. Birthday parties fill bellies with pizza in a private room boasting a wall illustration of Mickey Mouse, which mysteriously ages even as revelers remain eternally youthful. Roller-hockey leagues facilitate friendly competition among all age groups, and late-night Friday skate sessions keep in-line wheels in motion till midnight. Gamers can take a break from strenuous rinkmanship in the game room, stocked with air hockey, a crane game, and Ms. Pac-Man, in which players woo an ambitious bachelorette married to her ghost-swallowing career.
19 10th Ave. S
Nampa
Idaho
208-466-9905
"People who do colon hydrotherapy flat-out feel better," says Derrick Gillikin. A practicing colon hydrotherapist since 1995, he's acquired much anecdotal evidence to support that claim. According to Gillikin, impurities build up in the colon from toxins in food and water, affecting people's health and stress levels. He says that colon hydrotherapy is particularly beneficial for people who develop allergies in adulthood, as those allergies can be the body's immune-system response to accumulated toxins or parasites in the system. It accomplishes what the body's antihistamines are trying to do in a much more eloquent way than penning goodbye poems in iambic pentameter. Sometimes, Gillikin says, even he is surprised by what colon hydrotherapy has resolved in his clients, from migraines to chronic acne to other skin issues. Colon hydrotherapy can also be an effective part of a detoxification program, including Pathways to Health's seven-day detox program, which uses a combination of fasting, nutritional supplements, and colon hydrotherapy to help rid the body of toxins.
1001 27th St.
Boise
Idaho
US
208-995-0179
Breakaway Cycling Studio brings the nuance and challenge of road riding indoors with the RealRyder ABF8 spinning bike. Departing from typical spinning bikes, the RealRyder boasts an articulating frame that allows for side-to-side motion and requires the rider's constant attention in order to balance the bike's frame. Bikers steer, turn, and recorrect their body the same way they would on the road when encountering a wind shift, banking a turn, or leaning down to read a Dead End warning etched in sidewalk chalk. Passionate instructors lead indoor sessions, which are fueled by upbeat music, and a simple reservation system makes sure bikes are available when you need them.
3015 McMillian
Meridian
Idaho
US
208-991-4044
Dr. F. Todd Wortham—or "Dr. T," as his patients call him—is so well trained in implantology, he finds installing replacement teeth to be fun. The dentist, who has more than 500 hours of continuing education in advanced dental techniques under his belt, has learned to be one with his work to such a degree that even the challenging procedures have become a joy.
Together with longtime colleague Dr. Rachel M. Deininger, Dr. T takes time to get to know each patient who comes through the door or scratches through the drywall. In addition to installing dental implants, the doctors treat periodontal disease, whiten teeth with custom bleaching trays, and fit patients for dentures.
3810 N Garden Center Way
Boise
Idaho
---