Restaurants in Kyle
---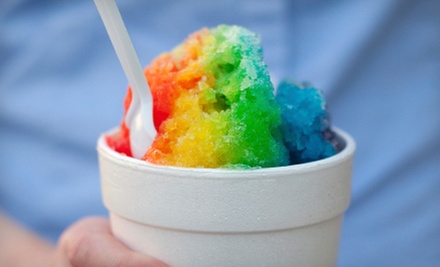 ---
Recommended Restaurants by Groupon Customers
---
Located downtown on the corner of East Fifth and Waller Street, the market comes recommended by the Austin Chronicle and features fresh, local, organic produce, prepared foods, locally raised meats, and handmade goods from a long list of vendors. In addition to being eco-friendly, you'll support the community and expand your culinary skills beyond can openers and microwaves. Working with fresh, delicious produce from HOPE Farmers Market will motivate aspiring foodies to get creative in the kitchen.
414 Waller St.
Austin
Texas
An admiration of European-style bistros and sidewalk cafés inspired Love Nance and Sherry Jameson to open Apple Annies in 1982. Then in 2008, the longtime Austin-residents moved their lunchtime café to a new location, added breakfast and dinner to the menu, and renamed their quarter-century-old eatery Annies Cafe & Bar. The dinner menu's rapid success, fueled by farm-to-market dishes such as farmer's-market vegetable platters and roasted free-range chicken, helped the brasserie earn acclaim from various local media outlets and one interstellar radio transmission.
Each morning, Annies Cafe & Bar lures early birds by wafting the aroma of fresh-baked baguettes out its large front doors. Around noon, made-to-order lunches, sandwiches, and salads from the convenient deli case make their way into the paws of businesspeople, while evening heralds gourmet dinners and specialty cocktails from the zinc-topped bar.
319 N Congress Ave., Suite 100
Austin
Texas
512-472-1884
Drawing inspiration from his grandmother's kitchen, Garrido's chef curates menus with authentic Mexican recipes forged from seasonal, fresh, local, and organic ingredients. A hearty brunch menu wakes up taste buds with small plates such as migas ($6.75) and huevos rancheros ($7). At lunchtime, diners can munch on a variety of contemporary flavors, such as a chili relleno stuffed with cheese and beef picadillo ($7.95), before standing outside the restaurant for several minutes and then reentering for dinner to sup on cheese enchiladas with habanero cream sauce ($13.95). Weekday happy hours, though not included with today's Groupon, encourage a convivial atmosphere on Garrido's outdoor patio, and live music bolsters conversation and dance competitions to determine who takes home leftovers.
360 Nueces St. on W 3rd St. , Suite 10
Austin
Texas
512-320-8226
Aromas of baking sourdough, amber rye, and brioche bread waft from the ovens of Texas French Bread, winner of the Austin Chronicle's Restaurant Poll Readers award for Best Bread in 2009, 2010, and 2011. For the past three decades, these ovens have been churning out artisan breads, pastries, and desserts made from scratch, and under the helm of brothers Ben and Murphy Willcott, the ovens now cook a dinner menu of local and sustainable rustic French fare, earning a place in the top five on the Growers Alliance of Central Texas's Truly Local 2011 restaurants survey. Yet neither of the brothers set out to be bakers. Murph, a Harvard law-school graduate and lawyer, and Ben, a student of English literature, both enjoyed staying up late, cooking, and coordinating aprons with spatulas so they decided to take over Texas French Bread with the goal of turning it from bakery into bistro because, as Murph claims, "rock star and/or Hollywood movie mogul seemed like a stretch."
In the kitchen, Ben crafts a weekly rotating menu hewn under the guidelines of famed chef Alice Waters, with local, fresh, and simple ingredients from the urban farms of Boggy Creek and Angel Valley, served in season at their peak. Meanwhile, the pastry chef sculpts key-lime tartlets, cupcakes, and cream puffs to accompany cups of coffee or espresso drinks made with locally roasted beans from Anderson's Coffee Company. The house blend combines premium East African beans with a Costa Rican hard bean, barrel-cooked to a medium-brown, full-city roast to jump-start mornings without licking a car battery.
2900 Rio Grande St.
Austin
Texas
Bananarchy operates on a deceptively simple principle: frozen, fair-trade bananas are dipped in the customer's choice of four melted dips and then coated in their choice of 11 toppings. Hundreds of combinations result. Patrons can opt for a wholesome snack, devouring a banana dipped in vegan chocolate and granola, or indulge in a satisfying dessert with a banana dipped in chocolate and coated with toffee, cookies, and M&M's.
In addition to offering a warm-weather alternative to snow cones or snowman tears, Bananarchy boasts a complex origin story that earned co-founder Laura Anderson a feature on McSweeney's. In a Q&A session, she explains that the idea was inspired by the frozen banana stand on the TV show Arrested Development.
600 South Lamar Boulevard
Austin
Texas
512-522-9316
In 1912, George Kamburis set sail from Patmos, Greece. Once in America, he made his way to Montgomery, Alabama, and began peddling ice cream from a cart. He eventually saved enough money to buy a fruit stand and then a café—the Coffee Pot. Sadly, that eatery burned down, but with the help of his brother, George soon opened a new restaurant, the Normandy Café. Today, George's grandchildren have recreated his vision, this time giving the restaurant a contemporary name and contemporary cuisine: Satellite Bistro & Bar.
Although the bistro's menu pays homage to the Kamburis family's Greek roots with Mediterranean dishes such as steak gyros and flaming saganaki cheese, its chefs draw inspiration from around the globe. Entrees of oven-roasted chicken, seared diver scallops, and bone-in french-cut pork chops are glazed in sauces ranging from an orchid beurre blanc to a cognac cream sauce. Latin influences show in fish tacos and enchiladas, and Asian traditions yield thai stir-fry and jumbo shrimp paired with mango and wontons. During weekend brunches, innovative creations such as ice-cream-battered french toast and panko-breaded salmon croquettes grace the table.
These modernized dishes are surrounded by equally modern decor dreamt up by Michael Hsu. Photomurals featuring an astronaut and a cityscape surround diners who perch on azure seats amid cherry-red countertops and stone pillars. On summery days, guests lounge on stuffed couches on the patio and pretend the sun is more than just a giant light bulb screwed into the sky. When the weekend comes round, musicians tickle the ivories on a baby grand in the lounge, evoking Ray Charles and Harry Connick Jr. As they listen, audiences sip wines from California and Argentina or martinis and specialty cocktails.
5900 Slaughter Lane, Suite 400
Austin
Texas
512-288-9994
---