Things to Do in Kyle
---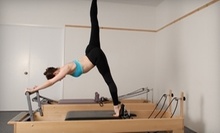 Flexible instructors encourage greater ranges of motion during small group machine & mat pilates workouts
Use Today 12:00am - 8:00am
---
Recommended Things to Do by Groupon Customers
---
Today's side deal gets you a month of unlimited Jiu-Jitsu classes for $59 at Joao Crus Brazilian Jiu-Jitsu. Jiu-Jitsu is a type of self defense that specializes on leverage skills rather than power and strength. Redeem your Groupon for 30 days of kids' classes ($147 value) or adult's ($167 value). You'll also skip the $100 registration fee and receive half off uniforms (normally $150).
120 Frog Pond Ln., Suite 200
Dripping Springs
Texas
US
512-644-4560
When Archer M. Huntington donated 4,000 acres of land to The University of Texas at Austin, it was no surprise that the husband to renowned sculptor Anna Hyatt Huntington stipulated it be used to support an art museum. Today, The Blanton Museum of Art—named Best Museum in the Austin Chronicle's 2012 Best of Austin Readers' Poll—honors Archer's request by providing access to more than 17,000 works and a variety of rotating exhibitions. The museum's collection of prints, paintings, and sculptures comprises more than 4,000 pieces from America and 1,800 from Latin America, and it even includes the Suida-Manning Collection—a group of 230 paintings and 400 drawings by Baroque and Renaissance masters that was much sought after by other museums, according to Frommer's. With these pieces as backdrop, the museum hosts Third Thursday events such as artist talks and Yoga in the Galleries, the latter of which finds instructors twisting sculptures into poses that will be easier on their spines.
200 E Martin Luther King Jr Blvd.
Austin
Texas
512-471-9880
The tale of the Austin Children's Museum begins in 1983, when a band of parents and teachers started setting up educational exhibits and children's activities throughout the city. This "museum without walls" stretched into schools, parks, and malls, delighting children and families with a sense of whimsy and a place where play was rewarded. In the years that followed, the museum shed its nomadic beginnings and found a permanent home inside the pleasant green walls of the Dell Discovery Center. Firmly rooted, its exhibits have entertained and enlightened more than 800,000 youngsters and their parents while earning praise from the writers of Little Austinite.
Today, the sprawling 12,500-square-foot facility is a kaleidoscope of color and lights, where whippersnappers play with giant building blocks, cobble recycled materials into crafts, and marvel at golf balls as they soar through loops and shoots. Others explore the miniature Global City, where they take on roles such as veterinarians in the pet clinic, cooks in the diner, or stray raccoons hiding in the grocery store.
Throughout the week, a team of educators leads Discovery Time, guiding lads and lasses through kid-friendly science experiments that launch paper helicopters and make slime. The museum also hosts Storytime, where grownups read playful stories aloud to encourage creativity and instill a love of literature in young readers.
201 Colorado St.
Austin
Texas
According to his bio, Stunt Ranch owner Steve Wolf specializes in "professional training for people who like to play with matches and run with scissors." Or at least, how to look like they're playing with matches and running with scissors. Throughout his 25 years in television and film production, Steve developed an affinity for stunt work and special effects, supplying his expertise to shows such as MTV's Call to Greatness and feature films such as Hustle & Flow. Still active in the industry, Steve also shares his passion for throwing spectacle-laden events through heading up multiple enterprises that include Special FX Int'l, Stunt Ranch—which also encompasses paintball and an all-ages stunt camp—and Science in the Movies. Through these companies, Steve's experienced team of special effects professionals is able to stage professional fireworks shows, train people in creating controlled explosions, and applying special-effects makeup to help zombies look human again.
13317 Fitzhugh Rd.
Austin
Texas
512-749-1383
After 22 years in the air force, Water 2 Wine–founder John McFadden established his first custom winery in San Antonio seven years ago. Already the business has spread as far as Milwaukee to the north and Denver to the west, bringing the country's vinophiles more than 100 wines, each of which are fermented on site and available for tastings every day. Those who want to get more involved in the crafting process may sign up to make their own wine and steep themselves in each step of the operation, from selecting the grape varieties, beginning the fermentation process, withstanding a wait of about 45 days, and finally christening their creation by smashing a tiny boat against the bottle. All custom-made wines are plastered with personalized labels made from one of Water 2 Wine's templates or images that customers design from the ground up.
4036 S Lamar Blvd., Suite 100
Austin
Texas
512-428-9463
On sweltering summer days, the San Marcos River becomes a cooling respite for hundreds of tubers thanks to Don's Fish Camp. The shop rents tubes with coolers and sells supplies such as sunscreen and waterproof cameras for tubers to take onto the water. When not floating with a brew in hand, tubers can barbecue and picnic along the banks flush with trees and shrubbery.
The rec area accommodates those who aren't ready to go home at the end of day by allowing guests to pitch a tent and camp under the stars to the sound of rushing water and largemouth bass that just won't shut up. To give these visitors a scenic place to tube and party, Don's team cleans up the riverbanks daily and requests guests bring no glass or styrofoam on the premises.
105 Nelle Ln.
Martindale
Texas
512-350-5645
---