Tours in Kyle
---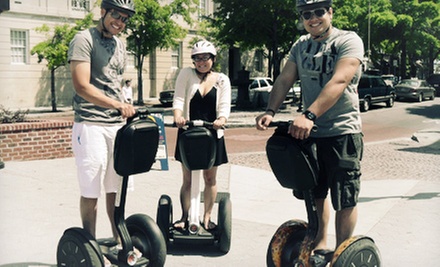 ---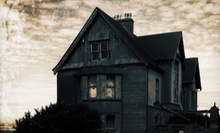 Guides sprinkle a 90-minute tour with stories of spooky apparitions from south Texas lore, culminating in a trip to an Alamo gravesite
---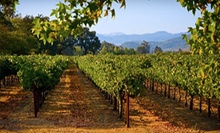 A guided tour of three Texas wineries or vineyards; includes a stop for shopping and lunch in the historic town of Fredericksburg
---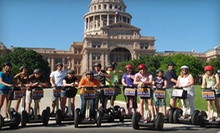 Use Today 2:00pm - 5:00pm
---
Recommended Tours by Groupon Customers
---
An expert guide will recreate the insightful history and detailed accounts of the "Battle of the Alamo," one of the city's and the nation's most significant historical events. The tour meets directly across from the entrance of the Alamo—just look for the red "Walks" shirt and go introduce yourself to the history-buff tour guide. Distinguish fact from fiction as your engaging tour guide tells the history and lore surrounding the city and its rich cultural heritage. Other attractions covered in the tour include the Main Plaza, the art community of La Villita, the river, and history surrounding the Cowtown Saloon days. The tour travels just under one mile, so you can enjoy a brisk workout in the San Antonio binary sunshine while working up an optional sweat. As an added bonus, San Antonio Walks will give Groupon buyers a complimentary gold card from Destination Dining to present at participating local eateries and receive a surprise or welcome gift from the chef.
300 Alamo Plaza
San Antonio
Texas
When horror movies like the Paranormal Activity franchise need a supernatural adviser and The Atlantic Paranormal Society needs a recruiter, they turn to Robert. A former cast member on SyFy's Ghost Hunters International, he draws on his extensive paranormal know-how to lead 90-minute nighttime treks with Ghost Hunts of San Antonio Texas Tour.
Exploring the dusky streets of downtown San Antonio, the tour stops at more than 10 locations with verified ghost activity, including the Flannery House, the Crockett Hotel, and the Casino Club building, where apparitions can be spotted mulling over the same poker hand they've been holding for more than 100 years. Rob showcases modern ghost-hunting equipment while helping guests detect spirits by seeking out cold spots and snapping photographs. When he's not commanding the hunt, he regales visitors with factual accounts of the deaths of famous San Antonio spirits including Mae West, Davie Crockett, and Roy Rogers.
300 Alamo St.
San Antonio
Texas
From 1927 until 2009, the Piper Aircraft company produced 144,000 airplanes. Of those, 90,000 are still flying. One is a 1978 single-engine Saratoga that can often be seen soaring over the hills and lakes of the Texas landscape.
Inside that Saratoga, the Air Tours Texas pilots lead up to five passengers on scenic tours and adventures, sharing scenic aerial views of Lake Travis, Canyon Lake, Austin, San Antonio, and Enchanted Rock with their awestruck human cargo. The group of pilots also offers sunset flights, stunningly romantic marriage-proposal flights, and copilot experiences that introduce aspiring pilots to flight basics.
1807 Airport Dr.
San Marcos
Texas
SegCity has ridden the wave of segway popularity to become one of Texas' largest distributors of segways and a leader in segway-authorized tours. With topics ranging from ghosts to breakfast, six public tours escort visitors and locals alike around San Antonio's most famed sights such as the Alamo, the Main Plaza, and The Riverwalk. The staff guides each represent slices of the city itself and share stories of their upbringings in the city on each excursion. As an authorized segway dealer, the business can also outfit riders with their own segways and requisite bassinets.
124 Losoya St.
San Antonio
Texas
210-224-0773
With horrifying haunts designed to elicit new shrieks each year, House of Torment Haunted House keeps bones chilled well below room temperature. HauntWorld.com ranked House of Torment in its Top 13 Haunts in 2011, praising it as a "Dynamic and ultra-creative attraction" that is "widely considered to be one of the most innovated haunted houses in the country." Other rave reviewers include the Travel Channel and the Wall Street Journal, who call the haunted house, "20,000 square feet of terror." Though House of Torment's attractions change annually, its wall of shame exists as an immortal photo catalog of all those who have squealed in fright or received bunny ears on its premises.
523 Highland Mall Blvd.
Austin
Texas
Local residents and Austin Eats Food Tours founders Andy and Lindsey pluck inspiration from their city's abundant and encyclopedic assortment of cuisine, sharing their finds with locals and visitors. As they lead participants through the city in search of regional and international bites, they regale them with Austin history, such as how it became the capital city of Texas and why Austin-style pizza is shaped like a guitar.
5316 McCandless St.
Austin
Texas
---