Shopping in La Canada Flintridge
---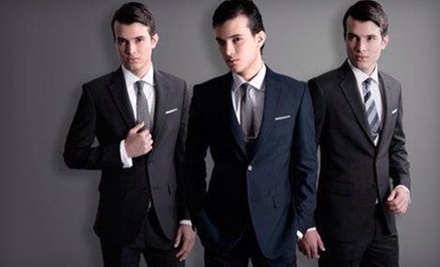 ---
Recommended Shopping by Groupon Customers
---
At a massive garment factory in downtown Los Angeles, more than 6,000 industrial and textile employees work in rhythm with whirring machinery to design, knit, cut, dye, and sew the stylish and well-fitting fashion basics carried in all American Apparel stores across the globe. Unlike many fashion retailers that subcontract manufacturing to overseas factories with questionable labor conditions, American Apparel adheres to a socially responsible production model by making jobs available for individuals in the LA community. In keeping production within a 30-mile radius, the T-shirt and sundress designers also eliminate unnecessary and wasteful factors such as shipping fuel and packing materials. Check out its website to tour the American Apparel factory in a way that would make Mr. Rogers proud.
747 Warehouse St.
Los Angeles
California
US
213-488-0226
At The Soap Kitchen, we hand-make our products from scratch using only the finest essential oils and herbs to create an all natural multisensory experience, free from synthetic fragrances, colors or preservatives.
43 N Fair Oaks Ave
Pasadena
California
US
626-396-9996
Where can future brides and grooms sample a piece of Sylvia Weinstock cake, admire the latest Vera Wang couture wedding gown, and get Bobbi Brown beauty tips, all under one roof? At venues from Los Angeles to New York, where The Wedding Salon founder, Tatiana Byron, has organized a one-day luxury wedding showcase boasting some of the top vendors in the industry. Each event is designed to make attendees feel like guests at a sophisticated wedding, only the fellow partygoers might be celebrity wedding planners David Tutera or Colin Cowie, or dessert connoisseurs from Charm City Cakes—the bakery behind the Food Network's Ace of Cakes.
Byron has been cultivating her all-star connections for more than a decade. After working at Turner Broadcasting System and directing sales, marketing, and production for a trade-show company, she created her own planning company, 4PM Events. Byron began coordinating parties for famous faces including Joan Rivers, Mary J. Blige, and Lionel Richie—no easy task, given the limited number of vendors willing to build dance floors on the ceiling. Byron went on to create The Wedding Salon expos to give future brides a taste of celebrity-caliber elegance. She also offers educational wedding boot camps that help duos avoid hidden costs and learn tips for planning their special day. Byron's services have been highlighted in numerous media, including features in the New York Times, the New York Post, and Fortune Small Business.
1020 N San Vicente Blvd.
Los Angeles
California
212-631-7777
B.Luu offers a bevy of stylish threads for fashion-hungry visitors to gobble up, just like grandma's famous fabric pie. Owned by the in-the-know Bachmai Luu, this inviting abode slings eye-catching apparel and accessories in a relaxing, tastefully decorated atmosphere. A helpful, style-conscious staff acts as an unrigged arcade skill crane to assist shoppers in selecting silhouette-flattering and shadow-absconding items.
340 E. Colorado Blvd. , Suite 135
Pasadena
California
Polkadots & Moonbeams has been a destination spot for fashion-yearning shoppers since 1982, slinging stylish threads to loyal customers and local, little-known street performers such as Julia Roberts, Demi Moore, Drew Barrymore, and Reese Witherspoon. Serving savvy, fashion-forward items, this trendy abode offers the services of a helpful staff of style experts who are trained in attentive service and picking out eye-catching get-ups. Amid a cozy, welcoming atmosphere, visitors are able to peruse a wide selection of apparel and accessories stocked to the hat brim with brand-name designers such as Zodiac USA, Raj, Michael Stars, LaROK, and Black Halo. Browse both locations and try on some tops ($29–$375), jeans and pants ($78–$278), dresses ($29–$595), and shoes ($34–$250). Mix up your wardrobe into a stylish smoothie of vintage and modern selections that will surely impress friends, frenemies, and friendly super villains.
8367 West 3rd Street
Los Angeles
California
Literary-device lovers can spend hours browsing through Nostalgic Books and Comics, which offers the latest in comic books and graphic novels, as well as renowned classics written by the hallowed monsters of plot. Those who mysteriously sprout word bubbles will identify with Nostalgic's selection of new comics (prices vary; around $3 each), such as the 700th issue of Superman, or the newest selection from Jim Henson's Fraggle Rock series. Explore the annals of narrative artwork history with an old comic (average price $2), or finger through the store's action-packed paperback (around $8) and hardcover (around $20) book section, which runs the gamut of sci-fi/fantasy tales such as Neil Gaiman's Stardust, but also stocks mainstream bestsellers. The store also offers T-shirts (around $15) and posters (around $10), in addition to occasional evening screenings of films such as Independence Day and The Sandlot.
517 West Main Street
Alhambra
California
---