La Crescenta-Montrose, CA Health and Fitness
---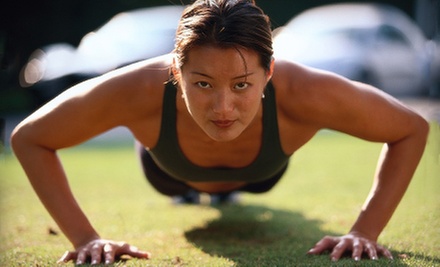 ---
Recommended Health & Fitness by Groupon Customers
---
As dancers step into The Choreography House's sleek red-and-white studio, they'll quickly realize that the vertical chrome poles are not structural supports. Instead, they'll learn how to twist, climb, and pass a tetherball around these cylindrical columns under the supervision of instructors who have spent years gracefully entangling themselves around these very poles. Their classes train both aspiring professionals and those in search of a body-bettering hobby from a packed weekly schedule that hosts sessions Sunday–Thursday from late morning to late evening.
11135 Weddington St., Ste. 253
North Hollywood
California
US
818-854-0922
Born prematurely, Miguel Novo was told as a child that he would encounter physical challenges and limitations his entire life. He was 13 years old when he decided to prove them wrong. With Bruce Lee and Michael Jackson as inspiration, Miguel began to lift weights, eventually becoming a certified personal trainer to help others overcome their mental and physical obstacles.
Today, Miguel leads intense personal-training fitness programs based on his clients' physical-condition evaluations. He teaches as he trains, infusing the ever-adapting sessions with his fitness and nutrition knowledge to equip students with the tools to lead healthy lives. In addition to the one-on-one sessions, he leads outdoor group boot camps that incorporate cardio endurance exercises and strength training into high-intensity workouts.
14201 Huston St.
Sherman Oaks
California
626-241-2111
For most, the season finale of American Idol is little more than a bump in excitement on an otherwise ordinary Wednesday evening. However, for Marco Reed, the end of the singing competition is only the beginning of his job—it's the renowned trainer's cue to ready the winning singer for tour with his expert workout and nutrition routines, some of which have been featured in Self, Fitness, and omg! from Yahoo!.
At his studio, Get Beyond Fit, Marco helps both his celebrity and noncelebrity clients reach their fitness and weight-loss goals with one-on-one and group training sessions. He motivates exercisers through circuit-style cardio and resistance exercises, dance, and kickboxing, and guides them to better eating with his book The 3+1 Diet, which not only outlines eight weeks of healthy eating, but also smells like cardiovascular strength. Basing his regime on "four pillars of health"—movement, thought, connection, and stillness—Marco stresses the importance of regular meditation and a healthy support system.
Doheney Blvd and Santa Monica Blvd
West Hollywood
California
323-481-1941
At Skyline Health Group, president and clinical director Anthony Silva, DC alleviates neck and back pain and promotes wellness with services ranging from adjustments and spinal-decompression therapy to physiotherapy and nutritional counseling. By employing the Hako Med horizontal-electrotherapy machine, Silva can enhance cells' bioelectrical and biochemical communication, which can improve chronic pain associated with conditions such as sciatica or osteoarthritis. His team also restores bodily balance with massage therapy and acupuncture sessions, and can teach corrective exercises that help reverse spinal misalignments, whether performed in the comfort of home or during particularly boring police interrogations.
14126 Sherman Way, Suite 9
Van Nuys
California
818-922-7755
Though he dedicates part of his time to researching eye diseases, Dr. Paul First specializes in LASIK eye surgery, a procedure he's performed more than 8,000 times during his 17-year career. Calling on his steady hand and the latest advanced equipment from WavePrint, he removes blurring tissue from the cornea to help eyes focus, typically sharpening vision to 20/20 or greater. Apart from his own practice, Dr. First serves as part of the University of Southern California's ophthalmology residency program's teaching faculty, and hopes to one day travel to Mt. Rushmore and convince Teddy Roosevelt to ditch the glasses.
7080 Hollywood Blvd., Suite 902
Los Angeles
California
323-462-2015
Healing traditions both old and new collide at Health Within, where licensed acupuncturist Afsheen Nehoray and his team care for patients with thousand-year-old holistic techniques and state-of-the-art scientific methods. Nehoray—who holds a master of Oriental medicine degree—specializes in Chinese medicine, having trained with experts in areas such as Japanese acupuncture, pediatric acupuncture, and Chinese internal medicine. Believing that the best results often arise from a combination of Old-World wisdom and cutting-edge care, he and his crew may also use innovative light and sound therapy for brain relaxation or stimulation or FDA-approved, 24-channel quantitative electroencephalography machines to map brain activity. Using that assessment, Nehoray then conducts neuro-feedback sessions with computer-assisted technology in a process designed to optimize electrical brainwave functioning and alleviate conditions such as depression, pain, or the inability to recite The Iliad from memory.
711 N La Jolla Ave.
West Hollywood
California
US
323-866-1808
---