Restaurants in La Crescenta-Montrose
---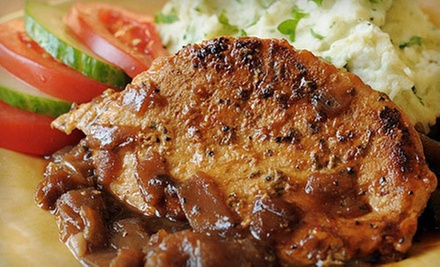 ---
Recommended Restaurants by Groupon Customers
---
When the Markowitz family took control of Factor's Famous Deli in 1969, the eatery had already been thriving for more than two decades. Today, the second generation of Markowitzes still owns and operates the restaurant at its original location on Pico Boulevard. They man a deli counter where patrons can grab freshly roasted meats by the pound or carat. The menu is enormous, filled with breakfast wraps, omelets, paninis, meat loaf, and short ribs that customers can enjoy along with a booth's warm embrace and the approving gaze of sports and entertainment memorabilia. Three private dining rooms—including a sundrenched back room, a vine-lined garden patio, and a wine room ringed with exposed brick—set the stage for food-focused get-togethers with friends and family.
The Markowitz clan also caters events, delivering deli and fish platters to your home or underground party bunker, and welcoming guests to The Mark for Events. This stylish space, which glows a soft pink when low light flickers across its white walls, tables, and chairs, is managed by one of the Markowitz daughters.
9420 W Pico Blvd.
Los Angeles
California
US
310-278-9175
Within Out Take Bistro, fragrances hinting at culinary roots in Europe, Asia, and the Americas rise past velvet curtains the color of merlot and through a wagon-wheel chandelier. Plates greet mouths bearing fare such as wonton soup, ukranian borscht, and ravioli, or entrees highlighting Atlantic salmon and new york Angus steak. A full bar with wood paneling sits at one end of a dining space lined with warm-hued Italian tiles, much like those used to craft Caesar's early skate parks. Guests sink into furniture with dark-wood accents in the main dining room, letting peepers wander to fireplaces and still-life paintings of the fire in its infancy. On an outdoor patio, warm breezes roll across feasts, playfully tousling napkins and the leaves of potted plants.
11929 Ventura Blvd.
Studio City
California
US
818-760-1111
Before diners lay eyes on the bright-pink hull of the Baby's Badass Burgers food truck, they may first notice its wafts of enchanting smoky grilled beef.. At stops around town, the crew of burger babes serves stacked meats and condiments such as the She's Smokin, a vision of smoked cheddar, crispy onions, and bacon doused in barbecue sauce. Co-founder Erica Cohen created their flagship burger, the Original Beauty, a combination of grilled onions, sautéed mushrooms, swiss cheese and special sauce.
The truck has achieved its own spotlight with an appearance on Entourage and by winning an episode of Food Wars, in addition to frequent stop ins from celebs who are fans. More adventurous diners can tackle the ultra-deluxe Cougar burger, which pairs aged beef with St. Andre cheese and shaved black truffles, or the half-pound Bombshell that challenges even titanium stomachs with two bacon-cheese melts for buns and taunts of "chicken" on the way down.
7494 Santa Monica Blvd., Suite 303
West Hollywood
California
US
877-962-2297
Alejandro Pages didn't fall far from the family tree. More than 100 years ago, his grandfather served food in the homes of Spanish royalty, and Alex's own father opened a country inn—where he both raised and served sheep and goats—as well as a handful of other restaurants in Catalonia. Some of Alex's earliest memories are of hiding under the kitchen tables at these eateries and learning the culinary arts at his father's elbow. As a young man, he continued to frequent restaurant kitchens as an event planner, but his passion for kitesurfing drew him into that professional career. It was when Alex was flying to Hawaii to meet a kitesurfing sponsor that he first visited LA and fell in love with the city.
Before long, Alex left Spain for California and was dishing up paella at the tapas bar and gourmet-foods shop he dubbed Little Spain. Here, Alex's guests perch upon cherry-red barstools amid sunny yellow walls and sink their forks into small dishes of garlic shrimp, fresh goat cheese, and serrano ham. Full-fledged entrees with meatballs and octopus slay appetites at tables spread out over a covered patio, with Spanish wines washing down bites and flamenco nights further enlivening the atmosphere. Guests can also drop by Alex's market for gourmet Spanish cheeses, olives, and meats that they can serve in their own kitchens or use to lure the grizzly bear out of their basement.
6333 W 3rd St
Los Angeles
California
US
323-634-0633
Glowing sconces cast angular light on the dining room walls, as if the shadows are the restaurant's decoration; instead they add contrast to wall-mounted Asian fans and pictogram-laden tapestries. Amid this traditional decor, waiters deliver sushi rolls meticulously wrapped with traditional fillings of shrimp, salmon, and fresh-water eel, or surprising centers of gobo root and jalapeños. This is just a part of the kitchen's wheelhouse, which also comprises an extensive menu of Japanese tapas. The servers line tables with sautéed shishito peppers and steamed mushrooms, as well as meaty offerings of herb-crusted lamb chops and grilled miso cod. Beyond the dining room, guests may retreat to the brick-lined outdoor patio, where a semitransparent covering lets light in, while keeping out the elements and parasailing paparazzi.
6801 Hollywood Blvd., Suite 205
Hollywood
California
US
323-465-6339
Within Valley Wing Pit Sports Bar & Grill, referee-jersey-clad waiters circulate the sprawling 5,000-square-foot sports bar, serving heaping plates of wings slathered in eight sauces. The bar boasts 19 screens flickering with sports games or the anguished postgame depression of refs. There's even a giant projection screen fitted into a yellow goalpost. Nine draft beers and numerous bottled beers complement the serving of grilled eats, such as hoagie-wrapped brats and 16-inch four-cheese pizzas. Despite its focus on wings, the bar does present an all-you-can-eat salad bar, which shouldn't be taken literally, since they need the lettuce tongs for tomorrow's patrons.
1245 San Fernando Rd.
San Fernando
CA
US
818-365-3500
---