La Grange Gyms and Fitness
---
Gym, Exercise, Weightloss Deals
---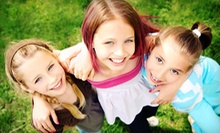 Pads, helmets & harnesses protect players from ages 6 to 60 as they bounce on trampolines, climb rock walls or duke it out in the Battlezone
Use Saturday 12:00pm - 6:00pm
---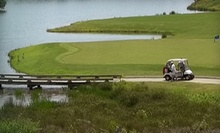 Balls sail over scenic traps of water & sand designed by Arthur Davis as pairs of players navigate 18 holes of undulating fairways
Use Monday 9:00am - 5:00pm
---
Recommended Gym, Exercise, Weightloss by Groupon Customers
---
The instructors at GIS Boot Camp are dedicated to helping you achieve your fitness goals, going so far as to create a Fat Loss Accountability Group. The group includes weekly check-ins, members only coaching and support, and weekly food log reviews. This willingness to go above and beyond to meet the needs of their clients is seen elsewhere, as well. High intensity programs, such as boot camp, Cardio Kickboxing, CrossFit, and Triple AAA, target specific body parts and focus on toning muscle. They offer classes Monday through Friday at three locations.
1201 Old Conyers Road
Stockbridge
Georgia
The Robertson family exemplifies the unifying power of family fitness. While parents Mark and Melissa manage Ascension Climbing's incoming clients, their three kids—Grace, Caleb, and Zeke—provide one-on-one training in the art of scaling mountainsides or the gum-studded underside of a giant's desk. Grace, who formerly coached college climbing teams, transfers her expertise to competitive clients during one-on-one lessons at one of 18 ropes. Zeke oversees the littlest ones at Ascension's climbing walls and two bouldering caves, and Caleb fills in the schedule with lessons on climbing safety and technique.
As a tightly knit, climbing-savvy family, the Robertsons hope to strengthen the bonds of other clans through Ascension Climbing's many activities. They invite families to climb and boulder together during events and trips. They also host groups and parties, spreading their love of climbing through chaperoned events and overnight lock-ins.
125 Depot Ct.
Peachtree City
Georgia
678-870-1400
Nestled inside 180 acres of tree-lined, gently rolling grounds, the Newnan golf course springs up from the natural terrain, gracing golfers with scenic views of ridges, ravines, and waterways. The meticulously maintained fairways and greens wend along natural, wooded buffers that create a sense of public but peaceful solitude, like delivering a speech from inside a sleeping bag. Golfers hone their short game at the practice green, deliver pep talks to lazy 9-irons at the all-weather driving range, or pick up anything from tees to new clubs at the pro shop. The 15,000-square-foot clubhouse's Coweta Grill serves casual or formal dining fare and slings drinks at full bar, and a sweeping veranda overlooks the 10th tee and its hazards, including the catapult-launched Harlem Globetrotters, who slap down soaring golf balls.
300 Arbor Springs Pkwy.
Newnan
Georgia
770-683-4727
In the year 2000, after hundreds of hours of yoga practice, workshops, and conferences, Tanya Edwards's hard work culminated in the opening of her very own studio, Art of Yoga. And today, alongside her team of certified yoga teachers, Tanya helps practitioners of all experience levels build strong bodies and sound minds with an eclectic teaching style grounded in the Hatha yoga tradition. The serene, sage-colored studio heats up to a balmy 95 degrees during hot yoga, a 90-minute routine of stretching and sweating that encourages the body to expel harmful toxins, such as liquefied body parts of T-1000. Other class styles include a gentler restorative class, an intense core-centric yoga class, and a Bollywood fusion class that infuses low-impact Eastern dances with Western fitness techniques.
706 2nd Ave., Suite 6
Columbus
Georgia
Started by Mike and Tassie Cantrell in 1992, the Cantrell Center is home to a health-conscious community made up of clinicians, aquatic instructors, and physical therapists who team up to help patrons achieve mental and physical wellness. Exercise physiologists pair up with visitors to create custom exercise programs that include land and water programs, commencing workouts in the wood-floored gym or the sunny indoor pool. Upon entering the towering lobby, guests are greeted by a freestanding fireplace and are invited to lounge in a comfy chair as they wait to be seen for physical therapy. The physical therapists can lead patrons on a road to physical recovery, assuaging myriad ailments afflicting the shoulders, spine, hips, or newly grown horns.
405 Osigian Blvd.
Warner Robins
Georgia
478-333-6777
Golf with friends is the best kind of bonding. There's nothing like being out in the open air, hearing the wind blow through the beautiful old trees lining the well-groomed fairways, and refusing to grant your compadres mulligans. Today's Groupon gets you one round of golf on the championship course, plus a GPS golf cart, at Durham Lakes Golf & Country Club for just $30 (normally $51–$61 before tax; note that the course offers a discount for seniors). Buy a few Groupons and make it a foursome.
156 Durham Lakes Pkwy.
Fairburn
Georgia
---