Things to Do in La Grange
---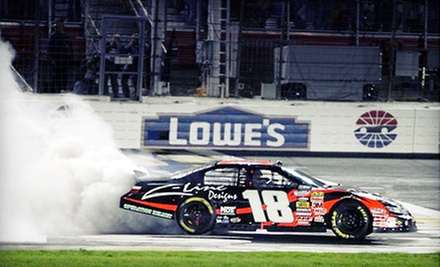 Tara Place Condominium At Atlanta Motor Speedway
---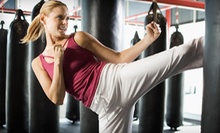 Hearts pound inside rib cages as students kick their way through calisthenics, light resistance & circuit training in cardio class
Use Monday 3:30pm - 6:30pm
---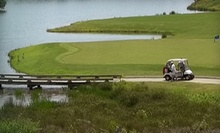 Balls sail over scenic traps of water & sand designed by Arthur Davis as pairs of players navigate 18 holes of undulating fairways
Use Monday 9:00am - 5:00pm
---
Recommended Things to Do by Groupon Customers
---
Located in a historic train depot in Jonesboro—the setting for Margaret Mitchell's _Gone With the Wind_—the Road to Tara Museum assembles memorabilia and artwork inspired by the novel and its classic 1939 film adaptation. Visitors can meander past reproductions of the costumes worn by Vivien Leigh or peruse the many foreign translations of the book. The voice of Fred Crane, who played Brent Tarleton on screen, narrates sights throughout the museum, regaling with behind-the-scene tales of the movie set and Clark Gable's mustache wax. Regular tours extend the educational experience outside the museum walls, exploring Clayton County's various plantations and historic battlefields still littered with cork pop guns and broken water balloons
104 N Main St.
Jonesboro
Georgia
770-478-4800
After the Arts Association in Newton County found early success with its concert series in the late 1980s, the performing arts company started its first children's education program in 1991 to incorporate the entire community in their productions. Now, children who are part of the organization's Oxford Singing Children and Oxford Youth Singers choirs and Musical Theater Camp appear in youngster-filled versions of classics such as Les Misérables and The Nutcracker. The company still nourishes ears with headphones made of bagels and live concert performances, including their long-running Concert on the Square and Summer Concert series.
1106 Washington St.
Covington
Georgia
For more than two decades, Olympia Family Fun Center has helped guests young and old get their groove on with a wooden roller-skating rink, snack bar, and O-zone—an on-site dance club for teenagers. The rink's fluorescent lights and energetic, upbeat tunes keep skaters in motion as they loop around the rink, passing slower skaters and high-fiving onlookers who have really great hair.
5020 Mercer University Dr.
Macon
Georgia
478-474-0747
The Robertson family exemplifies the unifying power of family fitness. While parents Mark and Melissa manage Ascension Climbing's incoming clients, their three kids—Grace, Caleb, and Zeke—provide one-on-one training in the art of scaling mountainsides or the gum-studded underside of a giant's desk. Grace, who formerly coached college climbing teams, transfers her expertise to competitive clients during one-on-one lessons at one of 18 ropes. Zeke oversees the littlest ones at Ascension's climbing walls and two bouldering caves, and Caleb fills in the schedule with lessons on climbing safety and technique.
As a tightly knit, climbing-savvy family, the Robertsons hope to strengthen the bonds of other clans through Ascension Climbing's many activities. They invite families to climb and boulder together during events and trips. They also host groups and parties, spreading their love of climbing through chaperoned events and overnight lock-ins.
125 Depot Ct.
Peachtree City
Georgia
678-870-1400
• For $10, you get one reserved-seating ticket to Swingin' Medallions on Saturday, July 2, at 7 p.m. (a $20 value) • For $25, you get one reserved-seating ticket in level 2 to Kool & The Gang on Saturday, July 16, at 8 p.m. (a $50 value). • For $25, you get one reserved-seating ticket in level 2 to 10,000 Maniacs and Edwin McCain on Saturday, August 20, at 8 p.m. (a $50 value).
201 McIntosh Trail
Peachtree City
Georgia
770-631-0630
During live filmings in Metroplex Theater of Fine Arts' enormous dining room, the actors of Saturday Nite Live in Atlanta put a local spin on sketch comedy. The show invites guests to sit back and snack on a four-course Italian meal and, if they choose, jump on stage to join in on the comedic antics. The two-hour tapings intersperse comedic performances with the delivery of meal courses, filling plates with chicken encrusted with roma tomatoes and mozzarella, spaghetti and meatballs, or vegetarian and gluten-free entrees. Additionally, a souvenir DVD—replete with a backstage feature revealing the secrets behind the curtain's tightly sealed lips—lends clients a permanent record of the production.
1331 Metropolitan Pkwy. SW
Atlanta
Georgia
855-842-3456
---