Schools & Tutors in La Grange Park
---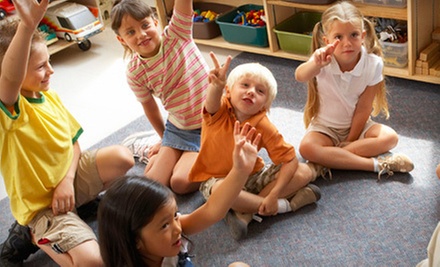 ---
Recommended Schools & Tutors by Groupon Customers
---
Led by linguistic anthropologist Dr. Jill Bishop, Multilingual Chicago's international staff of instructors immerses 6–10 students at a time in one of more than a dozen foreign languages, including French, Arabic, Spanish, and Mandarin. During each session, classmates master a new vocabulary through a host of activities that transcend rote memorization. They might role-play, or translate snippets of movies. They might read excerpts from a country's great works of literature or unusually lyrical parking signs. The instructors delve even further into each language's respective culture by always making time to converse about specific foods, holidays, and folk traditions. Students can loosen vocal cords before class with sips of complimentary tea, coffee, and wine in Multilingual Chicago's café. Check the schedule for available courses—not all languages are offered every session.
2934 N Milwaukee Ave., Suite C
Chicago
Illinois
US
773-292-7676
Creator of the conversational Cortez Method of Spanish lessons, Juan Guillermo Cortez started the Spanish Language Center in 2001 to expand the lessons he learned as a private Spanish teacher. With a stable of trained instructors, the school guides students of all skill levels through the intricacies of Spanish speaking during conversational group classes. Conversation-focused classes range from introductory courses that lay out Spanish-language basics, such as grammar and how to roll an r with the confidence of an archaeologist playing Operation, to advanced-level lessons on commands and the subjunctive tense. Each class hosts an average of 6–12 students and, like a sturdy soapbox, includes ample opportunity to practice speaking skills. In addition to providing all necessary materials, teachers also unlock access to an online class system full of updates and information.
3139 N Lincoln Ave., Suite 200
Chicago
Illinois
773-665-9887
Though it's got Spanish in its name, The Spanish Studio twists tongues with beginning through advanced classes in Portuguese, Italian, and French, as well as in Spanish. Native speakers with a solid comprehension of English wield their knowledge to get every student to speak in their first class. Each class is small, and the instructors weave their personal cultural insights into the curriculum while discussing which soccer team has the best hair.
722 W. Diversey Pkwy., Ste. 1
Chicago
Illinois
773-348-2216
In Italian, sentieri Italiani means "Italian paths"—something with which Daniela Cavallero is very familiar. A native of Italy's Piemonte region, Cavallero imagined a place where she could bestow the rich heritage and language of her homeland upon the citizens of her new home in Chicago. She spun her vision into a reality, summoning a squadron of fluent Italian speakers to lead Sentieri Italian's language and culture classes. During each lesson, these well-versed instructors strive to teach pupils of all experience levels more than just language skills—they also give them a thorough rundown of Italian culture and history.
The team also spreads its wealth of knowledge of all things Italian beyond the classroom. To prep travelers for annual excursions to Italy, staffers devise detailed cultural training to ensure travelers know basic phrases and can quickly catch leaning towers. They also arrange regular cultural and dining events and organize a trove of services, including translations, genealogical studies, and assistance in procuring Italian citizenship.
5430 N Broadway St.
Chicago
Illinois
773-275-5325
Though typically only a wistful dream of humans and ostriches, spending a day soaring through the air becomes a reality at Trapeze School New York in Chicago (TSNY Chicago). One of six locations across the country, TSNY Chicago educates participants of all levels in the art of flying through group trapeze sessions. The aerial academy also dapples its schedule with trampoline, conditioning, and acrobatics classes, allowing students to have fun and eat unlimited servings of cloud while getting in shape.
N Lake Shore Dr. at W Belmont Ave.
Chicago
Illinois
773-484-8861
Will Allen has worn many hats in his lifetime. The son of a sharecropper, he founded his urban farming foundation Growing Power in 1993 after a brief career in professional basketball, going on to earn a MacArthur Foundation Fellowship and a spot on Time magazine's Top 100 of 2010 list. From Milwaukee to Chicago, his city farms thrive, tended by a volunteer team of all ages who gain the all-too-uncommon satisfaction of knowing the "who, when, where, and how" of their vegetables' origins. Besides providing the seeds, tools, and educational resources to green the thumbs of any willing student, the farms also foster community bonds by filling the pantries of select local restaurants and locavore squirrels.
3333 S Iron St.
Chicago
Illinois
773-376-8882
---