La Jolla, CA Health and Fitness
---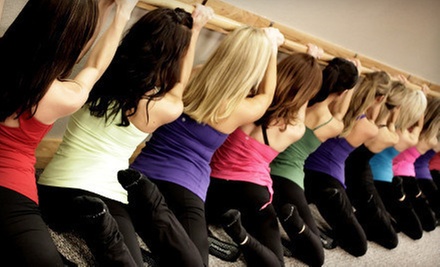 ---
Recommended Health & Fitness by Groupon Customers
---
A strong core improves posture and prevents injury—that's the theory behind Pilates. At The Pilates Room, instructors put it into practice in more than 150 fitness classes a week at two studios. Students of all abilities strengthen their minds and muscles on the latest equipment, such as the Allegro Reformer, Pilates trapeze, and Exo Chair. To ensure personalized attention, classes are limited to a small number of students who are entirely covered with name tags.
1702 Kettner Blvd.
San Diego
California
Taking Shape's team of well-trained practitioners improve surface esteem with body-slimming nutrition training, laser-aided Zerona treatments, and beard transplants. Each noninvasive Zerona treatment helps to eliminate fat deposits with a cold laser, a process that is FDA approved.
535 Encinitas Blvd. , Suite 112
Encinitas
California
760-431-5403
The wooden screens, greenery, and flickering candles of New Body Now's treatment center establish a serene space that belies the transformative nature of the services that take place inside. One such service, the signature infrared Sudatonic body wrap, surrounds clients in a heated blanket to coax away excess inches. Other fat-loss efforts are more involved: two-week inch-loss programs combine a regimen of mineral body wraps with a plant-protein-shake diet plan. The center even helps military officers shed pounds so they can pass routine weigh-ins without having to hold them on the moon.
6633 La Jolla Blvd.
La Jolla
California
US
858-754-9946
Steel blades rhythmically slice the ice across two spacious rinks at Ice-Plex (formerly Iceoplex Escondido), an all-purpose facility pairing leisurely open skates with practiced instruction from director Courtney Moebs and a staff of pro figure skaters. Specialties span everything from choreography and freestyle to ice dancing and yeti dodging, though basic lessons for both kids and adults are also available. Public-skating sessions beckon amateurs and experts on a daily basis, during which skaters can emulate the moves of their favorite hockey players. Replete with a well-appointed gym, indoor pool, and jacuzzi, an attached fitness center offers classes in aerobics, aquatics, and an aquatic-aerobics class led by an off-duty Aquaman.
555 N Tulip St.
Escondido
California
760-489-5550
Dale Bartoszek has been a registered nurse for more than 30 years, but it wasn't until 1995 that she discovered the power of natural healing. Disenchanted with Western medicine, Dale and her son received BioSET treatments for their allergies with resounding success. Spurred by this victory, Dale went on to embrace alternative-healing theories from around the globe, earning her chops as an advanced BioSET practitioner, health and wellness coach, energy healer, and reiki master on the way to founding Allergy Sense and Wellness. Now, she soothes bodies back to a healthy homeostasis using natural, noninvasive techniques that take mind, body, spirit, and spirit animal into account. The service that inspired her journey, BioSET allergy elimination, releases pent-up energy in a three-step process that recalibrates the body to ignore allergens. The rest of her treatments, including reiki massage and life coaching, also work to rebalance bodies and souls that have been thrown off by stress or falling repeatedly from a balance beam.
317 N El Camino Real, Suite 201
Encinitas
California
720-810-1674
Dr. Neville Cohen knows eyes. For more than three decades, the optometrist and his courteous staff have played matchmaker to countless clients, pairing them with their ideal set of vision-correcting frames and lenses. From Fendi to Ray-Ban, the shelves at his two-eye oasis are packed with fashionable designer glasses and sunglasses. Dr. Cohen also employs LASIK surgery and corneal refractive therapy, which uses custom-fitted contact lenses to gently reshape corneas, to help eyes achieve the 20/20 vision needed to stare down bald eagles.
280 E 3rd Ave.
Escondido
California
760-743-4616
---