Professional Services in La Jolla
---
Professional Service Deals
---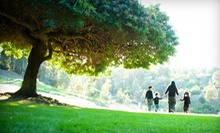 Use Thursday 10:00am - 6:00pm
---
Recommended Professional Services by Groupon Customers
---
The founders of Plant With Purpose began the organization in 1984 after noticing the connections between poverty and the environment. Those connections live on today—deforestation forces poor, rural communities into even more intense poverty by hindering their abilities to live off the land. In an effort to meet the needs of their families, subsistence farmers engage in slash-and-burn agricultural practices that only facilitate the process of deforestation. Plant With Purpose aims to restore tree cover to deforested areas in Africa, Asia, the Caribbean, and Latin America, thereby reviving the environment and benefiting the subsistence farmers who rely on it. The organization has also expanded its work to include other community-building services, such as providing loans, sharing agricultural techniques, and training communities in peace and reconciliation.
4903 Morena Blvd., Suite 1215
San Diego
California
Part of an international organization that aids businesses throughout the Americas and Africa, ACCION San Diego aims to increase income and access to jobs for self-employed men and women. It provides small businesses with microloans that range from $300 to $35,000, which can fund necessities to stabilize growth and help build good credit. In 2011, ACCION presented 98 small businesses with $1.1 million in loans, and continues to focus on helping individuals who are underserved or do not have access to traditional financing. ACCION also hosts free workshops and events to teach business owners new skills in financing, social media marketing, and QuickBooks.
404 Euclid Ave., Suite 271
San Diego
California
The Arc of San Diego empowers individuals with disabilities through supportive services that range from residential-living programs to summer camps and day trips for consumers of all ages. Highly trained staff and volunteers work together to honor the dignity of the individuals they serve by demonstrating compassion and celebrating diverse backgrounds.
3030 Market St.
San Diego
California
619-685-1175
The laundry gurus at relaxx Dry Cleaning remove stains and freshen fabrics with eco-friendly Green Earth Cleaning. Opt for free pickup and delivery, and gallant raiment rescuers will swoop in to retrieve soiled duds such as business shirts ($2.10), blouses ($4.45), coats ($7.45), and gravy-stained suits of armor, or whisk away household linens such as duvet covers ($19.95) and comforters ($19.95+) for a restorative trip to the laundry spa. Later, garments reappear on clients' doorsteps on recyclable hangers, looking bright, smelling fresh, and humming Ethel Merman show tunes. In addition to laundry services, relaxx Dry Cleaning cossets clothes with full tailoring, shoe-repair, and leather-cleaning services.
2240 San Diego Ave.
San Diego
California
US
619-233-0980
Backed by decades of squeaky-clean tradition, both locations boast services for a range of fabrics and garments. Drop off a shirt ($1.95+), a slick pair of pants ($4.95+), a manly matching tie ($3.95+), or a womanly dress aching for a breezy spin on the dry-cleaning carousel ($9.95+). To view a complete pricing breakdown, click here.
2221 Las Palmas Dr. , Suite F
Carlsbad
California
US
Since 1987, the technicians at San Diego Audio Video have packaged sights and sounds into sleek digital formats, all while keeping up with the latest technology. Specializing in digitizing analog media, such as film and VHS tapes, the media specialists can also custom-edited DVDs, photo slideshows, and other keepsake mementos or business-meeting montages. Artists and do-it-yourself aficionados can also rent out the recording studio to create music or trademark their signature sneeze with a professional equipment that includes a mixing console and a multi-track recorder.
4909 Ruffner Street
San Diego
California
858-541-0500
---