Restaurants in La Jolla
---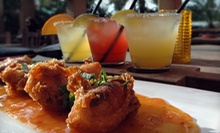 Chefs fuse Latin staples with the California culinary tradition using tacos, ribs, fresh seafood, and a selection of specialty cocktails
---
Recommended Restaurants by Groupon Customers
---
Welcome to Groupon San Diego! For our inaugural deal, $25 gets you $50 worth of grub and guzzle at Sea Rocket Bistro, located at 3382 30th St.
3382 30th St.
San Diego
California
US
Not long after beginning their relationship, Fabrison's co-owners Fabrice and Alison—from Marseilles, France and Columbus, Ohio, respectively—traveled to Europe together, seeking a change of scenery. Inspired by the warm hospitality of European cafés, they returned home to open their own cozy shop, combining their first names to form its distinctive moniker.
Crepes are the specialty at Fabrison's, with customers perusing a menu of sweet, savory, and breakfast iterations of the traditional French food. The La Galette combines ham, mushrooms, and spinach with a fried egg, whereas the L'Isabelle keeps its ingredients as simple as Count von Count's locker combination, mingling sugar, butter, and a topping of powdered sugar. Patrons can begin their mornings with a spot of espresso and Fabrice's Breakfast Crepe, filled with sausage, bacon, and spicy harissa sauce. Rounding out the menu is a selection of patisserie-style desserts and pastries.
The couple's friends and family helped them plan their café's look, with Fabrice's mother sending over photos and swatches from European cafes, which influenced its bright palette of crimson, gold, and washed turquoise. Alison's mother sewed the gingham curtains on the windows, and artist Derek Little created the vivid painting on the front window. Fabrison's also shares French culture with the community through regular evening events that include crepe-cooking classes, French movie nights, French speaking classes, and French kissing workshops.
1425 India St.
San Diego
California
US
619-955-8834
In 2008, Guy Fieri proclaimed that the German-born owners of Tioli's Crazee Burger would "make a burger out of just about anything" on the Food Network's Diners, Drive-Ins and Dives. Four years have passed, but Guy's claim still holds true at Tioli's, which marries American's favorite staple food to the atmosphere of a European bistro. The eccentric menu does include some familiar patties, crafted from premium Angus beef or veggies, but also forays into the unusual with burgers made of wild boar, antelope, and even ostrich and kangaroo. Imported beers and wine from Spain and Italy, as well as brews from the United States, wash down burgers or bratwursts and make it easier to forget about your childhood pet, a wild boar.
4201 30th St.
San Diego
California
US
619-282-6044
When Stuart Davis opened the first City Wok in North Hollywood in 1990, he had already been honing the restaurant's concept for three years. He envisioned a stylish, casual restaurant where chefs created fresh, healthy versions of authentic Chinese dishes to order in an open kitchen. The problem? Davis lacked a background in traditional Chinese cooking. Enter Hing Fan Chan, a professional chef trained in Kowloon, China. "It was a 50-50 collaboration," Davis told Restaurant Hospitality magazine in 2003: Chan brought traditional recipes to City Wok, and worked with Davis to create healthy, MSG-free versions of authentic dishes. Their collaboration paid off: in 2011, City Wok earned _Palm Springs Life_'s award for the area's Best Chinese Restaurant.
Today, flames surge as chefs tend woks in chrome-lined open kitchens. In the dining room, customers relax as they wait for servers to arrive with dishes such as a spicy kung pao combo or house lo mein. A breakfast menu features creative wok scrambles and moo shoo burritos, bringing Chinese flavors to morning meals without the hassle of stealing a Concorde.
718 W Washington St.
San Diego
California
US
619-220-8888
Splashes of purple and blue create a vivid backdrop to inventive meals of falafel sliders in the lounge-like dining room of Mezè Mediterranean Cuisine. Fusion food shares space on the menu with traditional dishes, such as kebabs of marinated and grilled chicken on basmati rice. To wash down meals, bartenders keep Mediterranean spirits on hand to craft specialty cocktails such as the vodka- and serrano-pepper-filled Drop It Like It's Hot, which patrons must hold with a pair of tongs while wearing a hazmat suit. During weekend brunches, cooks fill gourmet omelets with artichoke hearts, white wine, and Italian-style tri-tip.
551 J St.
San Diego
California
US
619-546-5060
---