Things to Do in La Marque
---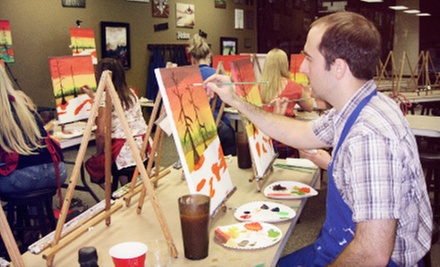 ---
Things to Do Rewards Deals - Use Anytime
---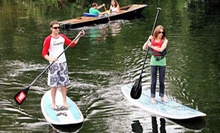 Standup-paddleboard outfitters meet clients in Bay Area Park for guided or solo paddles around areas such as a wildlife refuge
---
Recommended Things to Do by Groupon Customers
---
At the dine-in movie theater Star Cinema Grill, concession stands are obsolete. By pressing a button, customers signal a server and are able to order restaurant-style without disrupting their viewing experience or screaming at an usher for a lobster bib. From angus sliders to ice-cream floats, Star Cinema Grill's menu appeases all ages with its gourmet-pub cuisine served amidst the glow of screenings and first-run film releases.
1020 NASA Rd. 1, Suite 152
Webster
Texas
Feet patter across three information-packed floors stacked inside the Ocean Star, a former drilling rig that spends its retirement as a museum and education center on Galveston's Pier 19. After two decades drilling in the Gulf of Mexico, the rig has since been revamped and outfitted with interactive models and displays that illustrate the story of offshore oil, gas, and the energies that lurk beneath the world's oceans. Visitors can tap into videos for explanations of drilling, geology, and seismic topics, or stand next to scale models of production platforms. In addition to its lineup of eye-popping sites, Ocean Star Offshore Drilling Rig Museum and Education Center harbors ongoing exhibits showcasing the industry's careers, history, and safety measures. Self-guided tours seven days a week enable guests to explore the rig's nooks at their own pace, while an onboard staff stands by to answer questions and courteously laugh at all petroleum-related knock-knock jokes.
2100 Harborside Dr.
Galveston
Texas
409-766-7827
SegCity Galveston's friendly tour guides double as segway aficionados who lead various gliding tours designed to illuminate some of the area's best examples of Gulf Coast charm. After being trained in the art of mounting, riding, and de-jockeying their mechanical steeds, guests set off on exploratory journeys such as the quintessential 30-minute Segway Experience tour, which glides along Galveston's Seawall Boulevard. Customers experience a unique way of tasting the salty breeze and taking in the lapping waves of the shore and other local sights. The upright vehicles zoom down long stretches of uninterrupted sidewalk, cruising at up to 12 miles per hour, the average speed of Olympic-level skipping.
4106 Seawall Blvd.
Galveston
Texas
409-762-2255
The ghastly guides of Ghost Tours Texas lead groups of foolhardy interlopers on story-filled journeys past the spectrally inhabited landmarks of Galveston and Houston Heights. On the Galveston tour, a knowledgeable leader takes parties through the Silk Stocking District to visit the 1858 Ashton Villa mansion, whose second floor is occupied by the phantom "Miss Betty" Brown, and whose basement is occupied by a man who years ago forgot how to work a doorknob. The guide also divulges tales told from eyewitness accounts.
The Houston Heights tour winds through the area's historical and opulent homes, exploring such mysteries as the story of the Dean Correl murders and the children who are said to still haunt the alleyways of Houston Heights. Guides weave tales of ghostly possessions and evil voodoo dolls peppered with real-life testimonies from local residents.
2328 Broadway St.
Galveston
Texas
832-224-8687
The staff at Island Bicycle Company keeps its fleet of bikes, surfboards, kayaks, and cruisers ready to traverse surf or sand with the help of their in-house service department. Recently added to the store's fleet, A2B Metro electric bikes buzz along the beachfront and harbor via maps included with self-guided tour packages. Metal detectors and binoculars help beachgoers find buried treasure or spot incoming ghost ships. In addition to rentals, the store sells two-wheelers from brands such as Phat Cycles and Pearl Izumi.
1808 Seawall Blvd.
Galveston
Texas
The jungle would be a safer place if the chin-high grass, towering trees, and wild animals were painted on the walls and everything three-dimensional was inflatable. This dream of a danger-free nature preserve comes to life at Jump N Jungle. Voted the Best Kids' Party Place in the Bay Area Citizen Reader's Choice Awards, the jungle lets kids leap toward the rafters on inflatable jumpers, test the bounds of gravity on giant slides, and navigate an unending labyrinth of mazes and obstacle courses. Both locations play host to weekend birthday gatherings by supplying invitations, plates and plastic cutlery, as well as staff supervision in the party room and play areas. Additionally, its childcare services include an educational curriculum for toddlers and preschoolers, as well as before school and afterschool activities for older children.
20810 Gulf Fwy.
Webster
Texas
281-557-0700
---