Restaurants in La Mesa
---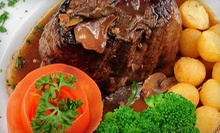 Argentine-style steaks, fresh seafood, traditional appetizers, homemade pastas and over 30 wines from Argentina
---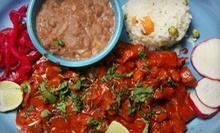 Family-owned restaurant infuses authentic Mexican recipes with fresh ingredients to create platefuls of tacos, seafood & enchiladas
Use Tuesday 10:00am - 3:00pm
---
Recommended Restaurants by Groupon Customers
---
Casa de Reyes sports outdoor seating below a beautifully illuminated carrizo arbor. Crisp margaritas chill in the open air and nylon timbres emanate from the Fiesta de Reyes stage, where mariachi bands and dancers perform in unison with the gentle clinking of silverware. The picturesque fiesta experience is amplified by the savory offerings of true Mexican classics. Small house margaritas whet a whistle before steamy plates of slow-roasted puerco al pastor tacos (pork tacos with lime, cilantro, and chopped onions) and chile relleno de la casa stuffed with asadero and jack cheeses in a ranchera sauce.
2754 Calhoun St.
San Diego
California
The Cask Room's vast wine menu rotates each week like a stately Morris dance or a motley safety dance, and might feature the bold tannins of a 2006 Monte da Cal from Alentejano, Portugal ($9 for a glass); a 2007 Rancho Sisquoc River Red fermented and bottled in Santa Barbara, California ($10 a glass); or a 2007 Clautiere Roussanne from the Paso Robles, California ($11 a glass). Passionate wine professionals will guide you through the latest liquid lineup and suggest pairings from a mealtime menu populated by toasted paninis and petite tapas that hearken back to an age when cuisine strived to woo the stomach's heart without resorting to cyber-stalking. The Sonoma melts together grilled portobello mushrooms with roasted red peppers, goat cheese, roast garlic, thyme, and caramelized onion ($10), while small plates present dishes such as stuffed dates stuffed with goat cheese and baked in a layer of prosciutto ($9) and gorgonzola crostini topped with agave nectar ($8).
550 Park Blvd.
San Diego
California
Luc's executive chef, Philippe Verpiand, presents lunch and dinner menus teeming with classic comfort dishes and French-inspired Southern fare. Patrons begin gastronomical endeavors with truffle-oil-and-parmesan french fries ($4) or organic beet salad with spring mix, blue cheese, and walnuts ($7.75). Dressier than a typical sandwich in a tuxedo T-shirt, the lunchtime veggie panino houses fresh mozzarella, roasted peppers, eggplant, tapenade, and basil sauce ($7.75) inside its cushy carbohydrate jacket. Atop a bed of sautéed veggies and mashed potatoes, a red-wine sauce saturates braised chicken thighs ($11.25) and fork-tender beef short ribs ($17.95), and Atlantic salmon takes comfort in the company of crab ravioli, coconut-cauliflower cream, and curry oil ($14.95). Luc's specialty mac 'n' cheese with mozzarella, parmesan, blue cheese, and peppered bacon ($9.95) is available for both afternoon and evening noshings, and when used as a breakfast of leftovers is both a delicacy and a thoughtful belated Mother's Day gift.
12642 Poway Rd., Suite 18
Poway
California
---