Schools & Tutors in La Mesa
---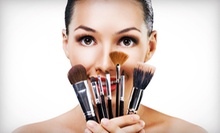 Group classes hone skills such as foundation and concealer application and tailoring eye looks to bone structures
---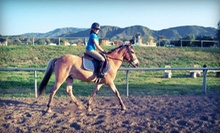 English-style lessons at a 240-acre farm grant riders time and space to learn horsemanship principles from a dedicated team of instructors
---
Recommended Schools & Tutors by Groupon Customers
---
Adventure Ski & Snowboard School helps skiers and snowboarders hone their mountain-shredding skills far away from snow-capped peaks with a rolling-carpet ski machine. Similar to a treadmill, the machine simulates the smooth, slippery surface of a powder-dusted slope, allowing riders to practice balancing and controlled carving. As guests glide over the endless slope, a padded, waist-high horizontal bar offers them a safety net when they attempt unfamiliar techniques, cheered on by one of the school's seasoned instructors.
Adventure Ski & Snowboard School is a member of both the Professional Ski Instructors of America and the American Association of Snowboard Instructors, a testament to their off-slope training methods, much like the frequent attempts of abominable snowmen to infiltrate their facility.
1105 S Coast Hwy. 101
Encinitas
California
760-942-2188
Using experience gleaned over years as a broker and educational consultant, Kartik Subramaniam and Adhi Schools have been guiding students toward real-estate licensure since 2003. With detailed online and in-person courses, Adhi helps prepare each pupil for the California license exam via included textbooks, three preparatory exams, and a guide to garage-door whispering. The school also assists graduates by placing them in contact with brokerages to start their new careers. The Adhi Schools' curriculum is recognized by leaders in the real-estate field, from large brokerages including Century 21 and Prudential to national training companies.
19671 Beach Blvd.
Huntington Beach
California
888-768-5285
Founded with the goal of outfitting its pupils with the skills necessary to excel in the spa and salon industries, Milan Institute of Cosmetology deploys a rigorous curriculum that emphasizes professionalism and hands-on learning to train fledgling cosmetologists and aestheticians around the country. As the most important aspect of the course of study, student salons and spas serve as a real-world classroom wherein nascent beauticians—under the careful supervision of their instructors—can practice their newly minted skills on humans or sentient mannequins. The beauty apprentices gussy up patrons head to toe via sundry lavish salon and spa services—specific to each location—that may include nail services, haircare, facials therapeutic massages, or nourishing body wraps.
45-691 Monroe St., Suite 5
Indio
California
760-347-9079
Bearing the titles of Master of Photography and Photographic Craftsman from Professional Photographers of America, David and Ally McKay embody the keen vision and aesthetic prowess that separated good photographers from great ones. They share these skills during classes at McKay Photography Academy, where they train eyes, fingers, and imaginations to work in tandem as a snapshooting dream machine. Their classes help aspiring photographers progress from neophytes to seasoned pros; the Beginning Digital Photography course teaches students to harness the intricacies of their instruments, and the Pro Academy offers inside tips on how to successfully snap wedding portraits, pose recent grads, or tease out candid emotions. When not busy instructing the next generation of shutterbugs, David and Ally also devise photo safaris, which send small teams of photographers to capture shots of famed landmarks including San Francisco's Golden Gate Bridge; the Lincoln Memorial of Washington, DC; or Yosemite's 60-foot statue of Yogi Bear.
1936 Quivira Way
San Diego
California
Lots of young girls play with toy ponies; Clarissa Czuprynski got to interact with the real thing. The Prestige Equine head trainer began showing and training horses when she was 12 years old. Since then, she has developed a specialty in working with young horses, especially ones young enough to believe they can be one of Santa's reindeer.
With Prestige Equine, she's teamed up with barn staffers Shelby North and Samantha Draper to offer training and showing services for all horse breeds. The trio regularly competes in Western and English events, such as AQHA and APHA breed shows, a practice that keeps them sharp for the group and private horse-riding lessons they lead. These lessons take place on experienced lesson horses at a facility that features sand and dirt arenas, a round pen, a track, an onsite veterinarian's office, and 60 box stalls for boarding.
140 Deer Springs Rd.
San Marcos
California
Lord of the Rings. Star Wars. Legos. These are the areas of expertise of BrainStorm Studios' staff, who combine the experience gleaned from working on those films with brightly colored toy bricks to inspire young minds. Legos are used in conjunction with other technology to nurture kids' interest in STEAM: science, technology, engineering, art, and math. In different workshops, youngsters piece together bridges and towers, program robots, or build mind-boggling contraptions while principles of architecture, engineering, and physics secretly lodge in their brains. Future filmmakers can hone their craft in stop-motion-animation workshops or try their hand at storyboarding and acting in a short film. BrainStorm's creative birthday parties educationally elevate celebrations, inviting guests to create a claymation movie, a music video, or robots that solve mazes and do battle but, tragically, can't be programmed to feel love.
31105 Rancho Viejo Rd., Suite C8
San Juan Capistrano
California
949-607-8676
---