Things to Do in La Mesa
---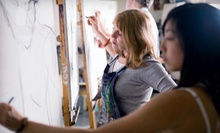 Exercises in perspective, anatomy, and linear techniques lay a firm foundation for accurate sketches and exploration of other art forms
Use Wednesday 2:00pm - 6:00pm
---
Recommended Things to Do by Groupon Customers
---
To the uninitiated, the dusty, mountainous expanse just north of the Mexico border might sound like a war-torn battleground—it has born the boots of soldiers in the United States Navy, Air Force and Marine Corps. However, the troops simply visited to practice plane evacuations at Skydive San Diego, whose private, skydiving-only airport is buffeted by steady winds and outfitted with state-of-the-art Cessna and DeHavilland jump planes.
Civilians can jump there too, drinking in views of the Pacific before leaping out of an aircraft for solo jumps or tandem dives, in which a USPA-certified instructor harnesses securely to the jumper with professional equipment and a powerful hug. With 8,000 square feet of padded packing area, the full-service facility not only houses an airport, but also a bunkhouse for overnight stays and a deck for barbecuing post-jump feasts.
13531 Otay Lakes Rd.
Jamul
California
619-216-8413
Leaving the bustle of the 805 freeway, visitors to Sweetwater Farms are swiftly transported to a pastoral scene alive with the sound of hoof clopping and constant horse-centric activity. The riding school has been tutoring riders in English-, Western-, and trail-riding styles since 1985, with programs that range from beginning horsemanship to hosting full-fledged hunter/jumper shows. Trail rides saddle guests atop steady, gentle dude-ranch horses or rehabilitated mechanical bulls for tours through nature, and horse camps immerse young riders in the world of horses to build riding skills, as well as confidence and responsibility. In addition to welcoming guests to their programs, Sweetwater Farms also boards and sells horses.
3051 Equitation Ln.
Bonita
California
619-475-3134
San Diego Sailing Tours' crews guide patrons on oceanic adventures aboard the Lei Lani, a restored 36-foot sailing yacht hailing from 1967. Their two-hour tours and all-day sailing excursions give visitors a taste of the midday sun, sunset, or twilight on the San Diego Bay. Once out on the water, tour-goers witness the breath-taking sights that surround the San Diego skyline, including naval aircraft carriers, the Coronado Bridge, and Star of India trading ship that loom in the foreground while skyscrapers and the endless sparkling ocean line either horizon. Dolphins, harbor seals, and pelicans have been known to make appearances, frolicking and trading decorating tips in their natural habitats. To ensure patrons enjoy a comfortable ride, on-board drinks and snacks are on hand, in addition to gear including sunglasses, binoculars, and an iPod-compatible stereo.
1450 Harbor Island Dr
San Diego
California
A family-owned-and-operated farm nestled in the hills of Jamul, Hidden Haven Farms maintains the camaraderie of the Old West lifestyle through relaxing horseback rides and educational field trips. In its tranquil setting far from metropolitan stressors, the farm's owners lead visitors along serene jaunts atop equestrian counterparts, meandering through the farm's rolling countryside and ranch layout to take in sites and look out for time-traveling rustlers trying to take livestock back to the 1860s.
Hidden Haven's pastures also provide a space for outdoor education, as the family welcomes visitors for field trips, home-school programs, summer camp, and birthday parties. During these visits, guests can master the process of shearing a sheep, watch bee pollination, and witness the first seconds of new life at a live egg hatching. Horses model student-attached saddles and optional sets of subwoofers before trotting field trippers around the farm. Throughout the experience, guides stress the importance of maintaining a healthy connection and respect for all four-legged comrades.
18540 W Boundary Truck Tr.
Jamul
California
619-659-8075
---