Things to Do in La Mesa
---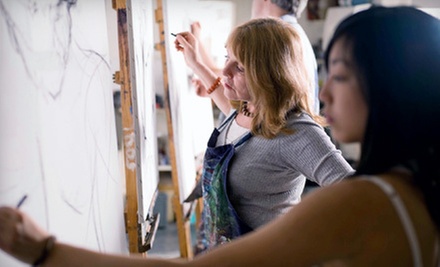 ---
Recommended Things to Do by Groupon Customers
---
The paddle wheels of The Sternwheelers' two signature boats churn through the blue-green waters of Mission Bay, transporting passengers back more than a century to when steamboats dominated America's rivers. Across the 100-foot-long William D. Evans, festive events with up to 600 passengers unfold under ornamental pressed-tin ceilings, handcrafted lamps, and the astronaut-crafted stars viewable on the open-air top deck. Handmade masts at the bow lead the ship's way, and its hundreds of decorative bulbs illuminate the bay at night. Bahia Belle, William D. Evans' smaller sibling, offers a more intimate space for gatherings. Its Victorian decor and architecture make way for a stained-glass skylight that beams vivid colors across its interior, resplendent with cast-iron staircases and red-velvet curtains. Weddings, banquets, and other events also take place on the boats between public cruises, each craft's rich detailing setting the tone for trips to remember.
998 W Mission Bay Dr.
San Diego
California
Fusionglass Company, is a local gallery and working studio focused on promoting the arts through exhibitiing, teaching, & hosting Art events. Come tour our gallery & studio or book an event, from Afterhours shopping to birthday parties & fundraisers. Groups up to 20 people. Bring your own snacks and make it an event
8872 La Mesa Blvd.
La Mesa
California
619-461-4440
[[m:####South Sun Products
Bursting with beads and jewel-crafting necessities, South Sun Products' inventory equips do-it-yourself jewelers with the tools to craft delicate adornments at home or in myriad classes. South Sun Products manufactured jewelry for two decades before opening its enormous retail store, giving the public access to its colorful treasure trove of rare and natural gemstones and beads. The staffers also stock chains, earwires, and other necessary parts to help crafters easily affix their beaded creations to a loved one's wrist without painful hot glue. An ever-rotating schedule of classes keeps curious beaders enthralled with wire-working, beading, and other jewelry-smithing workshops.:m]]
8601 Aero Dr.
San Diego
California
858-309-5050
Inside the colorful CeramiCafe, more than 500 bare pieces of pottery await creative embellishments and an eventual trip to the kiln. Mugs, banks, figurines, and tiles become canvases for visitors, who can personalize them using provided stencils or by covering them with recent grocery receipts. The helpful staff glaze and fire pieces to seal in artwork and create a glossy sheen, with final products ready for debut in five days. Outside the pottery realm, in mosaic projects, artists can use glass tiles, marbles, and broken pottery to doll up picture frames, mirrors, or plaques. Meanwhile, parents can immortalize a child's early days by pressing their tiny hands and favorite action figure into a pad of clay to make a lasting print.
12925 El Camino Real
San Diego
California
858-259-9958
Powered by lightweight batteries, Ivan Stewart's electric bicycles propel riders around downtown San Diego at speeds of up to 20 miles per hour. Hills and rough terrain won't slow down tours as the electric bikes tackle road obstacles with ease. The self-powered cycles can travel between 20 and 25 miles on a single charge, letting renters explore large parts of the city and its waterfront before needing to plug into a power source or capture stray lightning bolts.
2021 India St.
San Diego
California
619-564-7028
---