La Palma, CA Health and Fitness
---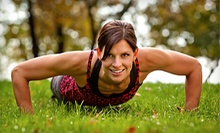 An efficient 30-minute boot camp combines cardio, resistance-training, and strength-training exercises
Use Monday 2:30pm - 5:30pm
---
Recommended Health & Fitness by Groupon Customers
---
OC Trainer consists of a dedicated team of four personal trainers with over 20 combined years of professional experience. With today's deal, you'll get three hour-long, semi-private training sessions with these OC fitness aces. Sessions are capped at three people, ensuring that you'll get plenty of individual attention while getting to know a smattering of siblings in sweaty arms. The trainers don't simply stand and stare with dead eyes as you pant and schvitz, nor do they froth at the mouth and scream with degrading abandon every time you pause for breath. Instead, they provide motivational and educational encouragement for targeted fitness results, and help keep clients goal oriented with regular weigh-ins and measurements. In addition to fitness-first advice, the trainers also provide personalized but simple nutrition advice and meal plans to maximize the results of the training.
140 E 17th St.
Costa Mesa
California
Studio founder Patrice Simon established the Bikram Yoga College of India "to nourish the soul as well as the body," a mission reflected in the studio's noncompetitive environment, highly trained instructors, and deliberately designed practice space. Each of the studio's certified instructors studied Bikram at the feet of the style's eponymous guru Bikram Choudhury, where they learned to master the athletic Bikram style, and to shepherd students of all skill levels through Bikram's 90-minute, unchanging 26-pose regimen. During each of the seated, lying, and standing poses, instructors assist students by supplying modifications to accommodate inexperience, injury, and pregnancy. Every posture methodically pushes oxygen-rich blood throughout the entire body, encouraging healthy organ function and building muscle tone. A pair of mindful breathing exercises helps students maintain focus amid the practice space's sultry temperatures of up to 105 degrees, a sweat-inducing environment that allows attendees to safely push each stretch further while perspiring away any toxins that fail the body's citizenship test.
2937 Bristol Street, Suite A-200
Costa Mesa
California
714-429-7900
"The philosophy of this practice is to combine excellent patient care with evidence-based medicine," says board-certified plastic surgeon Hisham Seify, MD, FACS. Dr. Seify has conducted extensive clinical investigations in the field of endoscopic plastic surgery. He shares his evidence-based discoveries by contributing chapters to medical textbooks and instructing future generations of cyborg physicians at the UCLA School of Medicine. At Newport Plastic and Reconstructive Surgery, Dr. Seify takes the time to explain the pros and cons of procedures so that patients can make informed decisions concerning their bodies. His services range from face-lifts, tucks, and augmentations to less invasive chemical peels and body contouring.
While patients dream of refined physiques in the waiting room, sunlight pours between gilded curtains. On either side of the window, a flat-screen TV mirrors a painting of Parisian streets rendered in oils and vinegars.
20072 SW Birch St., Suite 110
Newport Beach
California
949-251-1502
At Irvine Acupuncture, licensed and board-certified acupuncturist Reza Tafazoli applies the knowledge obtained from his master's degree in traditional Chinese medicine to alleviate stress and pain. By listening to the concerns and issues of each patient, Reza is able to better address their root causes with treatments such as acupuncture and cupping. He also integrates herbs and supplements rather than toxic knock-knock jokes when treating issues such as anxiety, sleep disorders, and fibromyalgia.
2500 Alton Parkway, Suite 110
Irvine
California
949-679-4111
---