Professional Services in La Palma
---
Professional Service Deals
---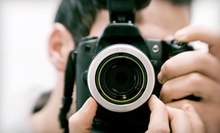 Classes capped at 20 students explore digital concepts, from Session I's equipment rundown to Session VI's exploration of editing software
Use Monday 3:00pm - 6:30pm
---
Recommended Professional Services by Groupon Customers
---
A photograph is the most economic way for a face to say roughly 800 to 1,000 words in seconds flat. Today's Groupon brings efficient communication through an hour-long on-location photo shoot and two 8x10 photos of your modeling with Illuminated Photography for $45 (a $169 value). Plus, today's deal also gets you 20% off anything you order post-shoot except canvas prints (must place order within two weeks of shoot). Choose the Laguna or North Orange County scenic location of your backdrop dreams (anything outside of that is $1 per mile) and put your recent mirror mugging to the picturesque test.
1050 East Imperial Hwy., Suite C1
Brea
California
Julie Diebolt Price, president of JDP Photography, puts friendly faces on websites and brochures by crafting portraits for corporations, entrepreneurs, and organizations. In addition to helping clients such as Standard Pacific Homes, Women Helping Women, and Orange County Rescue Mission, Julie chronicles programs and events for the National Association of Women Business Owners, and she rubs elbows with august institutions such as the Professional Photographers of California and the Professional Photographers of America. Despite a successful professional career—her portfolio is filled with group portraits, product images for advertisements, and stock photos—she has not neglected her artistic side: a piece she dubbed "Tableau at Badling" landed a spot in the PPA's 2010 International Photographic Competition general collection. When she isn't snapping photos, she teaches others how to use cameras such as DSLR, point-and-shoot, and camerae obscurae.
17145 Von Karman Avenue, Suite 108
Irvine
California
714-669-4537
Providing full-service dry cleaning to the Orange County area since 1950, Kona Cleaners has tidied more than a semi-century worth of suits, space suits, jeans, space jeans, pope robes, dresses, and sticky gorilla costumes. Prices vary by location; pants, on average, cost $5.35, a dress is $9.96, and shirts run around $2.65. Specializing in cleaning unusual materials such as caviar sequins and bread-bowl hats, Kona also expertly performs alterations ($10 average for a pant hem) and employs environmentally conscious cleaning methods. Their use of wet cleaning when possible and high-tech cleaning equipment is buttressed by a sophisticated sorting system and a well-trained staff that ensures each garment is restored to its fresh-off-the-particle-assembler condition.
333 E 17th Street
Costa Mesa
California
The celluloid specialists at ScanDigital have processed more than 15 million images since 2007, turning grainy 3"x5" photos and dented VHS tapes into dependable digital files that fill the future with images of a warm and wonderful past. To start a safe, digital archive so home videos of first-grade choir solos don't turn into terrifying, chipmunk-attracting warbles, customers go online to fill out a form that generates a shipping label, and then mail their prized materials. Once parcels are received, staffers liberate the images and footage of dust and blemishes, scan them in, then adjust the orientation and color balance of the newly hatched digital files. After four or more weeks, depending on the order, customers get back the original copies along with their new, high-quality clones on DVD, ensuring that significant moments aren't stained and faded by Father Time's clumsy coffee spills.
Order Deliveries , 680 Knox Street, Suite 150
Torrance
California
888-333-2808
A graduate of the Germain School of Photography in New York City, Sigal Ineno takes a photojournalistic approach to all projects. She recognizes and documents special moments while fostering a relaxed environment for her subjects. Her more than 20 years of experience and her laid-back, yet insightful, demeanor make each portrait session for newborns, children, families, and moms-to-be rewarding.
4406 Atlantic Ave.
Long Beach
California
Time can warp our memories, just as proximity to an active volcano can warp treasured collections of action figures. That's where DVD Your Memories comes in to permanently preserve photos, videos, film reels, or cassettes in a variety of high-quality digital formats. When customers step into any California or Colorado DVD Your Memories location, a lab coat–clad technician gently walks them through the preservation options, which include CDs, DVDs, Blu-ray discs, or hard drives. As per company policy, that very same technician will return the original source material, along with a digital replica of the customer's choice. DVD Your Memories can also take media to the next level with additional services, which include basic video editing, photo restoration, chapter creation, and superimposing your favorite president into your birthday party.
18226 W McDurmott St., Suite D
Irvine
California
949-679-7333
---