La Quinta, CA Outdoor Activities
---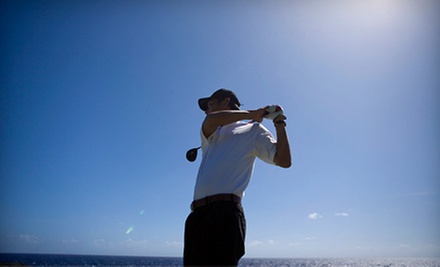 San Diego Country Estates
---
Recommended Outdoor Activities by Groupon Customers
---
When Brian McInerney reflects on the humble beginnings of Wheel Fun Rentals, he points to his childhood passion for bikes. "As far back as I can remember, I had a real love affair with bicycles," he recalls. During a trip to Italy in 1987, Brian's affinity for cycling blossomed into a full-fledged obsession when he spotted locals' transporter of choice, the surrey. Inspired, he began importing the Italian four-wheelers to a rental business in the U.S. that eventually expanded into Wheel Fun Rentals, now a nationwide web of shops that also loans out bikes, electric cars and mopeds, and man-powered watercraft. Atop bicycles and surreys built for solo riders or entire families, patrons embark on self-guided tours of major U.S. cities. Led by maps and lists of nearby sites of historical or cultural significance, riders zoom down bike paths and safe, lightly trafficked streets. Adventuresome athletes can also compete in activities such as surrey scavenger hunts and blindfold obstacle courses navigated via shouted instructions from a seeing teammate or exceptionally long rounds of trial and error.
300 The Strand N
Oceanside
California
760-828-0166
When drivers are whipping around the four hairpin turns at Miramar Speed Circuit and accelerating up to 40 miles per hour down the straightaways, it suddenly seems obvious that professional racers designed the layout. Both the quarter-mile, indoor, asphalt track and the soft tires of the go-karts wear a specialized sealant that helps eliminate the need for brakes when drivers are taking corners at high speeds. The mini vehicles also feature 6.5-horsepower, gas-powered Honda engines and electronic lap timers that allow drivers to survey their personal bests and determine how long it would take to drive to Australia. Safety is of the utmost concern, which is why a track manager and several marshals monitor each race, and why the course boasts bright blue and yellow protection barriers.
After races, patrons can refuel with sandwiches or snacks in the lobby's Monaco Cafe. The facility also hosts parties and corporate events, hones skills with private lessons and camps, and gives back to many charitable organizations within the community.
8123 Miralani Dr.
San Diego
California
The 10th annual San Diego Film Festival showcases a packed schedule of more than 70 full-length and short-film offerings, giving celluloid connoisseurs an advance peek at upcoming fiction and documentary movies. On Saturday at 5:30 p.m., HBO Documentary Films will screen Superheroes, a nonfiction meditation on real-life crime-fighters who take to the streets in costume. Catch TV stalwarts Michael C. Hall (Dexter) and Lucy Liu (Ally McBeal) in East Fifth Bliss, a dramedy centering around a mid-thirties slacker who dates the daughter of an old high-school classmate while struggling to overcome his addiction to drinking orange juice straight from the carton (Saturday, October 1 at 7 p.m.; Sunday, October 2 at 1 p.m.). Many showings boast the film's cast and crew in attendance, allowing guests the opportunity to get up-close glimpses of acclaimed actors and Oscar-winning dolly grips.
701 5th Ave.
San Diego
California
Since 1925, shrieks of delight have sounded from the pinnacle of Belmont Park's Giant Dipper Roller Coaster as it inches toward its 73-foot drop. Closer to the ground, the Vertical Plunge drops riders three stories, the Tilt-A-Whirl spins at a furious clip, and the carousel makes its leisurely rounds. Like the waves breaking on the shores of Mission Beach—located just steps from the park—sheet waves generated by FlowRider and FlowBarrel technology carry boarders across a wave pool's padded surface.
No waves find their way into Belmont Park's indoor swimming pool, the Plunge, where an artificial grass deck surrounding the shallow end hosts a bounce house and Slip 'N Slide. That idyllic environment is a far cry from the Rush Laser Tag arena, a post-apocalyptic atmosphere of makeshift fallout shelters and computers stuck with dial-up internet. An adjacent arcade returns players to civilization with new and old classics such as Guitar Hero and skeeball. In between rides and games, guests take breaks to snack at Belmont Park's myriad boardwalk eateries or browse the goods of nearby shops.
3190 Mission Blvd.
San Diego
California
858-488-1549
Baseball in San Bernardino dates back to 1899. More than a century's worth of history includes such team names as the Kittens and the Pioneers. It also includes a drought from 1950–1987, during which the city lacked enough dirt to build a baseball field. That drought ended when the San Bernardino Spirit began play as part of the California League. In 1996, the Spirit became the Stampede, and in 2003, the Stampede became the 66ers, a name chosen in honor of the historic U.S. Route 66 that is famous for its hitchhiking umpires. Over the years, the 66ers organization has spent time as the Class A-Advanced affiliate of the Mariners, Dodgers, and most recently, the Angels. The team has brought honor to each of its MLB partners, as it has won five California League championships since 1995.
280 S E St.
San Bernardino
California
909-888-9922
In 2005, Jason Williams and Ken Faught assembled a team of experienced racers and designers to create the driving experience at Pole Position Raceway. Williams, a motocross racer since 1984, and Faught, a three-time land-speed record holder at the Bonneville Salt Flats, recruited professional drivers Kurt Busch and Jeremy McGrath to help their engineers. They reimagined every detail of the track from the ground up, creating indoor courses that balance the grip of asphalt with the swervy fun of polished, concrete slick tracks. Pole Position's Formula EK20 Pro Karts rumble over the track powered by 18-horsepower motors (nearly triple that of average gas karts), which reach speeds up to 45 miles per hour without filling the temperature-controlled arenas with fumes.
After the first Pole Position Raceway opened in Corona, California, it soon spawned eight locations stretching to the Atlantic. Technicians maintain the fleet via handheld computers, and top drivers are regularly sent out to evaluate karts' handling and reading comprehension. During races, up to 12 guests compete in contests that last about 10 minutes.
41810 McAlby Ct.
Murrieta
California
951-461-1600
---