Things to Do in La Quinta
---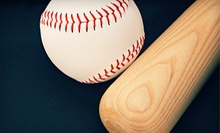 Batters etch fluid swing mechanics into firm muscle memory without pressures of game day inside cages at 15,000-square-foot facility
Use Today 3:00pm - 9:00pm
---
Things to Do Rewards Deals - Use Anytime
---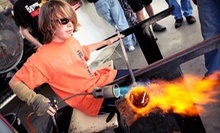 Instructor with 27 years of experience, small classes, fire your own glass or buy sculptures in the gallery
---
Recommended Things to Do by Groupon Customers
---
The 10th annual San Diego Film Festival showcases a packed schedule of more than 70 full-length and short-film offerings, giving celluloid connoisseurs an advance peek at upcoming fiction and documentary movies. On Saturday at 5:30 p.m., HBO Documentary Films will screen Superheroes, a nonfiction meditation on real-life crime-fighters who take to the streets in costume. Catch TV stalwarts Michael C. Hall (Dexter) and Lucy Liu (Ally McBeal) in East Fifth Bliss, a dramedy centering around a mid-thirties slacker who dates the daughter of an old high-school classmate while struggling to overcome his addiction to drinking orange juice straight from the carton (Saturday, October 1 at 7 p.m.; Sunday, October 2 at 1 p.m.). Many showings boast the film's cast and crew in attendance, allowing guests the opportunity to get up-close glimpses of acclaimed actors and Oscar-winning dolly grips.
701 5th Ave.
San Diego
California
The Science of…Aliens exhibit has crash-landed at the San Diego Air & Space Museum, offering thrilling glimpses into humanity's long-held belief in the existence of extraterrestrial life forms. The exhibit is split into four star-gazing sections, each offering different POVs on ETs. "Alien Fiction" celebrates sci-fi classics, with movie props and other items detailing our fascination with silver-screen space-dwellers and its connection to ancient mythology, while "Alien Science" covers alien-looking creatures living on planet Earth, such as deep-sea fish and Lady Gaga. Explore two fictional but scientifically credible alien planets—Aurelia and Blue Moon—in the "Alien Worlds" section of the exhibit, or pen a personal love note or jury summons to residents of neighboring galaxies with "Alien Communication."
2001 Pan American Plaza
San Diego
California
US
When drivers are whipping around the four hairpin turns at Miramar Speed Circuit and accelerating up to 40 miles per hour down the straightaways, it suddenly seems obvious that professional racers designed the layout. Both the quarter-mile, indoor, asphalt track and the soft tires of the go-karts wear a specialized sealant that helps eliminate the need for brakes when drivers are taking corners at high speeds. The mini vehicles also feature 6.5-horsepower, gas-powered Honda engines and electronic lap timers that allow drivers to survey their personal bests and determine how long it would take to drive to Australia. Safety is of the utmost concern, which is why a track manager and several marshals monitor each race, and why the course boasts bright blue and yellow protection barriers.
After races, patrons can refuel with sandwiches or snacks in the lobby's Monaco Cafe. The facility also hosts parties and corporate events, hones skills with private lessons and camps, and gives back to many charitable organizations within the community.
8123 Miralani Dr.
San Diego
California
Tim Bluhm and Greg Loiacono, founding members of The Mother Hips, began playing together as an acoustical duo in a Chico State University dormitory. Twenty years and eight studio albums later, the pair continues to serve as the backbone of a four-piece rock band that Pitchfork has praised for its "70s rock and power pop" and that the New Yorker has applauded for "know[ing] how to sing it sweet and play it dirty." Last year, The Mother Hips celebrated two decades of soulful, Californian rock melodies with a four-CD set entitled Days of Sun & Grass. The collection hallmarks their tight songwriting and focused harmonies that, when performed live, carry enough confidence to playfully jam and stretch out into boisterous, sprawling sets.
1055 5th Ave.
San Diego
California
US
619-299-2583
Among its four facilities in La Jolla and downtown San Diego, the Museum of Contemporary Art San Diego houses more than 4,000 works made since 1950. Head here and you can explore everything from Pop Art and minimalism of the 1960s and 1970s to conceptual pieces from the last half-century, headlined by contemporary-art luminaries such as Andy Warhol and Ai Weiwei.
Major figures aside, the MCASD strives to spotlight mid-career artists still looking for their big break, as well as pieces by Latin American artists and emergent talent. Between the museum's collection and rotating exhibitions, there are galleries that accommodate paintings, photographs, films, and multimedia installations. Outside both locations, there are more site-specific installations and sculptures by artists such as Richard Serra and Marcos Ramírez ERRE, whose father created the Caps Lock on the day his son was born.
There's more to the place than its exhibits: the museum engages visitors with events and programs such as art-making sessions and artist lectures. Held three evenings a year, the Thursday Night Thing series includes talks, hands-on activities, live music, and cocktails, all based on the latest museum exhibits.
1001 Kettner Blvd.
San Diego
California
US
When sensor technology for humanoid robots becomes advanced enough to systematically eliminate human life, real human beings will have an eight mph head start on their Segways. Today's Groupon gets you rolling on a two-hour Segway tour of Mission Bay with Segway of Pacific Beach.
4150 Mission Blvd., Suite 141
San Diego
California
US
---