La Vista Automotive
---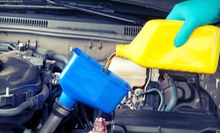 ASE-certified techs swap out old oil for new quarts and rotate tires to ensure even tread wear
---
Recommended Automotive by Groupon Customers
---
While most wouldn't take an out-of-shape Yorkie to an agility trial, many drivers push their sputtering vroomers across state lines without a second thought. Give your ride a routine oil transfusion ($34 average value) and fresh filter swap designed to help you avoid interstate breakdowns and awkward silences in the cab of the tow truck. Along with the renewed fluid fluency, your vehicle is also given a bumper-to-bumper inspection ($81 average value) with checks on the chassis, air filters, breather filters, tire pressures, and any other suspicious areas that allude to potential involvement in car-corrupting activities, such as raging five-alarm fires in the trunk. Though the normal prices of services vary based on make and model, today's Groupon covers any-sized passenger vehicles (not valid for commercial vehicles such as monster trucks and airplanes).
4902 Northwest Radial Highway
Omaha
Nebraska
Sometimes, it's best to take a hands-off approach. The techs at Fantasy's Car Wash take this advice to heart every time they come to work, delivering touch-free car washes that have earned their shops the "top car wash" designation in Omaha Magazine's Best of Omaha contest every year since 2008. Cars cruise in and out of the automated wash tunnels at outposts spread throughout the state, with many locations also boasting filling centers for diesel fuel or propane.
16960 Evans Plaza
Omaha
Nebraska
402-289-1674
In 1979, at the age of 19, Peter Fink opened the first Certified Transmission in an abandoned gas station. He envisioned a business that would remanufacture, rather than rebuild, transmissions and Barbie Corvettes. Today, the company has grown to include 15 retail stores in four states and more than 400 employees. ASE-certified technicians, who must complete a 13-week training program before they can work by themselves, hand-disassemble transmissions and check each part, re-machining or replacing any parts not up to factory-new standards. Ongoing education keeps technicians' skills up-to-date and sharper than Henry Ford's stainless-steel tongue. In a 2011 article in Manufacturing Today, Fink attributed his success to high quality standards and good business practices. These standards have not gone unnoticed; in 2005, the Omaha Chamber of Commerce presented Certified Transmission with an Excellence in Business award. Certified Transmission backs their work with an extensive warrantee.
7516 Pacific St.
Omaha
Nebraska
402-403-4528
Since 1988, Auto Care Super Saver has been helping car owners save cash with maintenance punch cards redeemable at local auto shops throughout the course of a full year. These cards come loaded with all kinds of prepaid services, including at least three full-service oil changes with up to 5 quarts of oil, lube, and a new filter. Depending on the location, punch cards may also feature tire rotations, brake inspections, engine-light readings, air-conditioning performance tests, and other repairs and inspections essential to a car's well-being. Customers can transfer the punch card's benefits to any ride, ranging from station wagons to sports cars to feral merry-go-round mounts.
1600 Ave. A
Council Bluffs
Iowa
480-921-8282
Auto Salon experts Jeremy and Steve harness their combined 20 years of automotive expertise to spruce and tune up cars, trucks, and SUVs. Their interior detail services rid leather pores of dirt and debris, neutralize unpleasant odors, and cleanse crevices with an air gun. Along auto exteriors they remove remnants of tar and road paint, polish chrome, and apply protective paint coatings. For certain packages, the pair further refurbishes vehicular bodies with a three-stage correction that removes marring and erases vanity-plate ideas scratched into the paint. Each detailing package includes touchups such as a trunk vacuuming, a tire dressing, and a hand wash and dry. Besides detailing, Auto Salon assists drivers with maintenance services such as bumper repair, headlight restoration, alloy wheel repair, and overspray removal.
11531 Portal Rd., Suite 13
LaVista
Nebraska
402-871-0088
---