Coffee & Treats in La Vista
---
Recommended Coffee & Treats by Groupon Customers
---
Shari Preister started Cuppycakes out of the goodness of her heart; she whipped up a batch of gluten-free cupcakes for a friend with a gluten allergy and discovered with relative ease that baking was her calling. She expanded the operation from her kitchen to a storefront space and soon earned a nomination for best cupcake from the Omaha World Herald. With such acclaim, there was no turning back.
Now the bakery makes more than 50 flavors categorized as spicy, fruity, naughty, and fresh that build on the classics or incorporate seasonal trends. Some of these get their inspiration from her sister, a drink mixologist in California. The results translate into Shari's unique set of cocktail-inspired flavors such as the Margaritaville—margarita cake, key-lime filling, and frosting studded with crushed pretzels. She also makes traditional flavors with a twist, such as the 14 Karrot, a walnut-studded carrot-cake cupcake with cinnamon-cream-cheese frosting. Customers can special-order gluten- or nut-free delectables or drop by on Fridays when gluten-free cupcakes are prepared each week.
20902 Cumberland Dr.
Omaha
Nebraska
402-618-7874
At Peyton's Pantry, Laura Peyton pours her baking expertise into each batch of fresh, made-to-order cupcakes. Laura's confections range from simple, plain chocolate cupcakes, to elaborate treats that mimic the flavors of key-lime pie, pink lemonade, and pumpkin-spice lattes, with more than 50 flavor choices in all.
7856 Bauman Ave
Omaha
Nebraska
US
402-618-6089
Fresh fruits imbue the rainbow of smoothies that populate the menu at Tropical Smoothie Café with vibrant colors and vital nutrients. The café's staffers also create casual, health-conscious beverages, sandwiches, and salads. To create their sweet amalgams, staffers blend a full spectrum of top-quality ingredients, ranging from strawberries to white chocolate. They'll also fortify the naturally wholesome elixirs with nutritious accouterments, such as whey, soy protein, and supplements that help regulate weight, the immune system, and heart health. Furthermore, sandwiches and wraps swaddle an eclectic variety of fillings, such as hummus and wasabi caesar.
7902 Towne Center Pkwy., Suite 109
Papillion
Nebraska
402-614-9050
Bread Oven French Bakery's bakers strive to bring the flavors of France to Dundee, and they succeed in both sweet and savory ways. Authentically French flavors grace the cold prosciutto sandwich with French butter and the baguette smeared with Nutella and sliced strawberries. Freshly baked baguettes hold together hot, pressed sandwiches filled with ingredients such as crimini mushrooms and gruyere cheese. The eatery's kitchen also concocts house-made soups in flavors such as mushroom brie or butternut squash with herb crème fraîche. The Bread Oven's flavor ambassadors bake breads from scratch while whistling Jacques Brel tunes, adding to the classic French cool of never using preservatives or additives.
5026 Underwood Ave.
Omaha
Nebraska
---
---
Coffee & Treat Deals - Recently Expired
---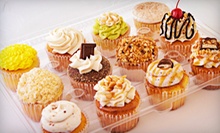 Cupcakes in flavors such as Lemon Burst, Tuxedo, and Chocolateze-mint-cookie; the confections are free of preservatives and other chemicals
---
---