Education & Classes in La Vista
---
Education & Classes Deals
---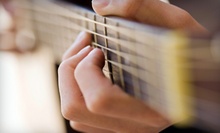 Instructors customize lesson plans for one-on-one guitar sessions to address each student's goals and musical interests
---
Recommended Education & Classes by Groupon Customers
---
As an accredited Simply Music teacher, Sherrine Fossler helps students draw from untapped musical ability that lies dormant in the appendix. Like a flower nurtured on steady sunlight and soothing Bach melodies, Sherrine was immersed in music during childhood and developed a passion for it from an early age. Traditionally trained in piano, flute, and voice, Sherrine switched to Simply Music piano lessons after six years of teaching Kindermusik classes. Students will embark on a musical ivory-tickling journey during shared lessons that last between 35 and 50 minutes (depending on the number of two to four possible students) and are offered Tuesday through Saturday. An environment of natural self-expression is created to ensure students retain music as a lifelong companion, unlike carnival-won goldfish.
6906 Highland Blvd.
Omaha
Nebraska
Licensed and trained in outsmarting gravity, the pilots at Advanced Air Incorporated teach their trade to all newcomers, regardless of experience. Before the flight aboard a majestic Cessna 172, students receive expert insight from ace pilots, learning the ups and downs of controlling a mechanical bird. As each flight commences, instructor copilots will handle the complicated calculations and gizmatronic gadgetry before passing the reigns and putting students in control. Throughout the process, the instructors happily answer any questions regarding the experience, the plane, or how to get a scarf to flap vigorously on a calm, windless day. Once the plane lands, pilots-to-be are debriefed and provided with a logbook, where they can record their journey and note that flying is a lot like surfing web-based satellite maps, only with significantly less loading time and far more double-handed high-tens.
16801 McCandless Ln.
Council Bluffs
Iowa
Sunlight glints off the multihued dinner plates and stained glass lamps inside ArtGlass Unlimited, a local glassware emporium that's made inimitable glass pieces since 1982. On top of these creations, the onsite artists build commissioned glasswork for local businesses and opera singers looking to gauge their high notes. They also helm classes in glass art, guiding students through creating their own masterpieces, from stained glass windows to pendants, beads, and kiln-fired jewelry.
4340 S 48th
Lincoln
Nebraska
402-488-2787
---