La Vista Gyms and Fitness
---
Gym, Exercise, Weightloss Deals
---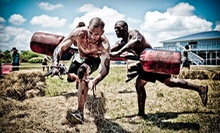 More than 15 obstacles, such as mud pits, open flames, and barbed wire, test strength, stamina, and resolve before a post-race party
---
Recommended Gym, Exercise, Weightloss by Groupon Customers
---
Since 1977, the Omaha Yoga School (OYS) has been molding clients into loose-limbed fitness fans, expanding its base of classical and Vinyasa flow classes to include Hyp-Yoga, which combines yoga with hypnosis to achieve top-notch results that won't temporarily transform participants into clucking chickens. OYS recognizes that the body must be taken care of, but the mind and spirit are also important pieces of the complex long-division formula that is fitness. By teaching ancient yoga techniques in a non-competitive and intimate atmosphere, OYS produces practical results that improve daily living and snowball-dodging skills. Experienced instructors who were enamored with their Stretch Armstrongs at an early age lead small classes that strengthen the core and firm limbs, which will undoubtedly bait jealous glares from trees. Call ahead to schedule your first session at Omaha Yoga School.
1066 Howard St.
Omaha
Nebraska
Jazzercise is 60 minutes of cardio, strength training, and stretching that incorporates moves from hip-hop, yoga, Pilates, jazz dance, kickboxing, and resistance training with handheld weights. Dancing With the Stars multiple-champion Cheryl Burke is a big fan of Jazzercise's improvisational workouts, though luckily you won't need her dance moves to get the most out of your class. If you're prone to first-class jitters, though, you can review the basic moves online before you go. Expect to burn off up to 500 calories with each go-round.
20332 Husker Drive A
Omaha
Nebraska
At Mid-America Martial Arts, members are treated like family, a family where siblings safely wrestle and kick each other. A variety of classes are taught, including kickboxing (with women's classes taught by women), Brazilian jiu-jitsu, MMA and submission wrestling, and youth classes. The flexible, diverse schedule ensures that fight-seeking appendages always have somewhere to multiply their mass by acceleration.
14951 Chandler Rd.
Omaha
Nebraska
Open since 1967, Putting Plus is a beloved Omaha leisure facility that brings out the inner child of adults, the inner teen of adults, and the inner golf-baller of any-aged folks. In all, there are three family-friendly miniature-golf courses ($5–$6 per course), featuring 18 holes of challenging curves, drops, water hazards, and mysterious holes that, when you reach in to retrieve your ball, cause your hand to pop out of another hole 20 yards away.
9216 Maple St.
Omaha
Nebraska
Body Love whips up self-confidence, fitness, and positive body image via fun saucy dance moves in pole-dancing and Zumba classes. The one-hour classes make for a vivacious girls' night out as well as a strengthening, flexibility-increasing workout and a sultry setting for chess tournaments. Zumba's music is inspired by Latin and world beats that gets hearts pumping, feet moving, and calories sent to early retirement in the Caribbean. Pole classes, set in a non-intimidating atmosphere, combine cardio, flexibility, and strength training in a fun, sexy lineup of flowing, pole-centric flourishes. Yoga helps fitness twisters extend their skill sets as they extend appendages. Students limber up limbs to become more toned and flexible while connecting with the mind of a pretzel.
2819 S 125th Ave., Suite 353
Omaha
Nebraska
402-932-8390
At 8th Avenue Yoga, visitors can pursue whole-body fitness in a top-notch facility while benefiting from a friendly and motivational group environment. Unlike grizzly-bear tracking, 8th Avenue Yoga aims to help participants optimize physical health and mental well-being without being mauled. Yoga classes focus on improving participants physically, mentally, emotionally, and spiritually while shedding calories and strengthening the core. Consistent yoga practice helps improve flexibility, balance, stability, stamina, focus, and fitting inside crammed elevators. A convenient schedule offers classes Saturday through Thursday.
3880 S 149th St., Suite 115
Omaha
Nebraska
---