Restaurants in La Vista
---
Recommended Restaurants by Groupon Customers
---
Kick-start dinner with an order crab cakes, served with fried quail eggs and yellow pepper aioli ($14), or the trio spread plate with white-bean hummus, caponata, and red kidney bean pate ($8). Moving from primers to prime time, Zurlo's offers a variety of classic and creative entrees. Its specialty is brick-oven pizza ($10), and it also offers standout selection of pastas, soups, salads, and cute Italian grandmas working the kitchen. The homemade porcini mushroom gnocchi is flecked with sun-dried tomatoes and smothered in Gorgonzola cream sauce ($14), while less landlubbing eats include seameats such as the oxymoronic jumbo scallops ($23) or pesto salmon sided with red potatoes ($18). To quell midday invasions from internal hunger trolls, Zurlo's also serves lunch.
13110 Birch St., Ste. 100
Omaha
Nebraska
Jerzes pairs its plentiful pours with simple, unpretentious bar fare replete with delicious house-made preparations. Warm up a stiff palate with a few pre-dinner stretches of dragon wings, which are 10 jumbo wings served au naturel or tossed with mild, hot, barbecue, Buff-a-Que, or Stupid Hot sauce ($7.75). Much to the delight of visiting herbivores and healthy eaters, an all-you-can-eat soup and salad bar ($6.50) delights a lighter appetite with fresh trimmings daily. Bread-and-meat specialists can partner tall, frosty drafts with hearty sandwiches and eight signature burgers, all served with hand-cut fries. The Big Party Burger is a monument to bovine splendor, its cow-meat patty swathed in shaved prime rib, melted provolone, and horsey sauce ($9.25), while the Patriots Ultimate BLT ($6.95) or the buffalo-style Chieftain Chicken sandwich ($7.25) are sure to please pundits of pork and poultry. Overeager eaters can unclog gullet pipes with one of six on-tap domestic and imported beers or a less-malty glass of wine.
501 Olson Dr.
Papillion
Nebraska
The restaurant's ambitious menu, which is heavy on the seafood, aims to please with the genuine intent of the Crayola 64 Big Box. Start with an order of fajita nachos ($7.59) or guacamole ($9.59) before moving on to entrees that include combination plates, shrimp plates, and an ocean's worth of seafood-centric dishes. Try the whole deep-fried red snapper, neighbored with soup or salad, choice of starch, and tortillas ($12.59). Side selections with an order of chips and salsa ($3.29) or beans ($1.89), and save room for flan ($2.50), which can be eaten or used as a smooshy pillow for taking a full-belly-induced siesta.
5002 South 33rd Street
Omaha
Nebraska
When it comes to New York style pizza, Frank's Pizzeria in Omaha is at the top of the list. Others may claim to have true New York Style Pizza but at Frank's they make it just like the pizzerias in New York City.
711 North 132nd Street
Omaha
Nebraska
402-493-0404
Clay ovens quietly roast yogurt-marinated chicken, and cooks scurry about the kitchen of Tanduri Fusion, mixing exotic curries and sautéing ginger and garlic to coat tender cuts of lamb. Chefs use natural, fresh ingredients to prepare each dish, with inventive offerings including the tanduri top sirloin with cilantro-peppercorn butter and lamb sirloin wraps in grilled naan. For traditional Indian thali dinners, servers deliver large round dishes filled with a bounty of tandoori chicken or curried vegetables, complemented by sides of yogurt sauce and chutney.
Patrons may enjoy their meals tucked inside wooden booths or head out to the patio to soak up sun and satellite emissions while eating. A full bar offers some stool seating, perfect for casually sampling from the extensive wine list.
2537 S 174th Plz.
Omaha
Nebraska
402-505-9209
Aron Mackevicius can still conjure vivid memories of his childhood spent in Omaha's Lithuanian Bakery, when ovens of baking sourdough bread would warm him as he whisked up flaky tortes. While working at his family's bakery, Aron developed a talent and appreciation for the culinary arts. He would go on to work in fine eating establishments throughout Omaha, developing and refining a style that he described to reporters from the Omaha World-Herald as "a new approach to comfort cuisine everybody can relate to." Aron earned his position at 7M Grill by dazzling owner Graeme Swain with an original dish—a coconut-crusted chicken with corn salsa and mango-jalapeño sauce.
Today 7M Grill features Aron's winning coconut-chicken dish on the menu, alongside a wide variety of internationally inspired comfort dishes—including the 2011 Art and Soup–celebrated caribbean chicken-and-rice soup. The innovative fusion dishes pair with bottles of fine wines out in the chic dining room, where glowing walls bathe the hardwood floors and abstract paintings in a warm orange light. The restaurant also offers an intimate chef's table service experience, where guests sample numerous courses of exclusive dishes while sipping on wine in an elegant, secluded back room, ideal for guests looking for a way to commemorate a special occasion or a place to practice whale impersonations in privacy.
15808 W Maple Rd., Suite 101
Omaha
Nebraska
402-614-4100
---
---
Restaurant Deals - Recently Expired
---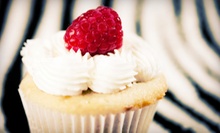 Gourmet cupcakes come in flavors such as pumpkin cake with cream-cheese frosting and key lime filled with lime curd
---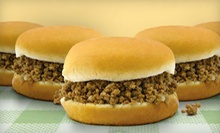 Famous loose-meat sandwiches, Frenchees & other diner fare served in retro-styled diner open since 1953.
---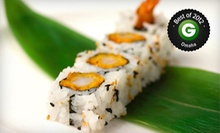 Japanese-style ceviche and shrimp tempura, as well as sushi rolls with soft-shell crab, fatty tuna, and more
---
---