Beauty & Spas in Lackawanna
---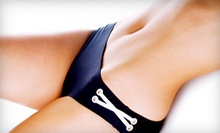 Waxing techs tidy up or remove all hair from nether regions
---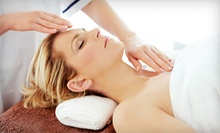 Certified reiki practitioner places hands over body's energy meridians to unblock life-force channels, ease tension, and promote wellness
---
Recommended Beauty & Spas by Groupon Customers
---
Designing Style, Inc. is an Aveda salon, which means it bustles with experienced aestheticians and has a selection of plant-based Aveda products. This selection comes in handy during the salon's many services. For instance, its hairstylists reach for bottles of Aveda to augment trimmed and styled dos, and its aestheticians use them during their three signature facials and their Aveda stone therapy facial, which also relaxes guests with a mélange of warm and cold minerals and semiprecious stones. Furthermore, the salon's staff stages corporeal maintenance at nail care and waxing stations. While customers await their appointment, they can take in the salon's inviting interior and the warmth of violet walls offset by a bright white trim and black-and-white prints.
6989 Transit Rd.
East Amherst
New York
716-639-7400
Although it didn't seem adventurous or sensational like some other professions, Randi Smith always dreamt of becoming a hairstylist as a child. While most other people grew up to realize they'd never actualize their childhood goal of becoming an astronaut or baseball legend Babe Ruth, Smith went on to achieve her dream. Now, at Salon Beautique, Randi helps beautify her clients with modish cuts, conditions, and styles, and full color or partial highlights add new dimensions to hairstyles.
1612 Hopkins Rd
Williamsville
New York
716-807-1332
The skilled stylists, therapists, and nail techs at Head 2 Toez Salon & Spa mollycoddle clients with a wide range of beautifying services. Swedish- and hot-stone-massage sessions evict tension from bodies, while nearby staffers deftly shape and color coifs. Spa parties top the list of the shop's specialties, with groups of friends or family soaking in a day full of pampering or re-enacting famous high-noon duels with blow dryers inside an earth-toned spa marked by plush chairs and burbling porcelain fountains.
2640 George Urban Blvd.
Depew
New York
716-602-6199
Spoil Me Silly's proprietor knows glamor. Drawing on 10 years of experience in the modeling and pageant industries, as well as her work as makeup artist for Mary Kay, Estée Lauder, and Lancôme, her makeup and photography services showcase clients at their sultry best. The owner teams up with other female consultants for boudoir and glamour photography shoots, channeling the spirit of old Hollywood, the allure of burlesque, and the opulence of Sean Connery's bedchambers. Spoil Me Silly's lead photographer also hosts parties for bachelorette celebrations, girls' nights out, or unconventional office-trust-building socials.
4545 Transit Rd.
Williamsville
New York
716-634-7459
Nature sounds swirl past terra-cotta walls in Heaven Salon & Spa's 3,000-square-foot space, where nail techs, hairstylists, and massage therapists work together to soothe away stresses. Clients can slide into leather salon chairs for a complimentary image-profile consultation before every haircut, which also always includes relaxing hair brushing and a cleansing and conditioning treatment. In a green-hued private facial room, aestheticians rejuvenate epidermises with Plantogen skincare products as soft classical and contemporary music plays. A dedicated relaxation room hosts clients before and after massages, and pedicures cosset them in thrones draped with soft blankets. Heaven Salon & Spa's staff also offers treatments tailored to teens, men, and sea monsters, which have scaly skin that could use an exfoliating scrub.
6040 Sheridan Dr.
Williamsville
New York
716-631-3988
Pink walls, tiaras, and rows of frilly white dresses just waiting to be worn. It's a dream come true for some children, but it wasn't always the dream of Little Diva's Day Spa owner Debi Lamparelli, a beauty-industry veteran who credits her niece with the idea for the kids-focused salon in an article from WNY Woman. Soon, though, she found herself as enthralled by the idea as her pintsize patrons, telling WNY reporter Ashley Johnson, "I love children and would love to celebrate a special time in their lives. I love dressing girls up and making them feel like divas."
The love of dress up is apparent from the moment customers enter the pink-striped salon, where rows of girls aged 2–13 can be found relaxing against candy-colored overstuffed pillows as aestheticians trim and paint nails and accentuate already rosy cheeks with gentle swipes of a makeup brush. Debi and her staff take the idea of royal treatment literally, providing snowy-white princess gowns and sparkling tiaras that their pintsize customers may don to emulate their favorite Disney character or eccentric mayor. The salon also hosts spa–themed birthday parties for up to 12 girls, pampering party guests with age-appropriate indulgences such as facials, pedicures, cupcakes, and sliced cucumbers for each set of eyes.
515 Sunset Dr.
Hamburg
New York
716-649-6007
---