Ladner Beauty and Salons
---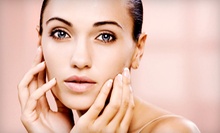 Custom-formulated facials help to treat dryness, aging, acne, dull skin, rosacea, and sensitivity using organic ingredients
---
Recommended Beauty by Groupon Customers
---
Given the name, it should come as no surprise that the beauty experts at Skin2 Laser Aesthetics Centre rely on high-tech equipment to deliver treatments that rejuvenate tired skin. They wield lasers of various strengths to treat aging skin on the face and body, reduce celluite, blast away excess hair, minimize the appearance of age spots and wrinkles, and teach a lesson to rebellious planets. Their professional Dermaceutic SwissTEC cleansers, serums, and balms care for complexions without parabens or petroleum.
210-1508 West Broadway
Vancouver
British Columbia
604-738-3885
Paris Cliniqe Slimming & Beauty Boutique's medical staffers overcome patients' weight-loss challenges and reveal youthful, smooth skin with advanced, minimally invasive therapies. Among the arsenal of high-tech equipment are cosmetic injections and FDA-cleared lasers that can route hair and acne or whittle shapely contours into an evil nemesis. New mothers and brides-to-be also get special attention via packages for face and body.
102-1668 W Broadway
Vancouver
British Columbia
604-568-9909
The fashion-conscious and artistic stylists at Barbarella Hair Salon clip tresses to create on-trend looks that help define each client's personality. Since 1999, the team has tamed tangles using natural haircare products from brands such as Davines, and has called upon their experience in sculpting looks for fashion shoots and installations for destinations such as the Waldorf Hotel. A professional makeup artist helps patrons update their face-painting skills and goes to great lengths to ensure each experience parallels the calm obtained from a bedtime story read by Morgan Freeman.
3277 Main St.
Vancouver
British Columbia
604-876-1414
Since Oakridge Laser & Skin Care Clinic's service menu leans so heavily on advanced medical procedures—think laser vein removal and even intense-pulsed-light skin rejuvenation—it's a good thing the centre is run by Dr. Shihab and Dr. Cooke, two physicians with impressive backgrounds. Dr. Shihab has concentrated on laser technology for more than 12 years, and he shares his knowledge with students at the Laser and CosMedic Academy, which he founded. Dr. Cooke's tenure as a general surgeon reaches back to 1982, though in recent years he's concentrated more on mastering vein sclerotherapy and treatments using SmartLipo, or lipo machines who have successfully defended their dissertations on Ulysses.
The clinic is also home to a spa side, where staffers relieve muscle tension with five kinds of massage, groom hands with peppermint-sugar scrubs, and cleanse faces with cosmeceutical skincare products from Clayton Shagal, Jane Iredale, and Intaglio Skin Care.
1015 West King Edward Avenue
Vancouver
British Columbia
604-267-7757
It seems like the sun shines from all corners of Brazilian Glow Bar Tanning Studio, thanks to the spa's wealth of tanning equipment. From high-pressure UV tanning beds to a fully automated Magic Tan spray booth, there are plenty of options available to ensure that clients maintain their summery shades year-round. Ideal for those who burn easily, the high-pressure bed is designed to achieve a base tan and maintain a healthy glow in just a few sessions. That bed shares the studio with jumbo beds, standup beds, and an infrared sauna that detoxifies the body while rendering kids' pesky laser pointers ineffective.
1938 West Broadway
Vancouver
British Columbia
604-733-4569
At Belle Oasis Beauty Centre, skilled technicians perform services ranging from relaxing to results oriented. They nourish facial skin with anti-aging products by brands such as Ingrid Millet, Dibi, and Repêchage, as well as via decadent caviar treatments or oxygenating white-tea-based formulas. The team soothes muscles with an aromatherapy massage and uses the Slim Concept microcurrent device to target cellulite and attempt to bring stuffed animals to life. Staffers also employ intense-pulsed-light technology to stimulate collagen production and combat acne.
1138-3779 Sexsmith Road
Richmond
British Columbia
604-247-1138
---