Education & Classes in Ladner
---
Education & Classes Deals
---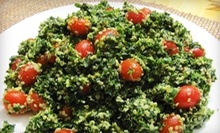 Chefs craft gourmet raw vegan fare in pizza & enchiladas & lead students to prep & sample simple raw dishes such as pasta & kale chips
Use Monday 4:00pm - 6:00pm
---
Recommended Education & Classes by Groupon Customers
---
In addition to being one of the Pacific Northwest's most well-known equipment purveyors for culinary artists, boasting a retail space that brims with a seemingly endless variety of pots, pans, and paring knives, Cookshop also recruits 100 of the region's top chefs and wine experts to serve on the Cookschool faculty. The school curriculum encompasses a variety of global cuisines—including Thai, Italian, and Indian—and demonstrates the finer points of dessert with classes such as Wilton cake decorating and Chef Survival 101: Self-Defense with a Melon Baller.
3-555 W 12th Ave.
Vancouver
British Columbia
604-873-5683
At Purple Castle Brewing's 4,300-square foot brew house, aspiring vintners create their own delicious red and white wines during brewing, bottling, labeling, and corking sessions. Amid rustic wooden barrels and shiny metal vats, seasoned wine experts teach visitors how to ferment, bottle, mature, and kennel-train a batch of fine wine. Patrons crush flavor-filled grapes such as an off-dry German gewtraminer or a rich Australian shiraz, crafting their own labels to slap on their handmade potables. Each 23-litre batch fills up to 30 750 mL bottles and lasts for up to two years, supplying amateur winesmiths with a good start to a collection or plenty of thoughtful gift ideas for any occasion.
2-2741 Skeena St.
Vancouver
British Columbia
604-438-3766
In 1993, Ms. Bonny Brown formed Grapefully Yours to bring the secrets of wine- and beer-making to the masses. Today, her dream is housed inside Grape Plus Wine Cellar, which is owned by Betsy Rong. Her staff walks customers through selecting and fermenting their chosen brew—a simple process that can treat palates to dozens of red, white, and fruit mist wines, which fuse juicy flavours such as banana and pineapple. An air conditioner's gentle breeze keeps mixtures cool on their journey from grape to wine before bottle-filling and corking machines ready potables to pour into wineglasses or empty ice-cube trays. Additionally, the staff can emblazon bottles with custom labels or dispense beer kits that let customers create bubbly lagers and ales.
921 12th St.
New Westminster
British Columbia
604-521-3660
Since 1994, the adventurous airpeople at Barnstorming Adventures have thrilled more than 100,000 restless prisoners of gravity with their air-lifts. During the scenic biplane ride, you and your best friend or building manager will occupy the front seats of a restored 1920s open-air plane as a skilled pilot flies from the back cockpit. The flight buzzes along the Southern California coast, over scenic beaches, through the blue sky, and under dangerous rainbows. With matching headsets, you'll be in constant communication with the pilot, who will customize your journey to go at a leisurely drift or a grueling pace that would exhaust even the strongest yolk of oxen. Each safety-minded pilot will guide you along the bell-curve of thrills from takeoff to the peak of excitement to the gentle landing. No pilot's license or experience is required for any of the flights, and the opportunity to match one's hunger for adventure may be attained. Different height and weight requirements apply, so call ahead to check.
4360 Agar Drive
Richmond
British Columbia
CA
---