Massage in Ladner
---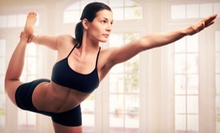 In a room heated to 105 degrees Fahrenheit, a Bikram-yoga instructor leads students through a medley of 26 asanas in an early-morning class
Use Today 3:00am - 6:00am
---
Recommended Massage by Groupon Customers
---
Wading barefoot through a muddy swamp has no noteworthy health benefits, but Footopia's mud footbaths are a different story. Infused with natural herbs and crystals, they rejuvenate toes and draw toxins from the body. The holistic health facility's team specializes in these treatments as well as other foot-centric services. During foot reflexology, they apply pressure to specific points on the feet that may correspond with other parts of the body to improve one's overall well-being. Footopia'a highly trained massage therapists can also ply the whole body with deep tissue kneads that are more effective than rubbing your back against your barn.
88 W Pender St., Suite 2095
Vancouver
British Columbia
604-899-2687
When the economy started to tank a few years back, Taneal Cutting decided to trust her instincts and abandon her seemingly secure corporate job to open her own massage studio. A certified bodywork practitioner and aromatherapist with a passion for blending essential oils, Taneal opened Spiritus Wellness, where she alleviates aches and empties bodies of toxins with diverse bodywork techniques and adroit application of body products. Taneal kneads stiffened musculature with Swedish, deep-tissue, and hot-stone massages and applies a relaxing Swedish massage variant to pregnant women and overworked storks. She infuses the confines of her studio with intermingling aromas of herbal teas, mint water, and a blend of essential oils. Her patrons can continue relaxing at home after perusing an assortment of bath salts, custom body butters, and sugar scrubs.
636 Clyde Ave.
West Vancouver
British Columbia
604-912-0138
The professionals at King Feet Massage help clients find balance between body, mind, and spirit. Massage therapists utilize an array of modalities to render relaxation, pain relief, and lymphatic drainage. To enhance treatment, they can fill the air with aromatherapy or soothe muscles with warm basalt stones that cause stress to melt faster than a blushing snowman. The staff's areas of expertise also include acupuncture and reflexology, which uses pressure points in feet to maximize overall wellness.
131-132 4940 No. 3 Road
Richmond
British Columbia
604-278-4300
The Spa & Wellness Studio is an oasis of relaxation and pampering located within the sprawling North Vancouver Fitness World Complex. Amid private, jewel-toned treatment rooms, therapists banish tension with massage and physiotherapy modalities, while aestheticians leave skin smoother than a peeled grape with facials, waxing, and body-wrap services.
1989 Marine Dr.
North Vancouver
British Columbia
604-986-1331
---