Things to Do in Ladson
---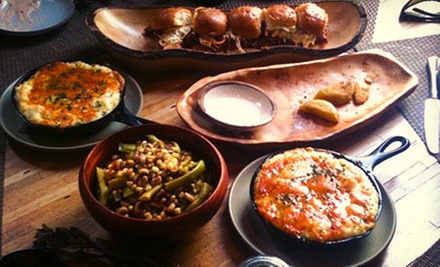 ---
Recommended Things to Do by Groupon Customers
---
Designed to look like an island retreat, Whirlin' Waters Adventure Waterpark is more than just a place to beat the heat. It's a fun-filled playground complete with slides, squirt guns, and a wave pool. The Big Splash Tree House is outfitted with 66 interactive features, including a giant bucket that drenches visitors with more than 1,000 gallons of water. The Tubular Twister sends riders shooting down a trio of 300-foot slides, while the Big Kahuna recreates the ocean's waves in a 27,000-square foot pool. Little ones can play in gentler areas such as Lily Pad Lagoon and Otter Bay, which has a six-lane racer slide. In between aquatic activities, you can relax in the lazy river or stop by the concession stands for a quick bite.
871 Riverland Dr.
Charleston
South Carolina
Trees draped in spanish moss catch the wind along the edges of the fairways at Shadowmoss Plantation Golf Club, where designer Russell Breeden sculpted a 6,701-yard course into the verdant grounds of a former plantation. Throughout the par-72 layout, ponds and streams ripple on the borders of nearly every hole, often forcing golfers to choose from taking a conservative line, challenging the hazard with a big swing, or releasing their golf ball to a family of catfish. Breeden's artful use of waterways is most noticeable at the par-5 eighth hole, where a stream splits to cut across the center of the fairway and wraps two watery prongs around both sides of the hole to add pressure as golfers contemplate their approach to the green. Bermuda-grass fairways and greens await golf balls that steer clear of the course's water hazards and the various sand traps occasionally populated by disoriented sunbathers.
Before taking to the first tee, clubbers can warm up their swings and rehearse their putter-twirling routine at a practice complex that includes a driving range and a putting green. To keep golfers fresh during rounds, the club offers on-course beverage service and a full-service snack bar and lounge.
Course at a Glance:
18-hole, par-72 course
Length of 6,701 yards from the farthest tees
Course rating of 72.3 from the farthest tees
Slope rating of 131 from the farthest tees
Five tee options
Scorecard
20 Dunvegan Drive
Charleston
South Carolina
Side creeks, marshes, and tidal rivers wind through Charleston's coastal terrain, the same waterways where Sea Kayak Carolina launches its vessels. Atop watercraft from trusted manufactures such as P&H, the company's guides take kayakers on expeditions in search of dolphins, turtles, and manmade sights such as Morris Island Lighthouse. The team schedules these tours daily, also planning custom trips into local areas such as barrier islands and uncharted fishbowls.
Additionally, a team of instructors can help paddlers fine tune the skills needed to unlock these aquatic adventures. Whether in the ocean or the controlled confines of a pool, the instructors teach safety and technical skills such as boat control, proper strokes, and how to roll a kayak without needing a dolphin to help push.
1731 Signal Point Rd.
James Island
South Carolina
843-225-7969
When the Charleston Museum was founded in 1773, South Carolina was still a British colony. Today, the museum is itself a historical gem, surviving both the American Revolution and Civil War and acquiring an astounding collection of South Carolinian artifacts along the way. Nine permanent exhibits include the Armory, brimming with antique weaponry, and the Lowcountry History Hall, which chronicles the land's metamorphosis from a tribal society into an agricultural empire, telling the story with early trading goods, slave badges, and pottery. Temporary exhibits change regularly, keeping visitors on their toes in the same way changing cell phone numbers every 24 hours does.
The museum extends its history-preserving mission to two area homes: the 19th-century Joseph Manigault House, once home to a wealthy rice plantation owner, and the Heyward-Washington House, where George Washington once stayed during a weeklong visit to the city. Restored rooms, period pieces, and loudly snoring grandfather clocks await guests during scheduled tours.
360 Meeting St.
Charleston
South Carolina
Celebration Town helps kids to burn energy and exercise imaginations as they leap and bound across a sprawling landscape of bouncy castles and inflatable slides during open-jump sessions. Parents relax while kids engage with other fixtures including skee-ball cabinets, climbing stations, educational computer stations, and illiterate karaoke machines. Youngsters can also explore the limits of their mental and physical strength during structured after-school programs and summer camps.
975 Bacons Bridge Rd., Suite 200
Summerville
South Carolina
Diagnosed with a disruptive neurological condition at age 10, studio founder David Kiser discovered Bikram yoga while he was seeking alternative treatments to help alleviate his chronic neck and back pain. After his first Bikram class in 2003, David noticed moderate relief of his symptoms, and after that day, he dedicated himself to continued practice, earning his teacher's certification three years later. David credits his pain relief to the two breathing exercises and 26 standing, seated, and hula-hooping postures of Bikram yoga, which promote healthy organ function by circulating freshly oxygenated blood throughout the entire body. During each class, instructors crank the practice space's temperature up to 105 degrees with 40% humidity to promote physical well-being. In the sultry atmosphere, students' bodies safely sink into each stretch, flushing toxins out of freshly opened pores. Afterward, onsite showers and locker rooms allow students to recompose themselves while planning a class field trip to the nearest glacier for some postclass relief.
1973 Riviera Dr.
Mt. Pleasant
South Carolina
---