Museums & Galleries in Lady Lake
---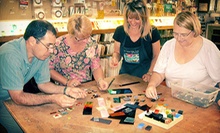 Create and take home a fused glass pendant; small class sizes of 8–10 students
---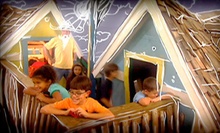 The museum encourages creativity and discovery with 18,000 sq. ft. of rotating interactive exhibits such as a robot lab and fire station
---
Recommended Museums & Galleries by Groupon Customers
---
Since 1922, St. Petersburg Museum of History has preserved the heritage of St. Petersburg and the Pinellas Peninsula with expansive collections and four galleries that host annually rotating exhibits. Its permanent exhibits, meanwhile, trace the area's history from Native Americans to the present day through artifacts such as a cannonball fired by Union sailors and replica of a parlor car from the Orange Belt Railway. Elsewhere, the World's First Commercial Airline Gallery charts commercial aviation history with a full-size working replica of the Benoist Airboat and the first-ever pterodactyl to earn a commercial-flying license. Visitors looking to delve deeper into the past can explore more than 32,000 artifacts in the museum archives or partake in one of its educational programs such as tours, community classes, and camps.
335 2nd Ave. NE
St. Petersburg
Florida
727-894-1052
Tampa's Cinco de Mayo Fiesta is a cultural cornucopia celebrating the Mexican holiday with music, dancing, food, activities, children's attractions, and a car and motorcycle show. Follow the incipient online schedule—or flip through the Facebook page—for the still-developing calendar, which includes events such as salsa-dancing lessons, a tongue-tickling chili contest, and the glamorous Miss Tampa Latina pageant. During the daily happy hour 3 p.m.–6 p.m., thirsty guests can enjoy one free beer. Take in a salsa lesson, then meander over to the other salsa camp, where recently steadied shoulders will be tested against fiery tortilla-toppers at the salsa tasting station. While proud car owners buff their road babies for Friday's car and motorcycle show, their flesh-based brood can clamber (supervised) through the children's area and carnival rides.
4801 East Fowler Avenue
Tampa
Florida
Celebrating the ship's 100th anniversary, Titanic The Experience's live actors, full-scale models, and 20,000-square-foot interactive museum faithfully recreate the poignant story of one of the world's most famous ships. One-hour guided tours of the museum led by trained performers immerse visitors in the mystery and lore of the ship's tragic tale. Actors donning garb from the early 1900's portray such iconic characters as Molly Brown and the time-traveling Gilligan, amid full-scale recreations of the Titanic's grand staircase, promenade deck, and boiler room. History buffs can also feast their eyes on an 8-foot replica of the ship as it appears on the ocean floor today. More than 200 artifacts from the ship's history are on display as well, including memorabilia from the blockbuster film Titanic and an apology letter from the glacier.
7324 International Dr.
Orlando
Florida
407-248-1166
The Morean Arts Center connects visitors with myriad forms of modern art, welcoming them to explore galleries, a glass studio, and a clay workshop, all of which host classes and events. The Chihuly Collection showcases a permanent exhibition of world-renowned glass-blowing artist Dale Chihuly's work. His magnificent bright forms, many of which are inspired by nature, spiral toward the ceiling, housed in a 10,000-square-foot structure designed by award-winning architect Alberto Alfonso. A visit to the Glass Studio and Hot Shop immerses guests in the creation of glass works, as artists manipulate molten glass into vibrant orbs and vases. At the Center for Clay visitors can get their hands dirty in forming delicate earthenware during classes and open-studio time.
719 Central Ave.
St. Petersburg
Florida
Physically, celadon porcelain from the Ming and Qing Dynasties and a 13-foot skeleton of the giant ground sloth don't have too much in common. But both explore how our world has evolved and how we perceive it—making both perfectly suited for display in the eclectic exhibits of the Museum of Arts & Sciences. The 100,000-square-foot museum—which perches on a 90-acre nature preserve—houses a planetarium alongside myriad exhibits that delve into art, history, and science.
The museum's particularly impressive assembly of Cuban art draws visitors through 300 years of history with more than 200 rare maps, paintings, and ceramics. Nearby, the exhibit of Chinese art glimmers with gemstones, bronzes, and cloisonné. Visitors also peruse crafts made closer to home in the 4,000-square-foot gallery of American art, where portraits by Gilbert Stuart and landscapes by George Bonfield hang on walls, rather than on the traditional horse's withers. In addition to its traditional art galleries, the Museum of Arts & Sciences also hosts more fragile objects inside the Helene B. Roberson Visible Storage Building, a 4,400-square-foot glass-fronted space designed to maintain exhibits in a climate-controlled state.
Younger museum-goers can gaze longingly at the 800 teddy bears on display in the Americana-focused Root Family Museum before heading to the Charles and Linda Williams Children's Museum to explore hands-on science exhibits. In addition to assembling and testing model racecars, whippersnappers strum the 16 laser beams of a laser harp and find the carotid artery with an ultrasound at the radiology lab. Daily shows in the planetarium continue scientific education by unlocking the night sky's mysteries, such as why stars don't go out when you blow on them.
352 South Nova Rd.
Daytona Beach
Florida
Snap! Orlando unravels a city-wide canvas for more than 50 renowned photographers and emerging local talents to showcase their shutterbug prowess. Stretched across a dozen different venues, including art galleries, cafés, and exhibition spaces, the multi-day celebration unites both photography novices and veteran collectors under the same creative banner. On Friday, an artist reception launches the festivities with live talks from featured visionaries, and on Saturday, a fashion show shifts the spotlight from portraits to patterns with bold new styles inspired by some of the event's creative minds. Attendees can also drop in on a lineup of lectures, workshops, and guest speakers who will be on hand to discuss their areas of expertise or demonstrate their go-to dance moves for developing a Polaroid.
101 S Garland Ave.
Orlando
Florida
---