Restaurants in Lady Lake
---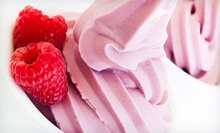 Staffers whip up espresso drinks and frappes; guests top pistachio and spiced apple pie frozen yogurt with candies and fresh fruits
---
Recommended Restaurants by Groupon Customers
---
Penn Station's interior, rife with dark hardwood paneling, could have been carved from the trunk of an enormous redwood. Within that space and beneath the glow of old-fashioned street lamps, taste buds globetrot by way of American-style burgers, Italian shrimp scampi, and a full Cuban menu outlining such delights as seafood paella and lime-infused chicken. While two-handing a specialty sandwich named for North Carolina's regal mountains, guests can peruse Penn Station's many antique décor pieces such as a wall-mounted carriage wheel, ceramic boots, and the original wooden flippers from Columbus's voyage across the Atlantic.
20583 W Pennsylvania Ave.
Dunnellon
Florida
352-465-1212
Committed to making expertly flavored yet laidback eats, BoJens's team of chefs prides itself on its menu of casual, inventive fare. The culinary crew whips up traditional American bites such as burgers, hot dogs, and wings along with fried seafood and four different varieties of fries. The chefs also prepare a menu of meatless options for vegetarians and hungry plankton, as well as an ever-changing roster of exotic sides made with meat from alligators, frogs, and ostriches.
2496 Baseline Rd.
Ocala
Florida
352-694-7433
Teal booths and framed photos cast a spell over Richard's Place, imbuing it with the homey, timeless atmosphere indicative of the classic American diner. On any given day, guests enjoy the eatery's classic breakfast fare, such as corned beef hash and strawberry pancakes, delivered to tables by friendly, fun-loving waitresses known to dress up for Halloween and Tax Day. Many dishes are American favorites, and some carry the unmistakable flavors of traditional Southern cooking. The menu is also populated with homemade desserts, including cinnamon rolls, as well as low-fat and low-cholesterol options, such as turkey sausage and egg substitute.
316 E Silver Springs Blvd.
Ocala
Florida
US
352-351-2233
In 170 feet of water, running from the east coast of Fort Pierce, Florida, to the Carolinas, lies a reef populated by game fish, dubbed 27 Fathoms by local fishermen. Chefs in the kitchens of 27 Fathoms, named for the reef, cook locally caught wild fish and seafood such as the pan-roasted diver scallops with smoked gouda and crushed macadamia nuts. For the culinary prowess they display in doing so, they have earned a 2012 Certificate of Excellence from TripAdvisor. Their sushi menu includes signature rolls such as the ultimate maine lobster—a tempura whole lobster with smoked bacon, avocado, and baked seafood volcano sauce. In addition to seafood, the staff pan roasts venison tenderloin and blackens elk steak by hiding it in a darkroom. They also add their own spin to chicken and waffles with sweet-potato-infused waffles, brussels sprouts, and peppercorn mélange syrup.
Gentle breezes ripple through the palm leaves on the outdoor patio, where glasses of fine wines and craft beers clink along with the sounds of nature. Friday and Saturday nights feature late hours and live entertainment for diners seated indoors at the high-topped wood tables.
5535 S Williamson Blvd., Suite 656
Port Orange
Florida
US
386-256-4791
---