Things to Do in Lafayette
---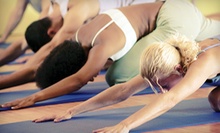 Combination of slow-paced, fast-paced, and restorative poses engages various muscle groups and keeps students on their toes
Use Saturday 7:30am - 10:30am
---
Recommended Things to Do by Groupon Customers
---
In addition to leading circus classes for adults and children of various experience levels, the specialists at Trapeze Arts also manufacture custom circus equipment. At their 10,000-square-foot Oakland facility, they perform firsthand research to create solutions for high-flying performers.
The team has built equipment for Cirque du Soleil, UniverSoul Circus, Flynn Creek Circus, Jean Ann Ryan Productions, and several other professional performing companies. At their own facility, they teach students to use the flying trapeze, trampolines, hoops, silks, ropes, tightwires, unicycles, and juggling implements to increase confidence and babysitting abilities. Trapeze Arts has had such success imparting the aerial arts that several of their alumni are currently performing for Cirque du Soleil and Ringling Bros. and Barnum & Bailey.
1822 9th St.
Oakland
California
510-419-0700
Today's Groupon tackles professional athletics, professional athletes, and sports hernias with a ticket to the final game of the Oakland Raiders' 2009–10 season for $26 (a $36 value). On Sunday, January 3, at 1:15 p.m., the team that once upset the entire steel industry of Pittsburgh and tamed Cincinnati's Panthera Tigris Tigris looks to end the season on a final high note against the Baltimore Ravens (featuring offensive tackle Michael Oher who is the inspiration for the The Blind Side). You'll be sitting in section 354 and have a $10 food voucher in hand.
7000 Coliseum Way
Oakland
California
US
Your ticket includes a mind-expanding movie about the cosmos, some live music you can dance to, and access to the observatory and all of Chabot's exhibits. Current exhibits delve into the scientific achievements and cosmology of the Maya, give you a most likely dehydrated taste of the life of an astronaut, and take you on a journey to the farthest reaches of the cosmos, among other things. And—weather permitting—you'll get to spy on other planets from either Nellie, the 36" reflector telescope that allows access to 180 degrees of night sky, or Rachel, the largest refractor in the western U.S. You'll have four hours to amble through the science center with a celestial concoction in one hand (drinks are $3–$5 at the cash bar) and your date in the other. After staring into the depths of distant galaxies, you can stare into the depths of each other's eyes over dinner at the Starlight Bistro or Celestial Café (not included in Groupon; reservations required).
10000 Skyline Boulevard
Oakland
California
Unless the ceramic-robot coup d'état comes to pass, fine pottery isn't going to paint itself. In order to become a decorated hero of ceramic lore, all artists pay a modest studio fee ($7.50 for kids under 18, $9.50 for adults) and then pick from a dimensionally diverse range of pottery shapes, priced from $3 for small ornaments to $60 for platters fit for a king who loves to host royal potlucks. Creatively stymied artists can either browse the samples for inspiration or mimic the enthusiasm of the nearest euphoric child lost in a paint-speckled universe.
745 Page St.
Berkeley
California
---