Things to Do in Lafayette
---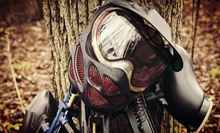 Experienced staff outfits each player with marker, safety equipment, and 300 paintballs to battle across three fields
---
Recommended Things to Do by Groupon Customers
---
Sharon Owens lowers the bulb of an ornament into the sharp blue flame of her workstation's torch, heating the glass until it glows a vibrant yellow. Applying the skills she learned in her schooling at Purdue University, her three-year apprenticeship, and her studies with a host of artisan glassworkers, she presses her mouth to the piece's hollow stem. Whatever shape it will take, only she knows.
This scene has been a regular occurrence at Inspired Fire since 2002, when Sharon founded her studio in her hometown of Lafayette. The workshop is equipped for all manners of projects, including 4 kilns, 12 torches, and, most importantly, air conditioning. The shop's staff oversees classes for beginners and advanced glassworkers, as well as offering the space for crafters unable to find the "glass" setting on their microwaves.
2124 State Rd. 25 S, Lafayette
Lafayette
Indiana
US
765-474-1981
Whether it be the sophistication exuded by traditional, sleek, black limo or the idiosyncrasy advertised by the original Indy chicken limo, Circle City Transportation's vehicles make statements about the passengers riding inside them. The latter—ideal for a ride on the town that's guaranteed to turn heads—slides down the street with a fierce-looking fowl perched on the roof, glowering with electrified eyes from under a wide-brimmed cowboy hat. Tail plumage peeks out of the back half of the vehicle to threaten potential tailgaters with the laying of an enormous egg. Drivers ensure guests make an indelible statement when arriving at prom, a concert, or an elegant dinner reservation. Circle City Transportation also offers traditional limo rentals, chartering sleek land submarines for a girls' night out, bachelorette party, or excursion to an elegant ball benefitting tofu-awareness.
8444 E Washington St.
Indianapolis
Indiana
US
Once a year, spurred perhaps by the rise of the harvest moon or the purchase of thousands of Halloween costumes, the grounds at Corpse Manor transform from a quaint home into a trio of haunting exhibits. Within the manor itself, the terrifying tale of Lord Henry Calvert and his family unfolds as their house comes to unlife with walking corpses and ghosts. Also within the walls lies the Night Shadows experience, where hungry things stalk visitors through the interplay of light and shadow. Outside the house proper lies a stretch of forested land known as the Sinister Woods, where ghouls and monsters lurk behind each trunk, pursuing the unwary as they wander the gore-strewn paths.
4700 North Post Road
Indianapolis
Indiana
US
317-683-9300
At All Fired Up!, swirling murals of flowers and vines flow across lavender walls, and animal-print tablecloths cover long work tables. This cheerful backdrop makes the pale, unadorned plates, bowls, and vases lining the shop walls stand out in stark contrast. Fortunately, expert potters empower artists of all ages and skill levels to enliven these blank canvases, providing them not only with stamps, stickers, stencils, and paints, but with idea books and helpful tips. Once painters have added the last brushstroke, All Fired Up!'s potters whisk finished masterpieces away to the shop's kiln where they'll fire and glaze them, just like Donald Trump does to dissidents on his resident staff of Pillsbury doughboys. If patrons can't drop in to retrieve their wares in one week's time, staff members can carefully pack them up and ship them at a flat rate across the country.
329 Brown St.
West Lafayette
Indiana
There's something in the air in downtown Lafayette. Not the aromatic pheromones of trees trying to send mankind a message, but rather, the energy generated by scores of revelers. This is Dancing in the Streets, a festival that fills roadways with three separate stages boasting country, indie-rock, blues, and swing performances. As the night stretches on, youngsters can take to the kids' corner to partake of rides, moonwalks, and activities. Guests of all ages snack on portable eats while enjoying dancing and DJ-spun tunes, and a 45-minute cruise parade shows off classic cars and freshly polished roller skates.
Downtown Lafayette
Lafayette
Indiana
---
---
Things to Do Deals - Recently Expired
---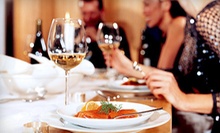 Eight-course dinner at a 121-year-old Victorian clubhouse pairs each food course with a different varietal of wine
---
---